With a new trailer for The LEGO Movie 2: The Second Part set to drop tomorrow, seven new character posters have arrived online for the animated adventure sequel featuring Lucy (Elizabeth Banks), Batman (Will Arnett), Emmett (Chris Pratt), UltraKatty (Alison Brie), General Mayhem (Stephanie Beatriz), Queen Watevra Wa-Nabi (Tiffany Haddish) and Rex Dangervest (Chris Pratt).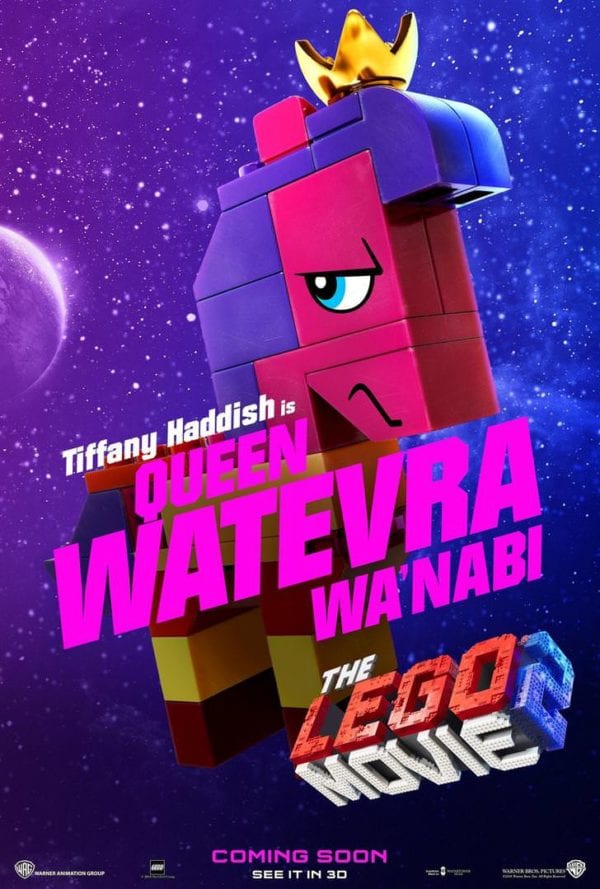 "The LEGO® Movie 2" reunites the heroes of Bricksburg in an all new action-packed adventure to save their beloved city. It's been five years since everything was awesome and the citizens are facing a huge new threat: LEGO DUPLO® invaders from outer space, wrecking everything faster than they can rebuild. The battle to defeat them and restore harmony to the LEGO universe will take Emmet, Lucy, Batman and their friends to faraway, unexplored worlds, including a strange galaxy where everything is a musical. It will test their courage, creativity and Master Building skills, and reveal just how special they really are.
The LEGO Movie 2: The Second Part will arrive in cinemas on February 2019, helmed by Mike Mitchell (The Spongebob Movie: Sponge Out of Water) and Trisha Gum, the sequel features a voice cast that includes Chris Pratt (Guardians of the Galaxy) as Emmet Brickowski and Rex Dangervest, Elizabeth Banks (The Hunger Games) as Wyldstyle, Will Arnett (Arrested Development) as LEGO Batman, Alison Brie (Glow) as Unikitty, Nick Offerman (Parks and Recreation) as Metal Beard, Channing Tatum (21 Jump Street) as Superman, Jonah Hill (21 Jump Street) as Green Lantern, Stephanie Beatriz (Brooklyn Nine-Nine) as Sweet Mayhem, Arturo Castro (Broad City) as Ice Cream Cone, Tiffany Haddish (Girls Trip) as Queen Watevra Wa-Nabi and Margot Robbie (Suicide Squad) as Harley Quinn.
via Flickering Myth