2023 is primed to be a blockbuster year full of films for every type of fan. Today, USA Today released new images of some of the biggest movies set to come out this year. One such film included was Guardians of the Galaxy Vol. 3, giving fans a new look at the titular team!
Guardians of the Galaxy Vol. 3 will be the conclusion of the Marvel trilogy from James Gunn. Like with most Marvel projects, details around the film's plot have been kept secret. But it is known that it will see the Guardians of the Galaxy, everyone's favorite team of space-faring misfits, on a mission to protect one of their own that might lead to the end of the team forever.
The new image does not reveal anything more about the plot but does give fans a good look at the characters in their new uniforms. The image features Guardians Drax (Dave Bautista), Mantis (Pom Klementieff), Star-Lord aka Peter Quill (Chris Pratt), and Nebula (Karen Gillan). As seen in The Guardians of the Galaxy Holiday Special, the Guardians now own Knowhere and are making it a safe place for people to live, and now they have the outfits to fit the new job. All four are wearing matching red and black uniforms that make them all look very cool, even in an image of them just standing around.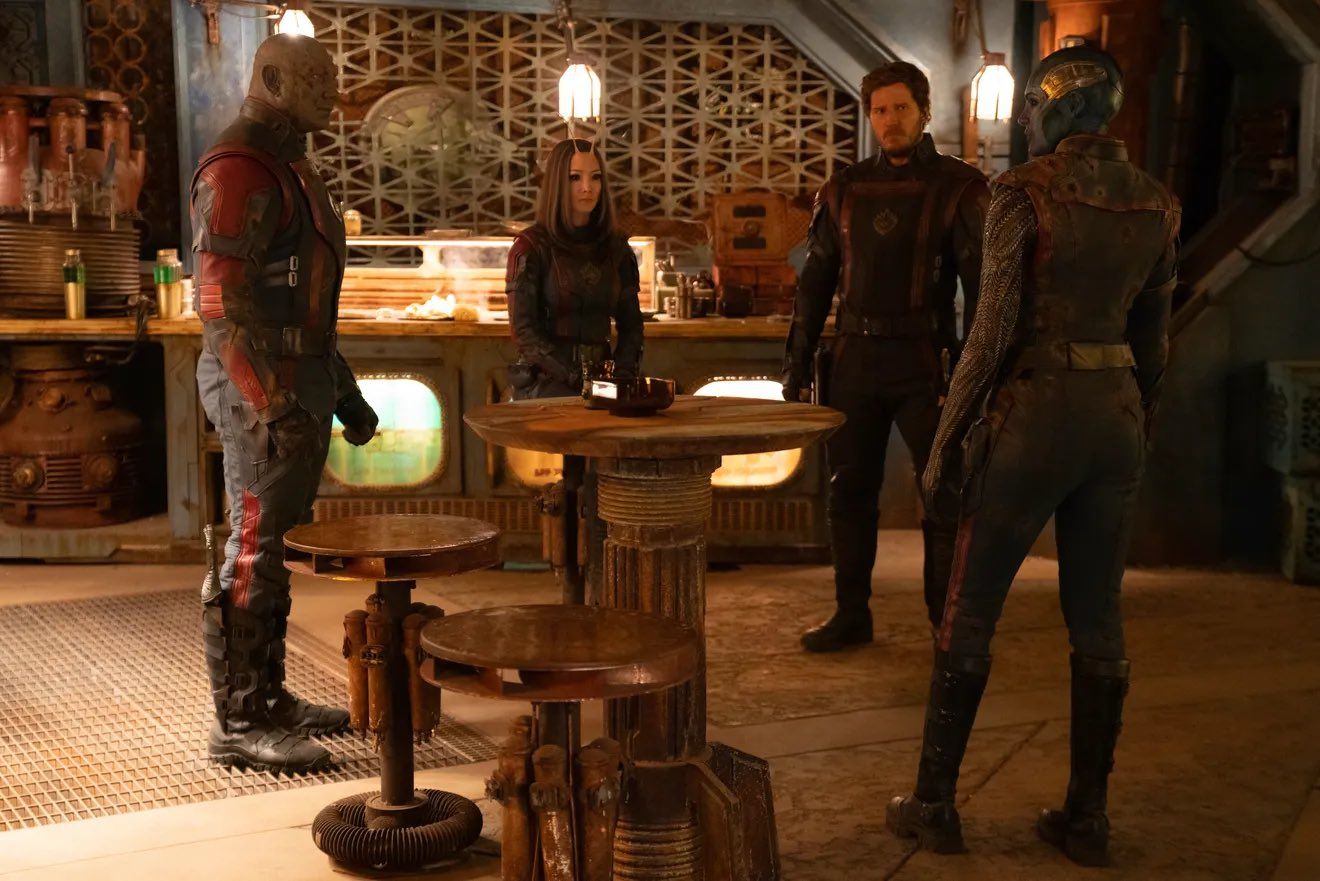 Guardians of the Galaxy Vol. 3 will be the last Marvel project from writer and director Gunn, who wrote and directed the first two films and the holiday special. Gunn was recently named the co-head of DC Studios, which is sure to take up a lot of his time, especially now that he will be writing a new Superman movie. Gunn is also known for films like The Suicide Squad, Super, Slither, and the HBO Max series Peacemaker.
Guardians of the Galaxy Vol. 3 will see past members of the team Pratt, Bautista, Gillan, Klementieff, Bradley Cooper, Vin Diesel, Zoe Saldaña, and Sean Gunn return to reprise their roles. The new movie will also feature Maria Bakalova, who made her debut in the holiday special, as well as Elizabeth Debicki and Sylvester Stallone, who both had supporting roles in the second film in the trilogy. It will also see Will Poulter and Chukwudi Iwuji make their MCU debuts.
Guardians of the Galaxy Vol. 3 will be exclusively in theaters starting on May 5.
via Collider