Will you gaze into the depths of Infinity Pool without losing yourself, sinking, or drowning? That is what a newly-released movie poster invites you to do, and it looks like a very trippy experience.
The poster design is almost psychedelic, with masked faces melting and bleeding into each other, swirling toward a small black circle. Someone could imagine this circle to be a drain or a formless void, and that they are being sucked into nothingness. What is interesting is that one could also interpret the faces as bleeding and flowing into each other, without any kind of boundary. This would fit with the definition of an actual infinity pool (also called a zero edge pool), where a pool of water flows over one or more building edges, thus providing the effect of water with no boundaries. These kinds of pools are seen at luxurious hotels and resorts.
A coincidence, then, that Infinity Pool is set at a resort, where a couple is guided outside the resort's boundaries and into a culture of horrific and hedonistic violence. But a fatal accident leaves the couple facing a choice: either they will be executed or if they can fork over the cash, they can watch themselves die. Perhaps the movie is meant to be a cautionary tale to show what happens if you step too far into the unknown and the choices that follow. We are excited, if a bit uneasy, to step over into the unknown after seeing this poster.
Infinity Pool is written and directed by Brandon Cronenberg, who looks to stamp his own mark on the science fiction horror genre that started with the short films Antiviral and Please Speak Continuously and Describe Your Experiences as They Come to You and 2020's Possessor, which starred Andrea Riseborough, Christopher Abbot, Rossif Sutherland, Tuppence Middleton, Jennifer Jason Leigh, and Sean Bean. Infinity Pool stars Alexander Skarsgård and Cleopatra Coleman as the vacationing couple, and Mia Goth as the woman who wants to lead them to their doom. Additional cast members include Thomas Kretschmann, Amanda Brugel, Caroline Boulton, John Ralston, Jeff Ricketts, Jalil Lespert and Roderick Hill. The film will be released by NEON, who serves as an executive producer alongside Topic Studios.
Infinity Pool comes to theaters on January 27. Get tripped out by looking at the newest poster below: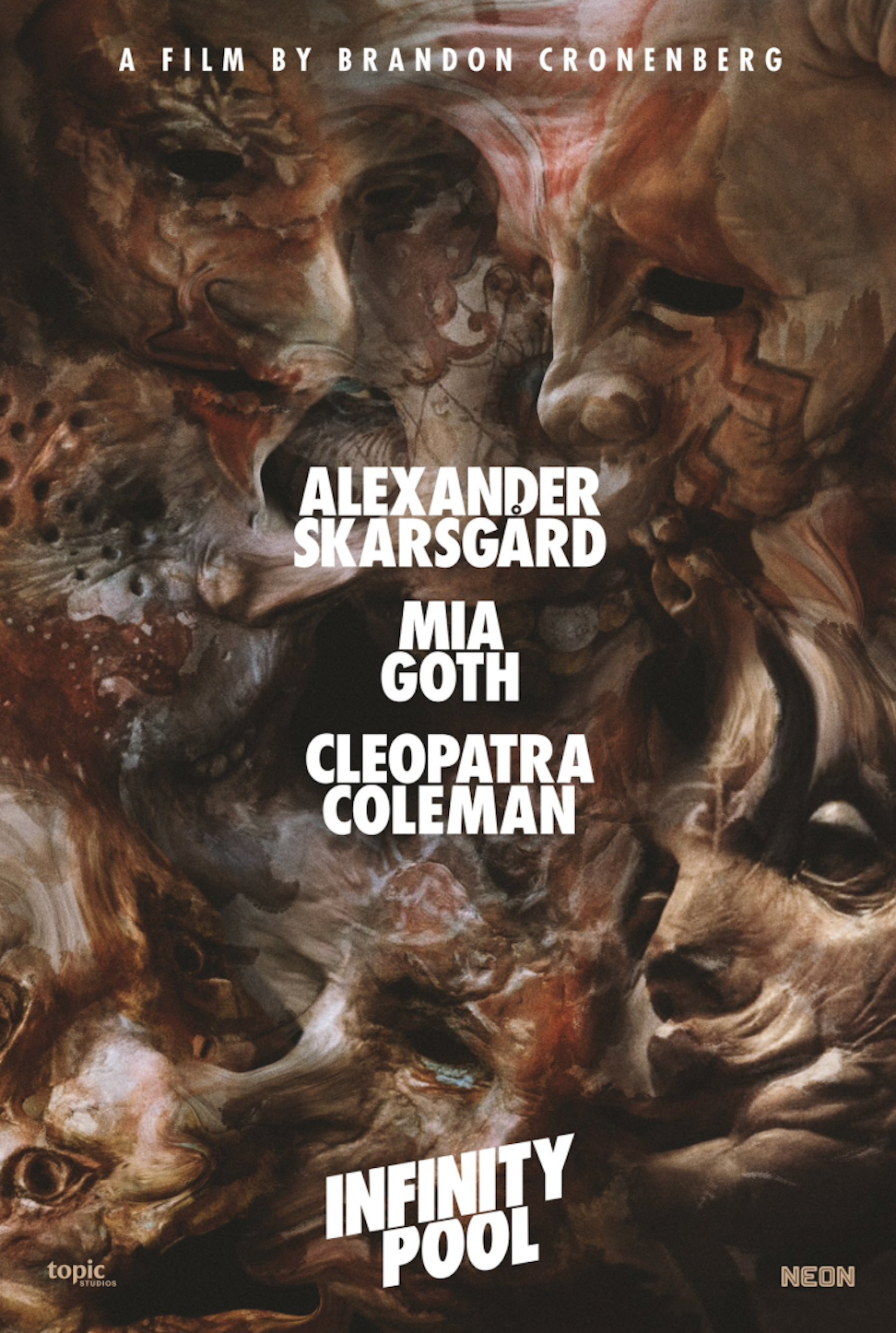 via Collider