Old habits die hard – or not at all – in Joe Goldberg's case. Netflix's hugely popular psychological drama You is gearing up for the release of its fourth installment and it looks like we're going to witness Joe's (Penn Badgley) self-control (or lack thereof) pushed to its limits. The past three seasons have exposed audiences to the mental workings of morally questionable Joe and his seamless transition from obsessed lover to casual murderer countless times. With the countdown to season four on, a new poster has been unveiled, and it's clear Joe is not ready to let go of lost love – unrequited or otherwise.
The fresh poster showcases Joe in his latest persona as university lecturer Professor Moore. The new character is something of a common trend for Joe as he is known to adopt a new one after every failed romance and subsequent blood bath. Surrounded by several new faces, Joe stands in a tan suit and tie with a book open in his hands. With one hand in front of the book and the other hand hidden behind, it's almost as if Joe is waiting to play his second hand. Offering the same soulless look audiences have seen many times prior – typically before he justifies putting someone in a body bag. The object of his fury is anybody's guess. The tagline for the poster comically suggests "he's starting a new chapter." The irony is that Joe's actions thus far have made it clear he's unable to turn over a new page, instead, opting to follow the same path every time with a new justification.
Although, there is one notable difference with Season 4; where Joe has previously remained under the radar, taking on inconspicuous jobs as a bookstore manager and the likes, he is now very much in the public eye. Joe's intentionally unexciting and very missable personas have been an integral aspect of him getting away with killing a slate of former lovers. This likely means one of three things, he either is not planning on taking anyone else out, he's confident he can get away with it again if he does, or he's getting sloppy. The latter option is very plausible given that he killed his wife Love (Victoria Pedretti) in the season three finale and was forced to flee suburbia in pursuit of his latest one-true-love Marienne (Tati Gabrielle). However, Marienne is long-gone sending Joe on a wild goose chase across Europe. Another poster for the upcoming season of You suggests that Joe made it all the way to Paris to track down Marienne which it is assumed he successfully does as he then "coincidentally" takes up a job at her university in London.
Whether or not Marienne will successfully retain her streak as the only former object of Joe's desire to survive him will be unveiled in time. As for the fate of any of the students who get in his way, well, the question really is how many body bags he'll be filling this term.
Season 4 of You will drop in two parts. The first half is set to land on Netflix on February 9, 2023 and the second on March 9, 2023. In the meantime, you can check out the poster below.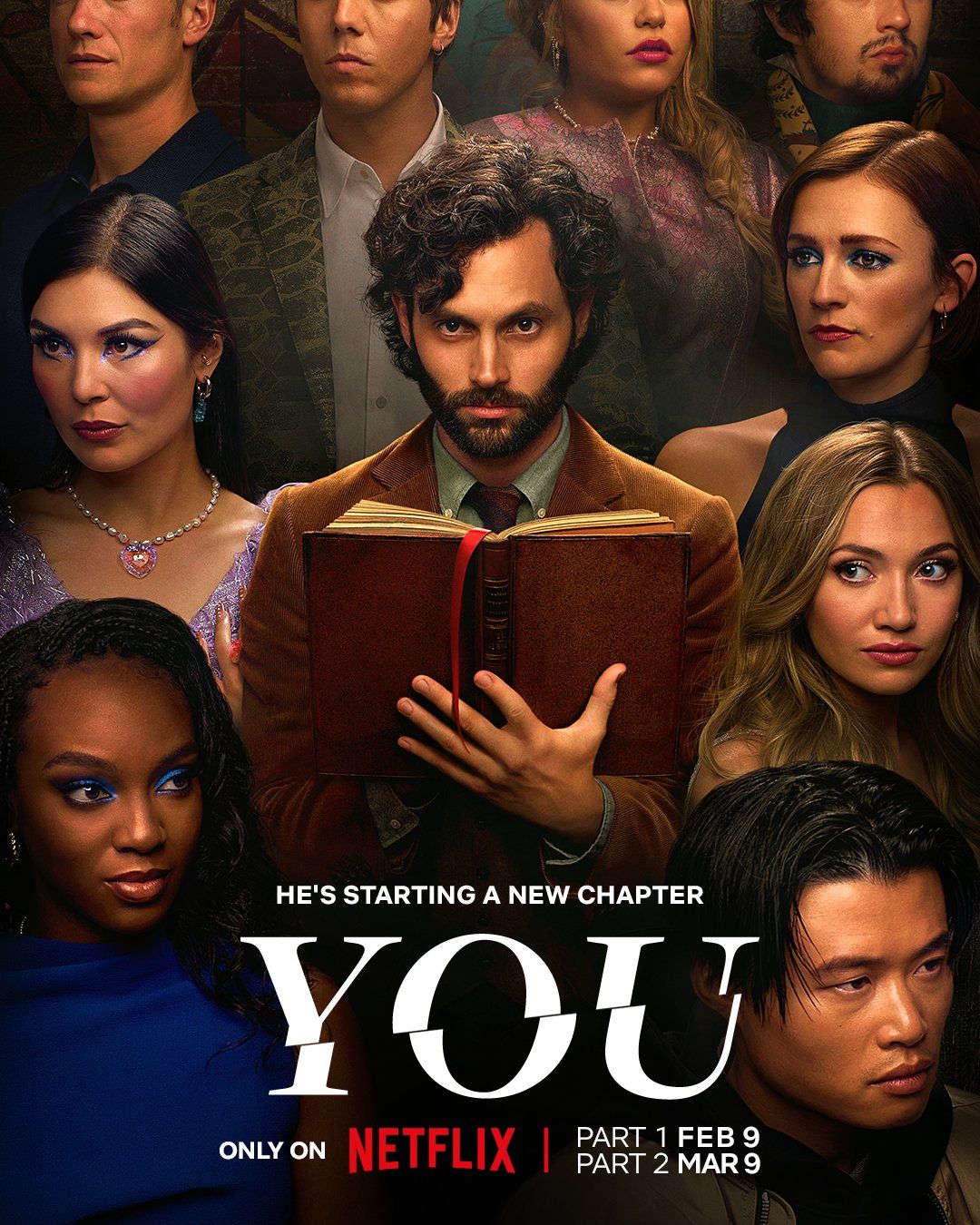 via Collider