M Night Shyamalan's cabin-bound, world-ending, home invasion horror Knock at the Cabin has fans excited. The director has a penchant for presenting regular stories with his unusual supernatural twists and turns and the upcoming feature is going to be no different. In a new interview with Total Film, the director spoke about what to expect from the movie and gave fans an exclusive look.
The new image sees Dave Bautista, Rupert Grint, Nikki Amuka-Bird, and Abby Quinn gearing up with weapons to invade the cabin. With a decisive look on their faces, they seem determined to take over the family of three. The feature is based on Paul G. Tremblay's 2018 novel The Cabin at the End of the World. It follows a family of three, a young girl, and her parents vacationing at a remote cabin in the woods. However, they are taken hostage by four armed strangers who demand they make an unthinkable choice to avert the apocalypse.
The movie first came to Shyamalan in a producing capacity, however, he decided to give it his own spin. The director feels the upcoming feature is closest to his movie Signs, "because both movies are confined, to some extent, and they're both populated by such loveable families at the center of apocalyptic events. I do think that you fall in love with both of those families. You laugh with them, are scared for them. You feel connected."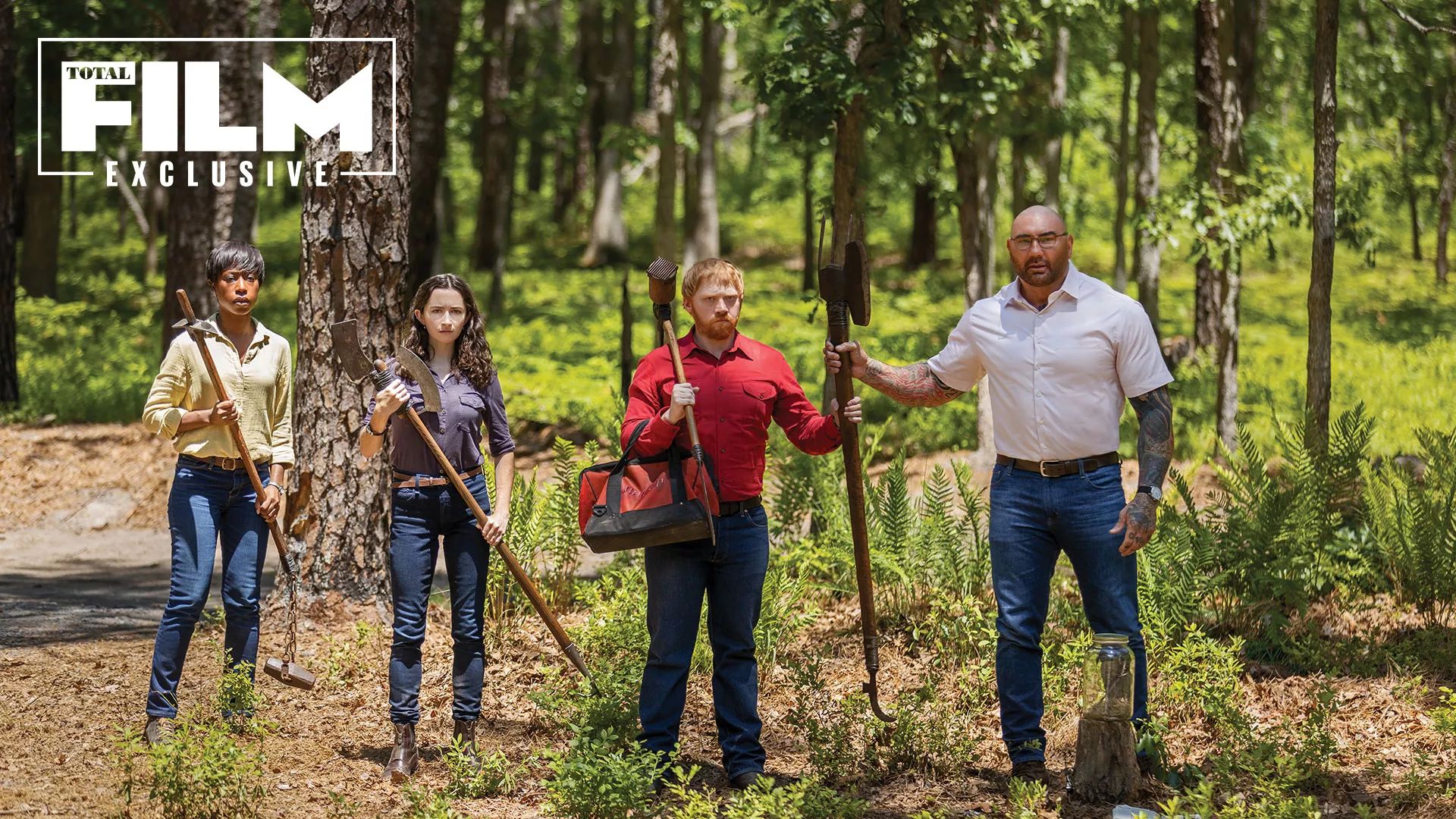 The promotional material of the R-rated movie reveals it to be a thrilling home invasion story. Fans are excited to discover the choices the family has to make but there's certainly more to it. The director admits the feature will bend and mix genres, divulging, "I think the things that I'm drawn to when I think of my own ideas, or, in this case, an adaptation, it's taking genres and then bending them in new ways, or changing genres from what you thought you were watching. That's the fun of audiences, for me. They come in thinking they're watching something, and it changes and moves."
The feature sees Bautista as Leonard, Amuka-Bird as Adriane, Quinn as Sabrina, and Grint as Redmond, all playing the intruders. The family in distress is portrayed by Jonathan Groff as Andrew, Ben Aldridge as Eric, and young actor Kristen Cui as Wen.
Knock at the Cabin is set to be released on February 3, 2023. You can check out the trailer below:
via Collider