Director M. Night Shyamalan's upcoming feature Knock at the Cabin looks like one feature that'll bend the horror genre in new ways. The feature tells the story of a family of three, a young girl and her parents, who are vacationing at their remote cabin, when they are taken hostage by four armed strangers. These strangers demand that the family make an inevitable choice to avert an impending apocalypse. Now the fate of the world depends on it.
To tease fans further, the movie has released a new Dolby poster. The poster is in line with old noir posters and sees a hand reaching out to the cabin while the silhouette takes the shape of the intruders. By far, with the looks of other images and trailers, the feature looks quite thrilling and is sure to keep fans on the edge of their seats.
The director has promised it to be a story where fans would feel they are watching something familiar but eventually as the story will progress it'll change its shape and form. Shyamalan said in a recent interview, "I think the things that I'm drawn to when I think of my own ideas, or, in this case, an adaptation, it's taking genres and then bending them in new ways, or changing genres from what you thought you were watching. That's the fun of audiences, for me. They come in thinking they're watching something, and it changes and moves."
Knock at the Cabin casts Dave Bautista as Leonard, Nikki Amuka-Bird as Adriane, Abby Quinn as Sabrina, and Rupert Grint as Redmond, all playing the intruders tormenting the family. The family in distress is portrayed by Jonathan Groff as Andrew, Ben Aldridge as Eric, and young actor Kristen Cui as Wen. With a delicious ensemble and Shyamalan at the helm, the feature is certain to knock fans' socks off!
The feature first came to Shyamalan in a producer capacity, but then Shyamalan decided to give the story his own touch. He wrote the screenplay alongside Steve Desmond and Michael Sherman, based on the national bestseller The Cabin at the End of the World by Paul Tremblay. The film is directed by Shyamalan, who also produced along with Marc Bienstock and Ashwin Rajan. The executive producers include Steven Schneider, Christos V. Konstantakopoulos, and Ashley Fox.
The intruders are coming to Knock at the Cabin on February 3, 2023. You can check out the new poster below: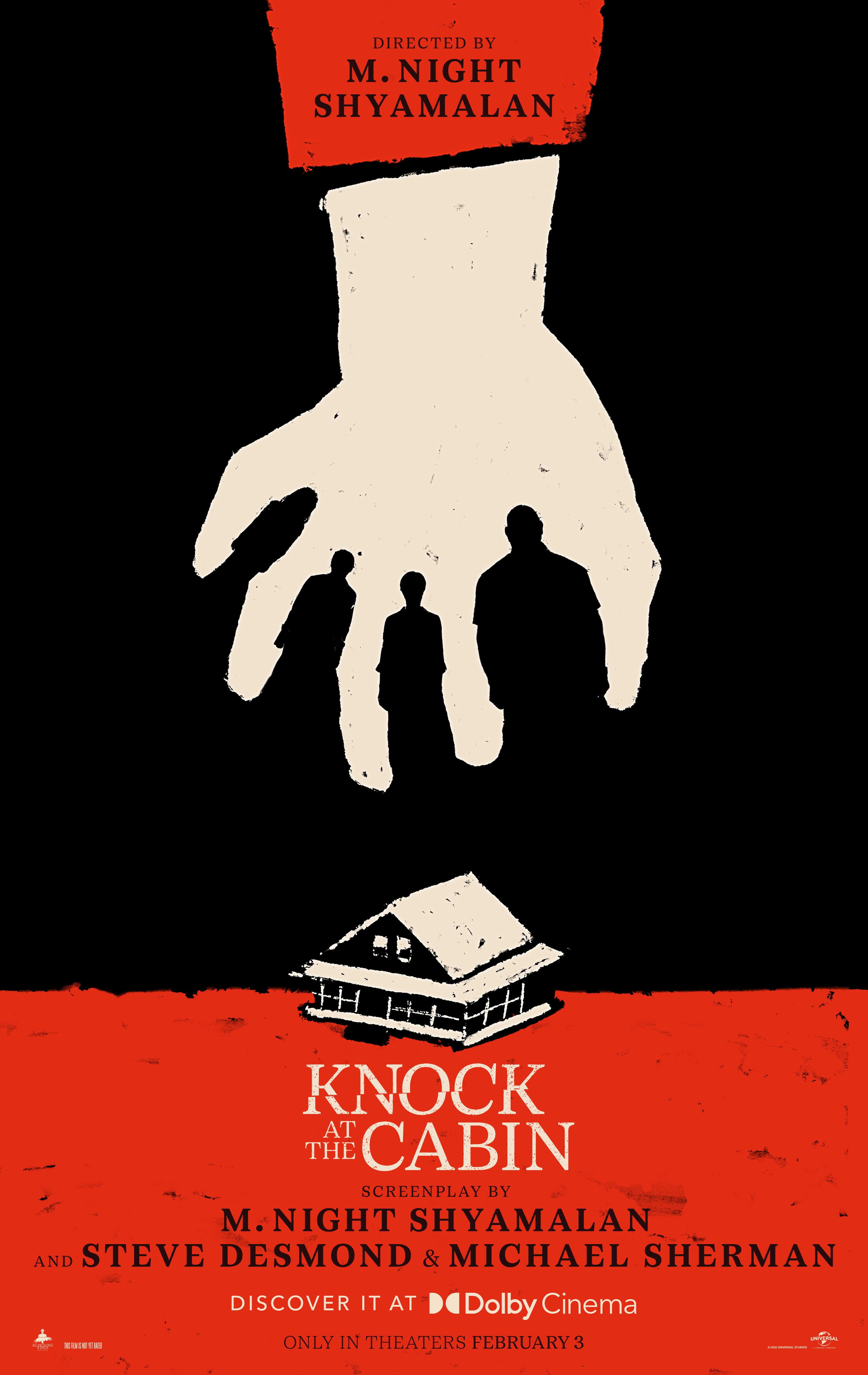 via Collider