Focus Feature has released a new poster for its Willem Dafoe-starring movie Inside. The image sees him very disheveled as he's trapped in a luxury penthouse, standing in a pool, surrounded by greenery, looking up to find means to get out of the place. The movie follows Dafoe as a high-end art thief, Nemo, who after a heist gone bad gets trapped inside a luxury, high-tech penthouse in New York's Times Square. The psychological horror will find him locked inside with nothing but priceless works of art, and a will to survive while he must use all his wits to get out of there.
The movie marks the feature directorial debut of Vasilis Katsoupis, who has only one other directing credit to his name, with the documentary My Friend Larry Gus. Katsoupis directs from a script by veteran writer Ben Hopkins, whose credits include Limonov: The Ballad of Eddie starring Ben Whishaw. He's also written and directed The Nine Lives of Thomas Katz and Simon Magus and also documentaries like Napoli: City of the Damned and In Search of Monsters.
Given Katsoupis and Hopkins' talents coupled with Dafoe's amazing acting chops, the psychological thriller is bound to keep fans on the edge of their seats. The previously released trailer gives us a peek into the kind of person he is, who feels that everything fades, but art is "for keeps" and will go to any length to acquire it. Which eventually lands him into trouble as now trapped in a penthouse he begins to damage the same art pieces as he struggles to survive with what limited resources he has.
The four-time Academy Award nominee Dafoe is perfect for such thrilling roles. He has been a massive crowd pleaser with features like Sam Raimi's Spider-Man 2, and MCU's Spider-Man No Way Home, where he played Green Goblin with a similar psychological evilness. He's also known for his work in excellent dramas like Platoon, Robert Eggers's The Lighthouse and The Northman, Nightmare Alley, and many more.
Inside is produced by Giorgos Karnavas, who also produced the director's My Friend Larry Gus. Also on board to produce are Marcos Kantis, and Dries Phlypo. While executive producers include Jim Stark, Vasilis Katsoupis, Konstantinos Kontovrakis, and Charles E. Breitkreuz, along with Martin Lehwald, Jean-Claude, Van Rijckeghem, and Stephen Kelliher.
Inside releases in theaters on March 10. You can check out the new poster below: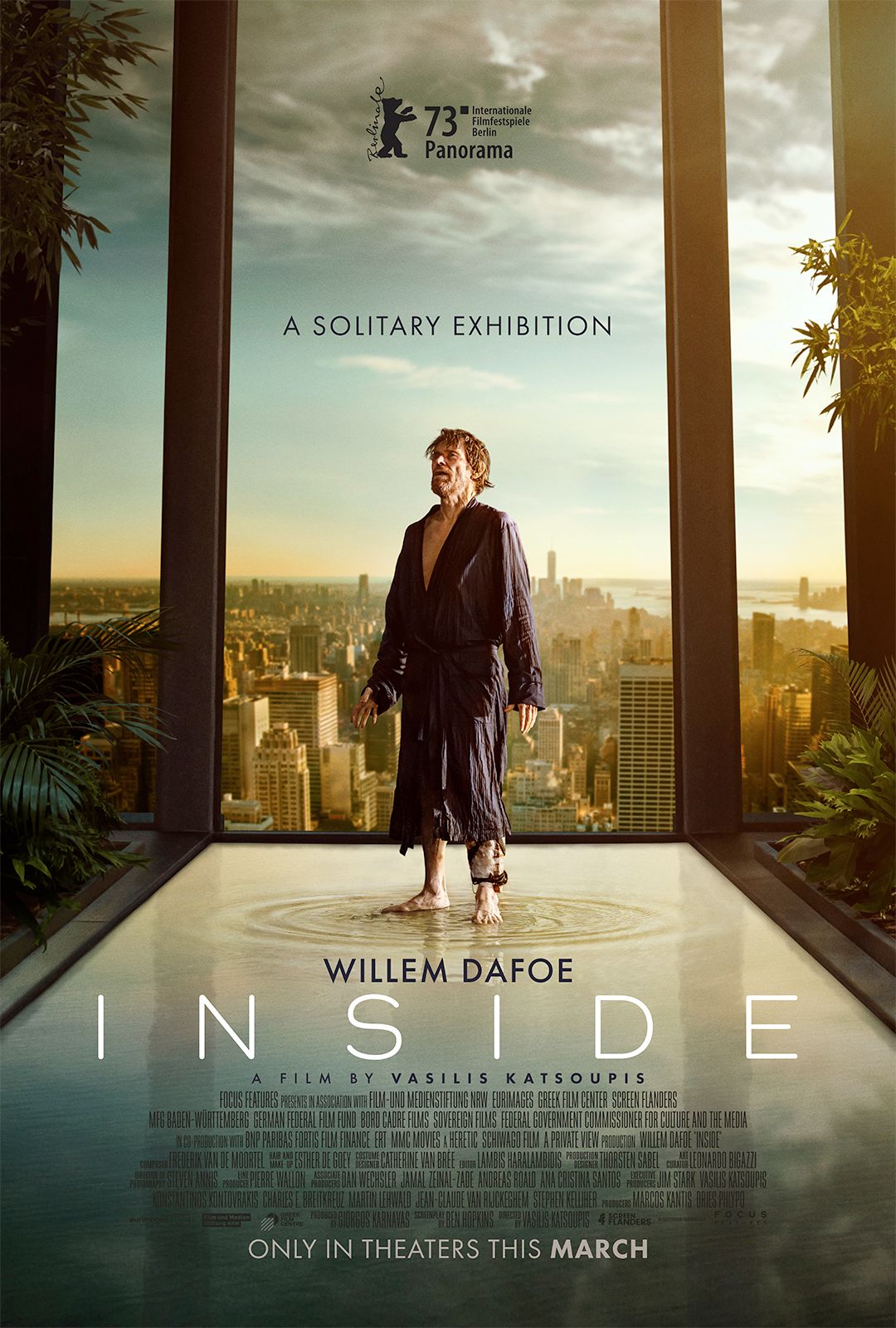 via Collider