Can you smell that? Smells like potential. Apple TV+ finally revealed the first image for Ted Lasso Season 3 today, in addition to announcing that the series will be back sooner than expected. More specifically, this Spring. While they didn't give us an exact date, Spring does start in March—so really, it's only a matter of time before Ted Lasso (Jason Sudeikis) is back on our screens, sharing words of wisdom and insight, alongside Richmond's Diamond Dogs!
When Season 2 wrapped up, things were getting pretty dicey for several of our fan favorites. In a crushing turn of events, a slighted Nate (Nick Mohammed) decided to resign from his post at Richmond to join Rebecca's (Hannah Waddingham) sleazy ex-husband Rupert Mannion's (Anthony Head) team. This source of conflict is also the central focus of the first image for Season 3 which dropped today—which sees Nate squaring off against Ted, while Rupert ominously watches in the background. You can practically feel the tension through the screen! Hopefully, Ted Lasso scores a winning redemption arc for Nate, whose descent into a loathsome villain was a definite sore spot for fans of the character.
In addition to Sudeikis, Waddingham, Head, and Mohammed Ted Lasso stars Brendan Hunt, Jeremy Swift, Juno Temple, Brett Goldstein, Phil Dunster, and Sarah Niles. It will be exciting to see what direction Season 3 heads in, as most of these characters were facing some serious personal and interpersonal dilemmas. Can Ted Lasso fans rest until we know how things will pan out for Roy and Keeley?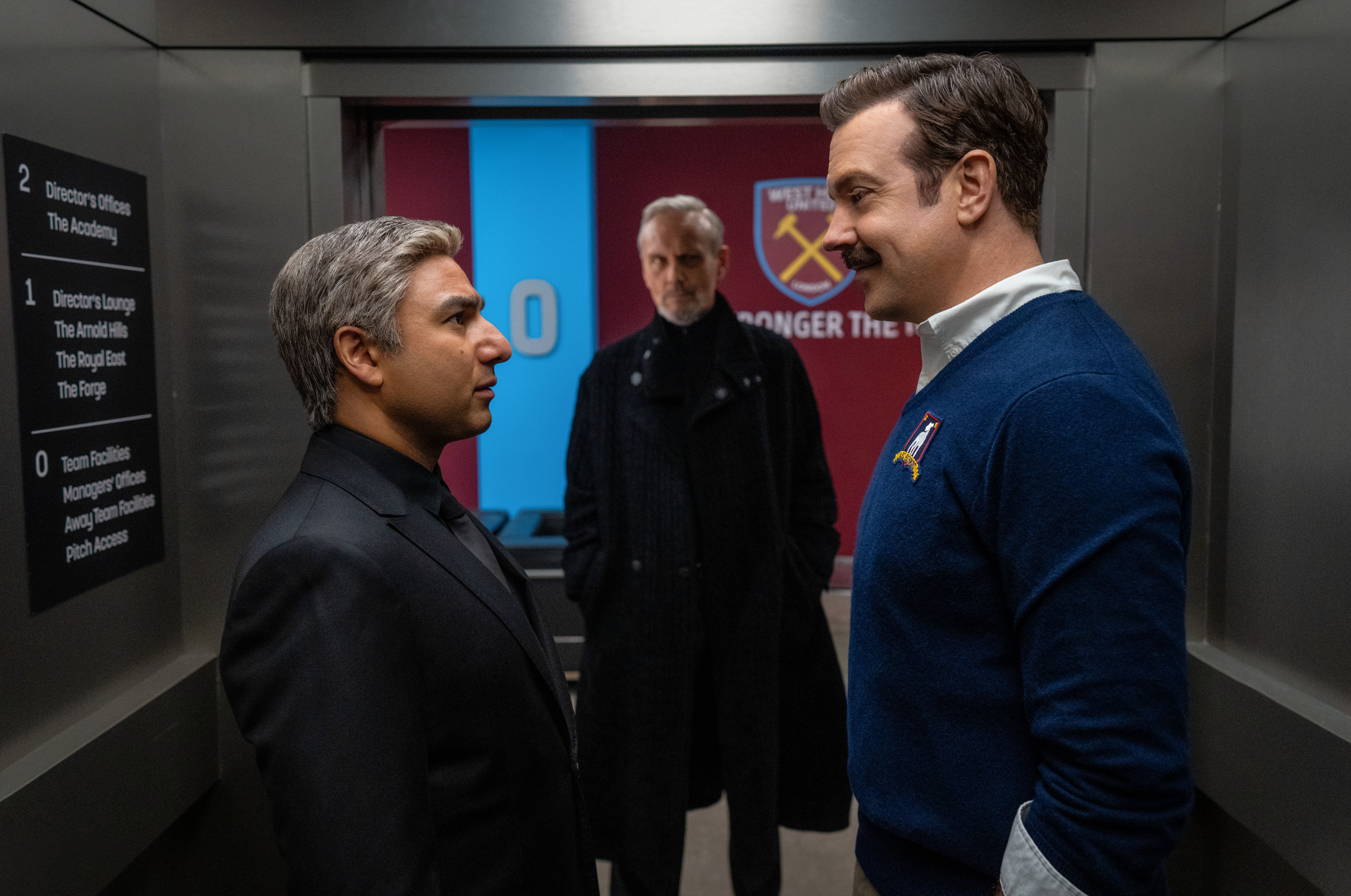 The series was developed by Sudeikis, Hunt, Joe Kelly, and Bill Lawrence, with Goldstein serving as a writer and co-executive producer on the series. Sudeikis also serves as executive producer, alongside Lawrence via his Doozer Productions, in association with Warner Bros. Television and Universal Television, a division of NBCUniversal Content. Hunt, Kelly, and Bill Wrubel are also executive producers, along with Doozer's Jeff Ingold and Liza Katzer. Jane Becker and Jamie Lee also serve as executive producers.
Ted Lasso has been a smash hit for the streamer, and after winning the Emmy Award for Best Comedy series for Season 2, Ted Lasso officially joined the ranks of some of the most celebrated comedies in history—becoming only one of seven series to win back-to-back Emmy Awards. In addition to its numerous Emmy accolades, the series has been recognized with an esteemed Peabody Award, a SAG Award for Outstanding Performance by a Male Actor in a Comedy Series Award for Sudeikis, three Critics Choice Awards including Best Comedy Series, Best Actor in a Comedy Series for Sudeikis, and Best Supporting Actress in a Comedy Series for Waddingham—and it swept all the categories in which the series was nominated. The list could, and should, go on and on.
Ted Lasso returns in Spring 2023.
via Collider