Shazam! Fury of the Gods is set to continue the adventures of Billy Batson and Shazam. The 2019 superhero flick Shazam! received much critical praise and fanfare for being a lighthearted and fun adventure in stark contrast with other DCEU features at the time and the sequel promises to take the fun factor a notch ahead. A new poster for the movie, released by IGN, perfectly encapsulates Billy's upcoming troubles.
In the new poster, we see Shazam looking directly at us while in the upper right corner, we see Helen Mirren, Lucy Liu, and Rachel Zegler as the Daughters of Atlas—Hespera, Kalypso, and Anthea, respectively. Below them, Djimon Hounsou's Wizard is seen as well as Billy's crime-fighting foster siblings viz Freddy, Eugene, Darla, Pedro, and Mary. In the bottom left corner, we see an old haunted house with a dragon looming over it.
All over the poster perfectly sums up all the troubles that Shazam is going to get into and all the support he'll can find when the fury of the gods is unleashed. The newly released synopsis along with the poster reveals that Billy and his "Shazamily" are still learning to use their powers but when the Daughters of Atlas come to earth in search of "the magic stolen from them long ago, Billy—aka Shazam—and his family are thrust into a battle for their superpowers, their lives, and the fate of their world." Speaking about the movie Zachary Levi previously told Collider:
"I'm really proud of the first one, I think we made a really, really good movie. I think the second one is better. I think that we had more time, we had more budget. We had, essentially, the entire cast returning, and we all knew our characters a little bit more; we could kind of sit into them a little bit more."
The feature is helmed by David F. Sandberg who directs from a script by Henry Gayden and Chris Morgan. Fury of the Gods casts Levi and Asher Angel as Billy Batson/Shazam, Jack Dylan Grazer and Adam Brody as Frederick, Ross Butler and Ian Chen as Eugene, and Meagan Good and Faithe Herman as Darla. Furthermore, the film will star Grace Fulton as Mary, replacing Michelle Borth from the first film. Also in the cast are Jovan Armand and D. J. Cotrona as Pedro, Marta Milans and Cooper Andrews as Rosa, and Victor Vásquez, the foster parents of Billy and his siblings.
Shazam! Fury of the Gods arrives in theaters on March 17. You can check out the new poster below.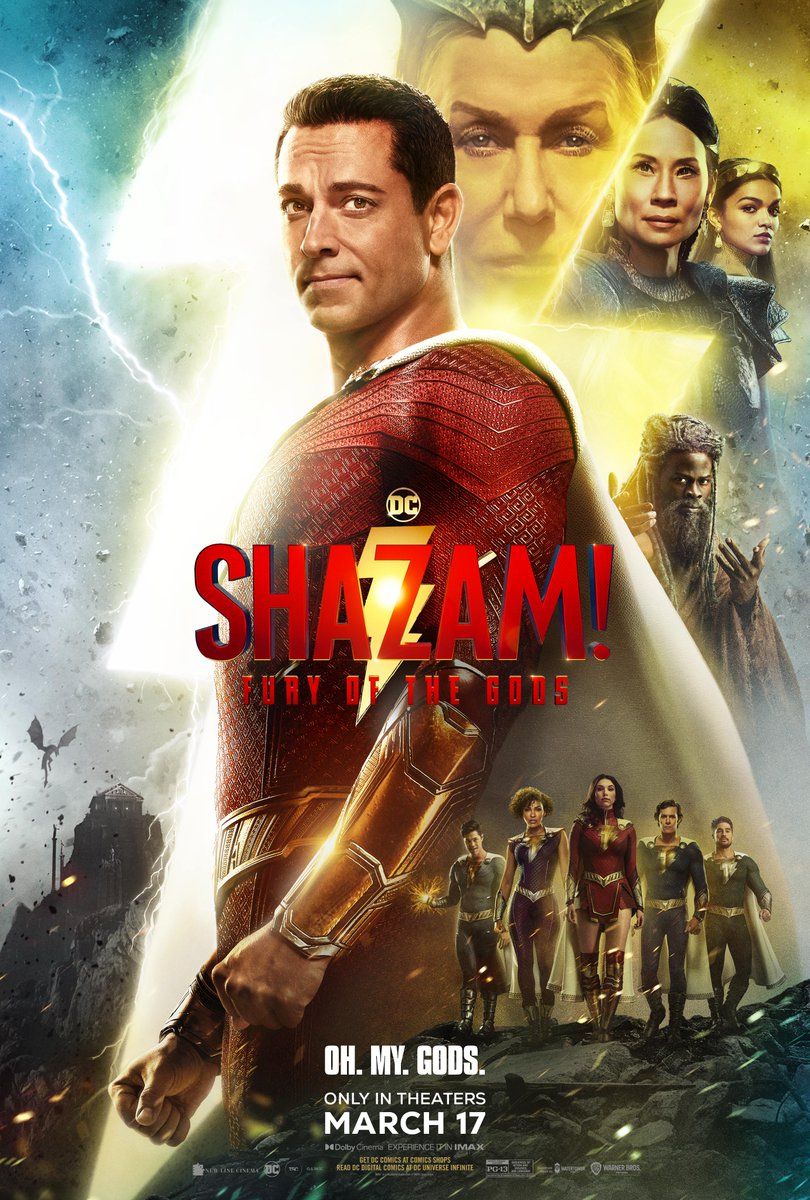 via Collider