For as long as time, spin-off franchises have always been subject to greater scrutiny than other films. Whether it's because there is a loyal fanbase attached to its parent franchise or simply because there is an undeniable audaciousness to take something people know and love and turn it into its own thing, they all garner a level of extra attention. Michael B. Jordan's upcoming boxing epic Creed III is no different. A spin-off of Sylvester Stallone's career-defining Rocky franchise, the previous films have had the support of appearances from Stallone's Italian Stallion but now Jordan's titular character is getting ready to confidently step into the ring on his own. In a carrying of the torch, the Creed films chronicle the story of Adonis "Donnie" Creed, the son of Rocky's late best friend and boxing icon Apollo (Carl Weathers). Unsurprisingly, the film has already garnered mass anticipation and with the countdown on until the film's release a new poster has been unveiled.
Putting Donnie at the center of the action, Jordan is seen looking a little cut up as he dominates the ring embracing the heat of the fight. Sporting his signature white shorts, which are brandished with his name, and matching white gloves, Donnie means business as he throws a powerhouse punch at his competitor with black gloves. The decision to put Donnie in all white feels somewhat intentional, almost as if it is a nod to his fight for good and justice whilst his opponent stands on the side of darkness, depicted by the black. The intensity of the atmosphere is nearly tangible with sweat from the competitors effulging the stage-lit ring. The fiery expression plastered across Donnie's face mid-action suggests this match means more to him than just any other showdown.
This very much falls in line with what we know about Creed III so far, with the story centered around the return of Donnie's childhood friend Damian Andersen (Jonathan Majors). Fueled by vengeance after spending 18 years in prison, Damian has a vendetta against a now very successful Donnie and is adamant to secure the life he thinks Donnie took from him. Interestingly, we've previously seen Damian kitted up in black gloves which suggests this poster could be set around the pair's epic face-off.
Although clearly walking its own path, the film pulls on familiar themes explored in the Rocky franchise including family, loyalty and the mental fight that takes place outside of the ring. Embracing these concepts has seemingly been a part of Jordan's vision all along with the Hollywood superstar also helming the project. Jordan previously opened up on how the importance of the emotional aspect of the film. "Creed 3 is not just your typical boxing movie," he said. "We really wanted to take advantage of the emotional journey of the characters, and put that into the ring and have it pay off in a physical way." This is particularly apparent in the latest teaser for the film which sees Donnie coming to terms with the reality of fighting someone he saw as a brother or in his words "let go of whatever was and walk into what is." It looks like Creed III is shaping up to be a heavy hitter both in action and heart.
Creed III punches its way into theaters on March 2023. You can see the new poster below.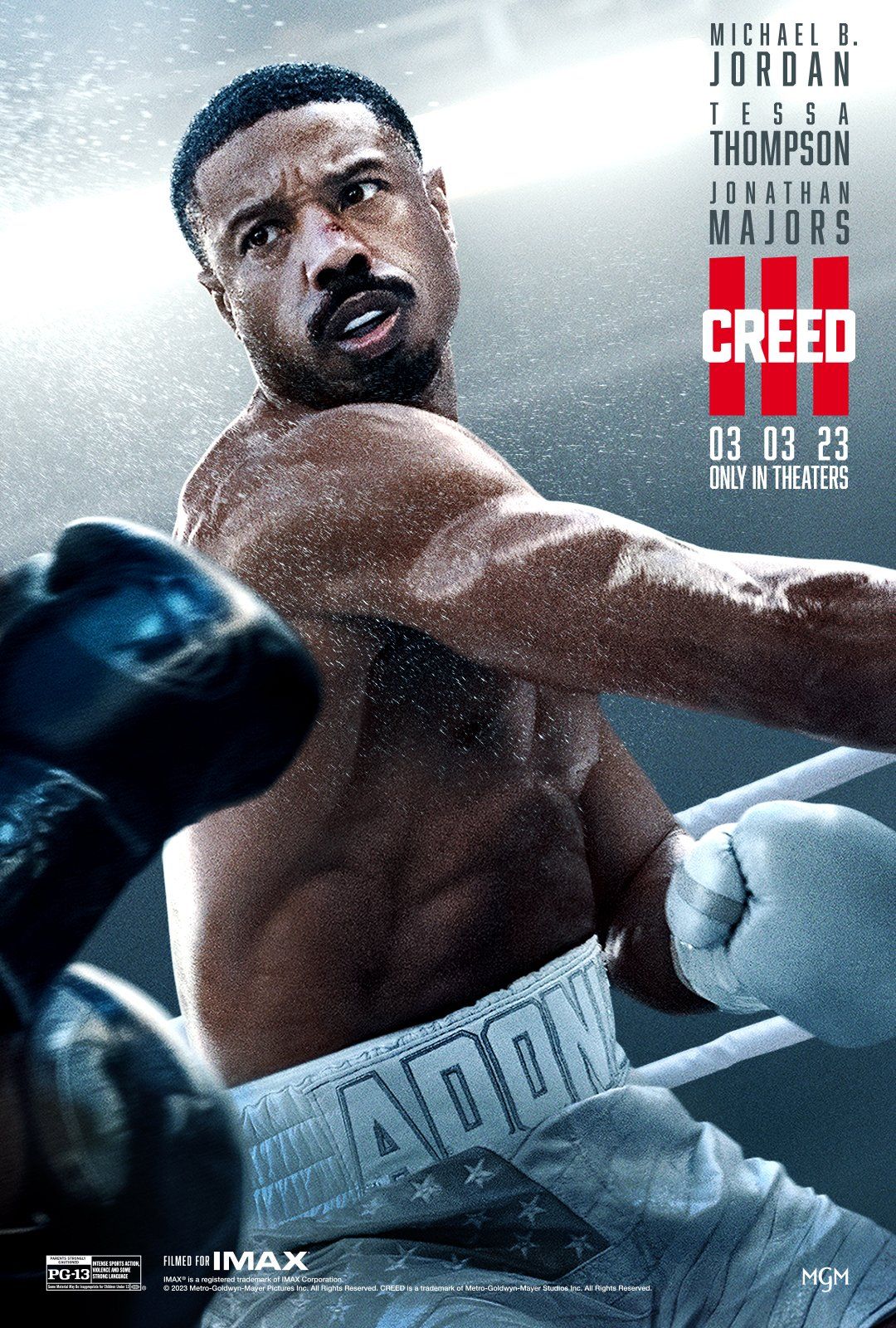 via Collider