Back in January, new DC co-head James Gunn revealed he was working on a DC TV series that had yet to be announced as part of his and Peter Safran's plans for the DCU. Little about the show was known other than that Gunn had already penned about one-third of the project while working on a slew of other properties at the company. Now, appearing with Safran to unveil the future of DC under their reign, he revealed that said series is an animated Creature Commandos show. Furthermore, an image was shown that unveiled the superhero team of monster men and women (along with their human leader) as they'll appear in the show.
During the reveal, Gunn also teased that Creature Commandos will be among the first series fans will get to see from this new DCU slate. He's already penned the series and the animation team is hard at work to get the project ready. Gunn has far greater plans than just animation, however. He elaborated that he wants the series to be the start of a trend at DC of using the same actors for every project across all media, making everything feel as if it's all part of the same universe rather than completely different timelines. As he explains:
So, the first series that we're doing, and I've written the entire series, is Creature Commandos. This is an animated series, this is actually the art from the animation company that's doing it. Creature Commandos is based on the great team from DC, and what we're doing with the DCU is we are having animation tied directly into live-action, television, and movies, and games, all intertwined within the same universe. We're going to cast actors that are going to be able to play the characters in this, as well as in other things, some of which we've already cast. I've written all seven episodes of the show, and it's in production now. So that's the first thing that we're doing, and I love it.
Safran and Gunn are Hyped to Reintroduce Everyone to the Creature Commandos
The Creature Commandos are a unique team of heroes that have been somewhat underrepresented on-screen. Their ranks originally boasted classic monsters like a werewolf, vampire, gorgon, and Frankenstein's monster all led by Lt. Matthew Shrieve and they initially were designed as a special forces unit operating in World War II. Gunn's iteration, however, is a bit more diverse, pulling on later designs like an amphibian humanoid, a robot, and more to fill a colorful roster. Despite the fun character designs, they've only made the occasional appearances in episodes of Batman: The Brave and the Bold or Arrow and most of the attention is on Lt. Shrieve.
Both Safran and Gunn are especially excited to see the series reintroduce these characters to audiences. Safran in particular had high praise for Gunn's writing, saying, "I'm staggered at the caliber of the scripts. We'll see how everything else comes, but the screenplays are amazing." Should the series come to fruition and prove to be a hit among audiences, we could see a lot more of Lt. Shrieve and company in future DC projects under Gunn's command.
Creature Commandos is currently in production and casting news could come before long. Stay tuned for more news on the series here at Collider and check out the first image from the series below.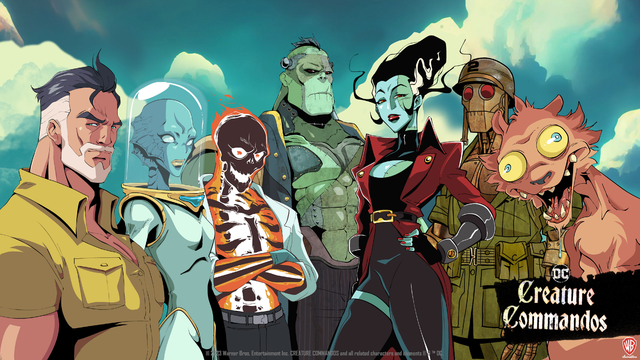 via Collider