Christina Ricci has constantly shown audiences that she's ready to tackle anything, and she does it with grace and ease that makes you instantly care about her characters whether. Now we're getting our first look at Ricci's next project, a sci-fi/action film called The Dresden Sun.
Deadline reveals The Dresden Sun will follow a "brilliant, principled mercenary" (Steven Ogg) who is planning on stealing "the sphere" from Peredor Corporation and Dr. Dresden (Ricci). While much of the story is currently played close to the vest, we know the film will be a "heist gone wrong" story, pointing somewhat at the plot to expect from the movie.
In the newly released image, Ricci has blunt bangs (which she's slowly becoming known for), doesn't look happy about what is happening around her. That alone is enough of a tease to have us ready to see the film, that has now been boarded by VMI Worldwide. Alongside Ricci and Ogg, the film also stars Mena Suvari, Linus Roache, and Samantha Win.
'The Dresden Sun' is the Latest Stop in the Ricci Resurgence
Fans have been ecstatic for Ricci's recent success. Ricci starred in both Yellowjackets and Wednesday which gave her fans a lot of joy. With Yellowjackets, her character, Misty, is someone who is both terrifying and commands pity because she didn't have friends growing up. Ricci plays the character in such a nuanced way that you're never quite sure where she is going to go next. And the nod of having Ricci in a show like Wednesday after having been our Wednesday Addams in the 90s was also a very special career touch.
This first look at The Dresden Sun is particularly fascinating as Ricci's body of work features limited entries in the sci-fi/action genre. "The Dresden Sun is a whole other world of sci-fi with stylized and sleek action elements with an overall unique concept. We at VMI are very excited to bring this one to market, the stellar cast and level of filmmaking will bring the wow factor," said Jessica Bennett, COO Productions and Acquisitions for VMI. Additionally, director Michael Ryan discussed the film, stating: "The Dresden Sun is an allegorical story that deals with ideas and concepts ranging from corporatocracy, interdimensional reality, grief, arrested development, and apostasy. We at Archetype Pictures appreciate working with VMI and their passionate team and are looking forward to their abilities to help deliver the film to the world."
Check out the first look at Ricci in The Dresden Sun below: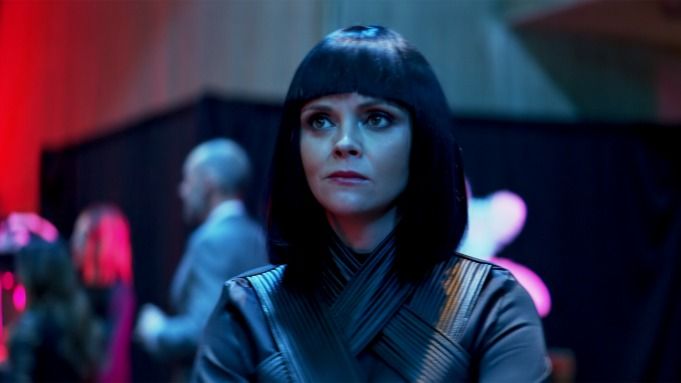 via Collider