Hot off her Academy Award nomination for Everything Everywhere All at Once, fans are getting a first look at Stephanie Hsu's next project. Today, the first image has been released for the upcoming comedy Joy Ride, the latest work from Crazy Rich Asians co-writer Adele Lim.
Joy Ride follows the story of four unlikely friends as they take an unforgettable journey. The film stars Ashley Park (Emily in Paris) as Audrey, a woman on a business trip to Asia that ends up not going according to plan. In need of help, Audrey turns to Lolo (Sherry Cola), her hot mess of a childhood best friend, Kat (Hsu), her college friend who has since become a Chinese soap star, and Deadeye (Sabrina Wu), Lolo's eccentric cousin. The group's journey quickly turns into a once-in-a-lifetime adventure full of bonding, friendship, and personal revelations. Joy Ride also stars Ronny Chieng, Desmond Chiam, Alexander Hodge, and Chris Pang.
The image released today gives the first look at the four leads. Luckily, the image isn't full of spoilers but does tease what might be a fun sequence. We see the four lead characters on the side of the road looking off-camera with looks of shock and despair. It feels very reminiscent of the must-have scene in any road trip movie, where the car they have been riding in gets destroyed. But, fans will just have to wait for the full movie to actually know what they are reacting to.
Who Is Behind The Camera On Joy Ride?
Joy Ride will be Lim's feature film directorial debut. She is best known for writing Crazy Rich Asians and Raya and the Last Dragon. Lim directed the film from a script written by Cherry Chevapravatdumrong and Teresa Hsiao based on a story by Chevapravatdumrong, Hsiao, and Lim. The writing trio also produced the film alongside Seth Rogen, Evan Goldberg, James Weaver, and Josh Fagen.
Joy Ride is scheduled to be released on June 23, 2023. Stay tuned to Collider for any future updates on the film. Check out the official synopsis below: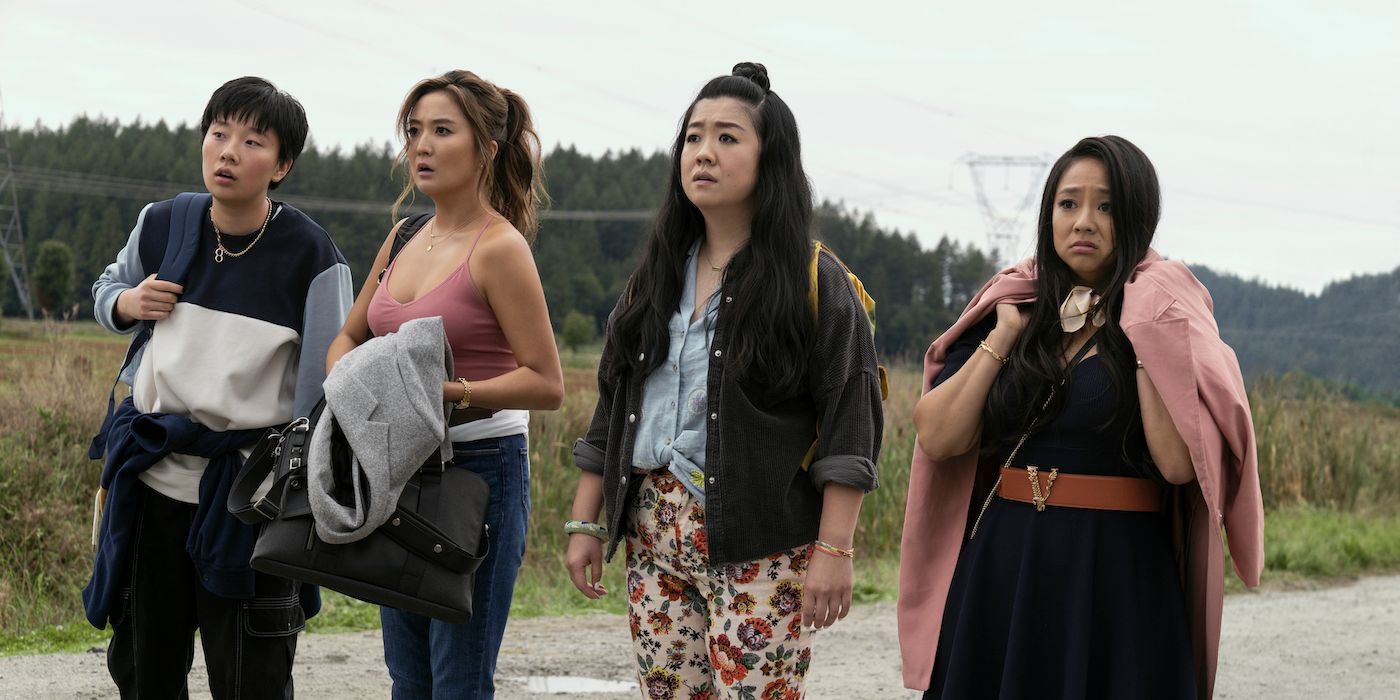 From the producers of Neighbors and the co-screenwriter of Crazy Rich Asians, JOY RIDE stars Ashley Park, Sherry Cola, Oscar® nominee Stephanie Hsu, and Sabrina Wu. The hilarious and unapologetically explicit story of identity and self-discovery centers on four unlikely friends who embark on a once-in-a-lifetime international adventure. When Audrey's (Ashley Park) business trip to Asia goes sideways, she enlists the aid of Lolo (Sherry Cola), her irreverent, childhood best friend who also happens to be a hot mess; Kat (Stephanie Hsu), her college friend turned Chinese soap star; and Deadeye (Sabrina Wu), Lolo's eccentric cousin. Their no-holds-barred, epic experience becomes a journey of bonding, friendship, belonging, and wild debauchery that reveals the universal truth of what it means to know and love who you are.
via Collider