The countdown until Michael B. Jordan's Adonis "Donnie" Creed returns to the ring is officially on. Creed III may be the third installment in the franchise, but it looks ready to mark a notable shift in the energy of the boxing saga thus far. The previous films saw Donnie lean on Rocky (Sylvester Stallone), his late father's best friend, for support in navigating life both in and out of the ring. However, Creed III picks up in new territory with Donnie autonomous, at the top of his game, and now settled down with a family. Off-screen it also marks Jordan's directorial debut which has created space for a new vision and a new version of Donnie. In the run-up to the release audiences have been drip-fed tidbits about the film and the latest is a Dolby poster for the project.
The fresh image spotlights Donnie center-stage in the middle of a ring as he unleashes his inner "Eye of the Tiger" for onlookers. Sporting what appears to be his signature white "Adonis"-branded kit whilst in an unshakable fighting stance, Donnie flexes his muscles as he hypes himself up for battle. Brandishing a bloody nose with beads of sweat dripping off his torso, Donnie looks more like a machine recharged than a man ready to accept defeat.
Although no opponent is visible, it's fair to assume he is gearing up to fight former childhood best friend Damian Andersen (Jonathan Majors) after he was released from prison and set his sights on Donnie's crown. The passion on Donnie's face screams (quite literally) that this is certainly more than just a fight. Donnie's white kit has been a constant throughout all promotional material for Creed III, whilst Damian's has largely been draped in black training gear, in what can only be perceived as a nod to the fight of right versus wrong.
What is Creed III About?
Donnie and Damnian's rivalry is set to form the heart of the upcoming film with the lines between right and wrong, good and bad, seemingly a lot blurrier than anyone else knows. Even the film's lead single "Ma Boy" alludes to the lost love between the pair with lyrics such as: "He a fool, a tool, a loose screw. Pickin' on me, ain't no pick and choose. Either way that you look, it's a lose-lose."
The dynamic between the duo is particularly interesting because whilst Donnie has a reputation to protect, he seems to be approaching Damian from a point of personal pain. Meanwhile, Damian is oozing vengeance and hungry to be rewarded for his time behind bars. This emotional depth behind the characters is something Jordan has spoken to previously hinting at how the emotional journey of the characters is paid off in a "physical way" throughout Creed III. Whether their lost brotherly bond can be fixed or not remains to be seen.
The poster comes as part of Dolby's campaign to encourage viewers to opt to watch the film in one of their cinemas with an incentive of watching the film two days early if they do. You can find a Dolby cinema here and check out the new poster below. Creed III hits select Dolby cinemas on March 1 and all other theaters on March 3.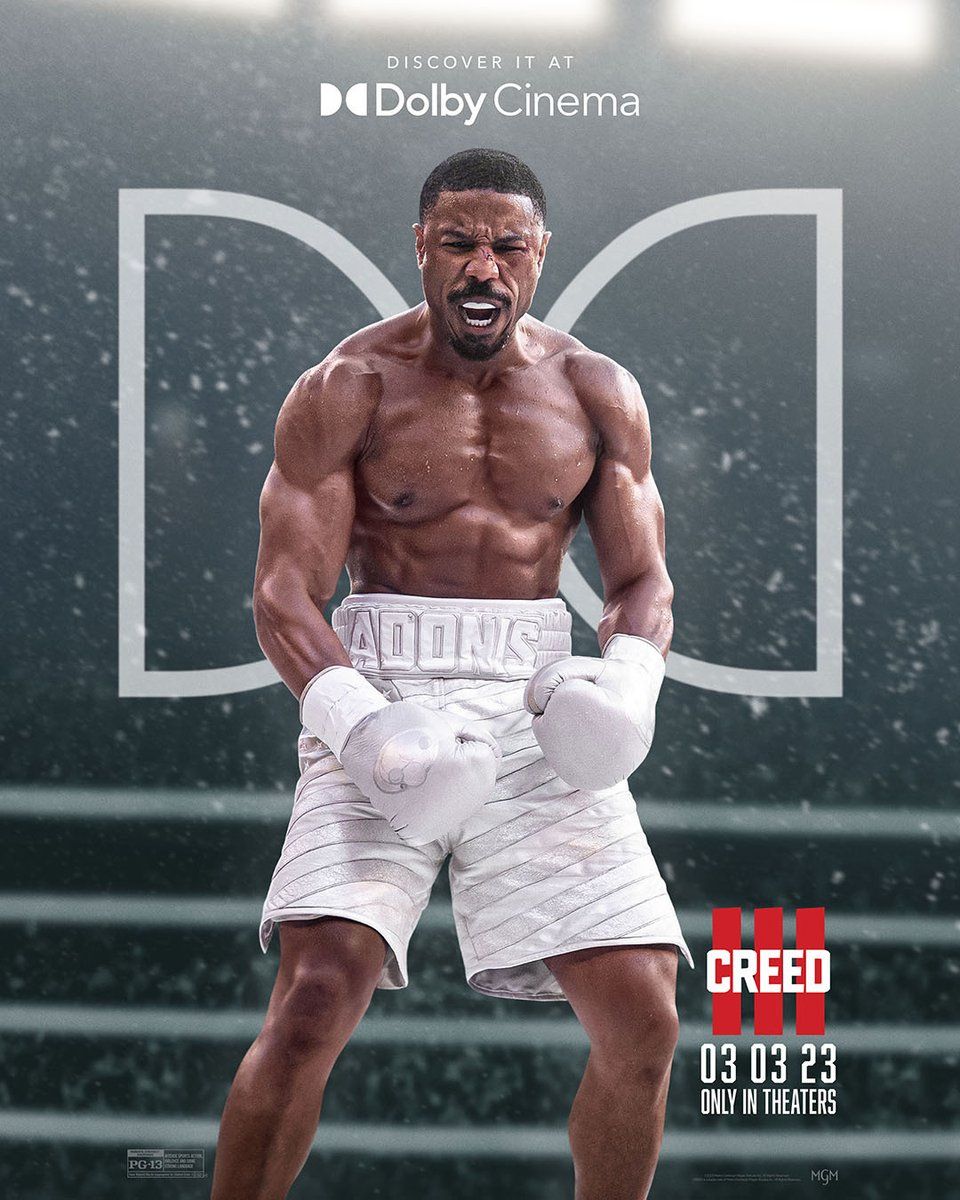 via Collider