The Guardians of the Galaxy are back together in a new poster released for the upcoming third film in the franchise, following the release of a brand-new trailer during the Super Bowl. While it was expected to see characters such as Star-Lord (Chris Pratt), Rocket (Bradley Cooper) and Groot (Vin Diesel) in the same space, it was surprising to see Gamora, played once again by Zoe Saldaña, by their side. The Gamora seen in the poster is a variant of the fearless warrior that had been a part of the team since the first Guardians movie came out in theaters back in 2014. The original Gamora was killed during the events of Avengers: Infinity War, while the variant that will play a role in the upcoming Vol. 3 is from a different universe, making her way to the main Marvel Cinematic Universe timeline in Avengers: Endgame.
In Guardians of the Galaxy: Vol. 3, the team are trying to adjust to their new life on Knowhere, but when parts of Rocket's past resurface, Star-Lord must lead the Guardians on a dangerous mission to protect him that could lead to the team dissolving. James Gunn directed the film, after helming the two previous Guardians installments. The filmmaker is now busy supervising the upcoming DCU for Warner Bros., which will include new projects featuring Batman and Superman. Last year, Gunn was named president of DC Films alongside Peter Safran, and the pair have been working of a diverse slate of films and television series ever since.
The upcoming Guardians adventure is preceded by The Guardians of the Galaxy Holiday Special. Released on Disney+ during the holidays, the Marvel Studios Special Presentation found Star-Lord feeling devastated after losing Gamora. Determined to make Quill feel better for the holidays, Mantis (Pom Klementieff) and Drax (Dave Bautista) sneak away from the team in order to kidnap Kevin Bacon and present him as a present to his friend. The Guardians then live their own Christmas carol, as Mantis and Drax learn that it is not okay to kidnap Hollywood actors, no matter how sad your friends might feel.
Alongside the new poster, Disney released a new trailer for Gunn's final Guardians of the Galaxy movie for the Super Bowl. In the trailer, Star-Lord gives audiences a quick recap of what happened between him and Gamora in the first two Guardians movies, as well as in Infinity War and Endgame. It also displays a sneak peek at the High Evolutionary's (Chukwudi Iwuji) plan to create the perfect society. During the movie's first trailer, it was teased that the new villain played a major role in Rocket Raccoon's past. Time will tell what's going to happen when the High Evolutionary crosses paths with the Guardians of the Galaxy.
You can see the new poster for Guardians of the Galaxy: Vol. 3 below: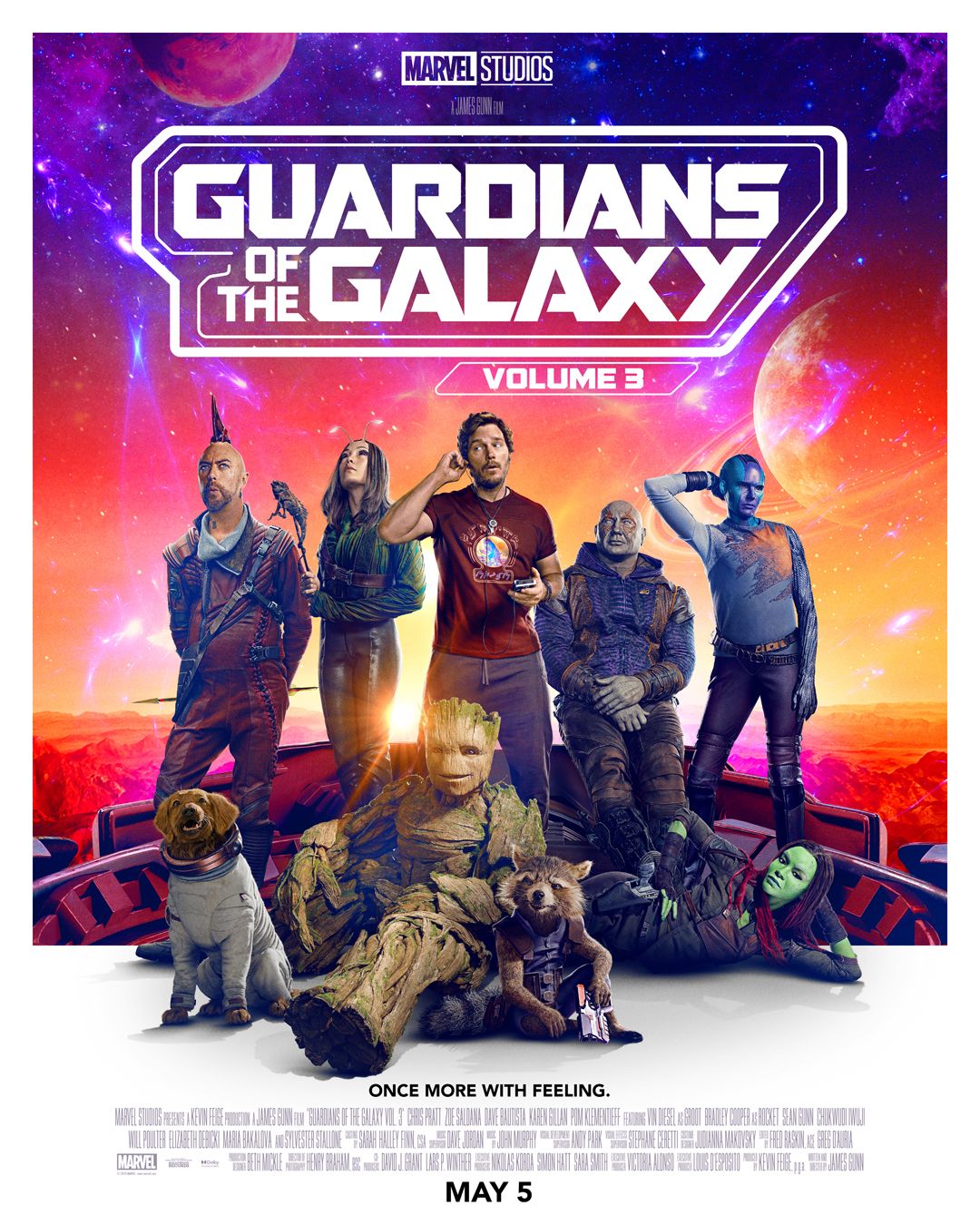 via Collider