There is less than one month to go until Star Wars returns to the small screen with the third season of The Mandalorian. Ahead of the hotly anticipated release of Season 3, a new image is showing off the series' protagonists as they head back into action.
The exclusive photo from Empire Magazine shows the star of the show, Din Djarin (Pedro Pascal/Brendan Wayne) looking on wistfully. While the locations for Season 3 of The Mandalorian have not all been revealed, Djarin appears to be on some type of desert or rock planet. Alongside Djarin is Bo-Katan Kryze (Katie Sackhoff), dressed in her signature Mandalorian armor and looking on as well. Then there is the real star of the show, Grogu, looking as cute as ever in his floating bassinet, seemingly checking out the situation along with his adopted father and Bo-Katan.
Plot details on Season 3 of The Mandalorian remain as tightly-guarded as ever. However, Disney's synopsis for the show says that the season will see "the journeys of the Mandalorian through the Star Wars galaxy continue." The synopsis goes on:
"Once a lone bounty hunter, Din Djarin has reunited with Grogu. Meanwhile, the New Republic struggles to lead the galaxy away from its dark history. The Mandalorian will cross paths with old allies and make new enemies as he and Grogu continue their journey together."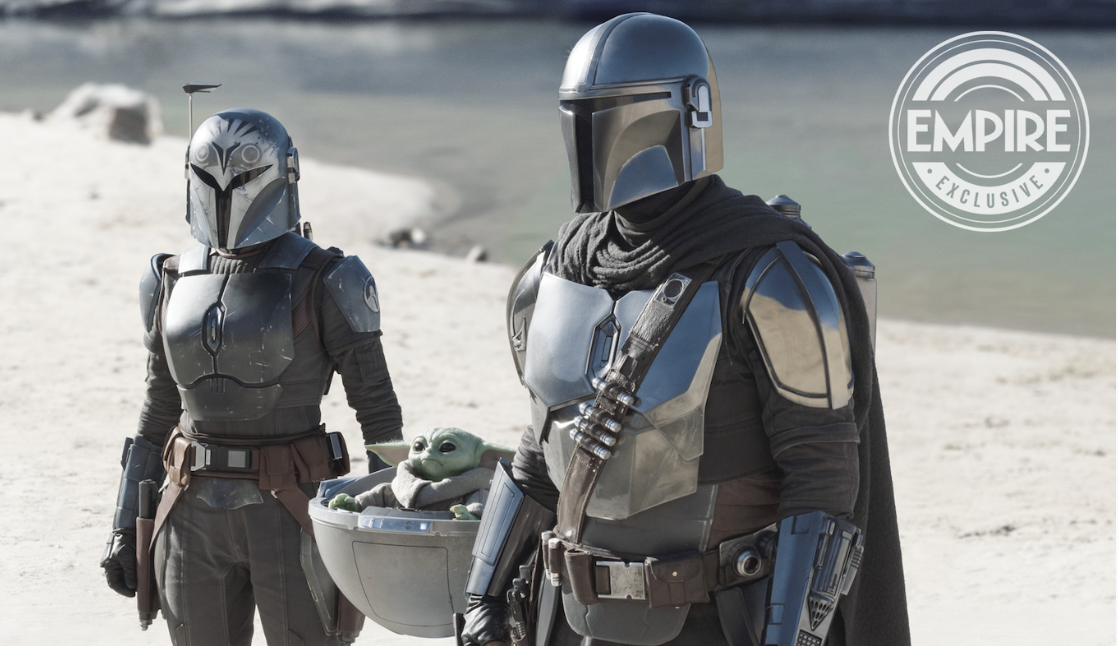 Season 2 ended with Djarin taking control over the throne of Mandalore after winning the Darksaber in a fight with Moff Gideon (Giancarlo Esposito). It is known that this is something Bo-Katan has long desired, so Season 3 may see the pair get into a power struggle for control of the now-ruined Mandalore. It is possible that Empire's photo may take place on Mandalore, as the rocky background appears to bear at least a passing resemblance to the planet as seen in Season 3's official trailer.
While the plot details remain thin, one thing that doesn't seem to be waning is the cast's enthusiasm for the show. "What I love most about Season 3 is how much the world opens up in terms of Mandalore and Mandalorians," Pascal told Empire in the magazine's cover issue. "That means so many different facets of culture, politics, and rules and discoveries. Delicious doors are flying wide open." This sentiment was echoed by Sackhoff, who said that Season 3 was "so big and so bold and so different," describing it as an "epic season."
In addition to Pascal, Sackhoff, and Esposito, returning cast members include Carl Weathers, Emily Swallow, and Omid Abtahi. Creator and showrunner Jon Favreau wrote all eight episodes, along with Noah Kloor and Dave Filoni. Season 3 will also see the return of numerous high-profile directors, including Bryce Dallas-Howard, Rick Famuyiwa, Favreau, and Weathers.
Season 3 of The Mandalorian premieres on Disney+ on March 1.
via Collider