Things are going off the rails in a first-look image from Yuval Adler's (The Secrets We Keep) latest psychological thriller, Sympathy for the Devil. Starring Nicolas Cage and Joel Kinnaman, the photo reveals Cage in his latest over-the-top role giving his co-star some serious heebie-jeebies. Seated at a small booth inside a truck stop diner, the leading characters share a conversation over coffee. Cage's character, known now only as "The Passenger", cracks himself up with a laugh that looks more sinister than comedic, while Kinnaman's "The Driver" brain is working overtime wondering how he got himself into this mess. Even in this standalone shot, we can tell that the feature will be packed with plenty of emotion from two characters who find themselves in a bizarre situation.
From what we know so far, the film will center around "The Driver" (Kinnaman) who's been forced to give a ride to a strange man, "The Passenger." After having his vehicle boarded by the definitely unstable and possibly lethal rider, the driver finds himself pushed to the limits playing chauffeur for a man at the end of his rope. But, as their wheels roll down the highway, both men will discover that not all is as it seems.
Penned by Luke Paradise (Lost on a Mountain in Maine), the Capstone Studios and Hammerstone Studios feature began filming in Las Vegas back in the fall. No other plot details or cast updates have been released at this time, but from what we can see here and gather from the initial logline, we can count on Cage and Kinnaman to be carrying the production on their backs. In a statement released alongside the first-look image, producer Allan Ungar said that audiences will be in for a real treat and "can expect an adrenaline rush watching these two powerhouse talents go toe-to-toe." As any Cage fan knows, this film will be right up the Pig actor's alley with Ungar adding that he's "at the top of his game."
Sympathy for the Devil will mark Adler's return to filmmaking following his 2020 thriller The Secrets We Keep, which was his third full-length feature, preceded by 2019's The Operative and his critically acclaimed 2013 directorial debut, Bethlehem. The film will be one of a handful that Cage has on the way, with the star soon appearing as the legendary Count Dracula in Chris McKay's comedy feature Renfield, as well as Kristoffer Borgli's comedy Dream Scenario and Oz Perkins's psychological thriller Longlegs. Previously teaming up with Adler for The Secrets We Keep and known for performances in The Suicide Squad and Apple TV+'s For All Mankind, Kinnaman will also soon appear in John Woo's return to the big screen in his action thriller, Silent Night.
Joining Ungar on the production team will be Cage, Hammerstone Studios' Alex Lebovici, Stuart Manashil, and David Haring. Capstone Studios' Christian Mercuri will serve as an executive producer with Jason Soto, David Sullivan, Courtney Chenn, Marc Goldberg, Tim Moore, and Waylen Lin.
As of right now, no release window has been revealed for Sympathy for the Devil.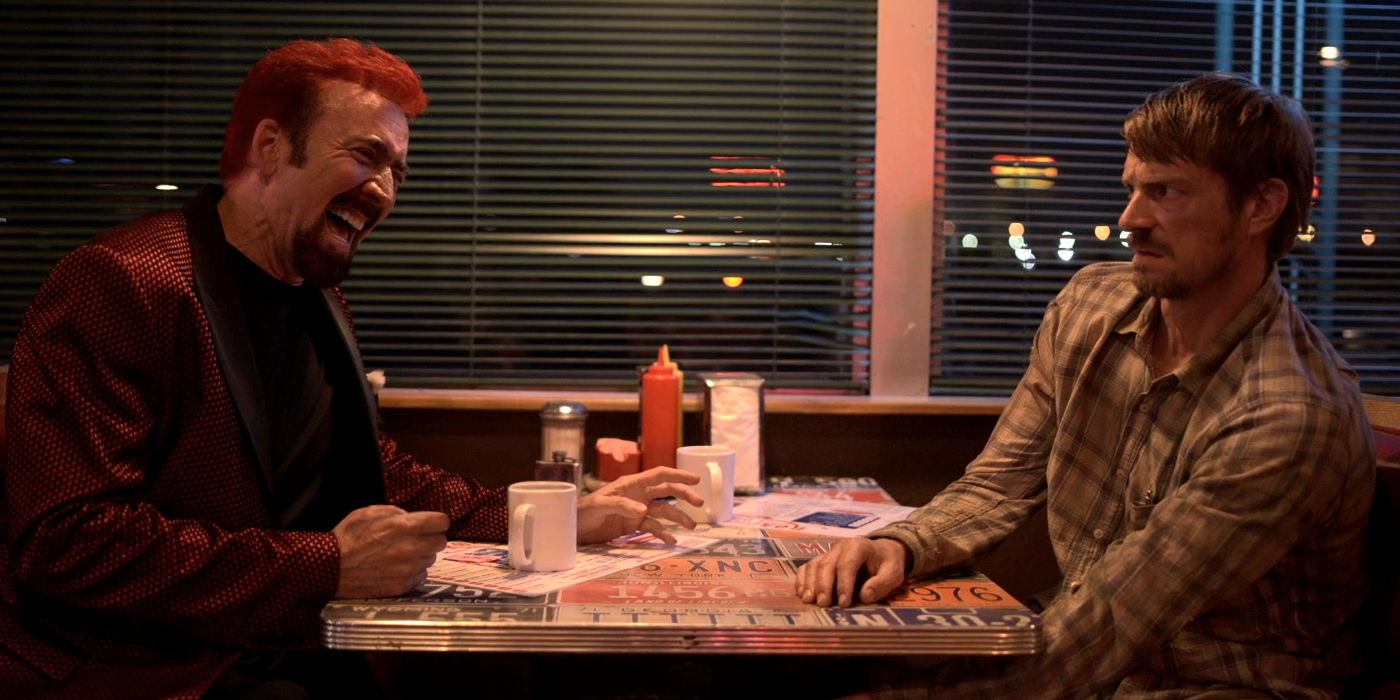 via Collider