A new poster for upcoming coming-of-age movie Are You There God? It's Me, Margaret has been released. The new poster for the all-star-led movie was released exclusively by Empire Magazine on Twitter. Are You There God? It's Me, Margaret is slated to premiere in theaters on May 19, 2023.
Are You There God? It's Me, Margaret, which is based on Judy Blume's middle-grade novel of the same name, was initially set for release on September 22, 2022, before it was pushed back to April 28, 2023. After another delay, the official release date is now May 19. The coming-of-age comedy-drama follows Margaret Simon (Abby Ryder Fortson), an 11-year-old whose world is changing after moving from her home in New York City to the Suburbs of New Jersey. As if the change in her environment wasn't enough, Margaret now has to deal with puberty, making new friends, and discovering her religious identity after being raised in a home of both Jewish and Christian parents. The movie will also follow Margaret's mom, Barbara Simon (Rachel McAdams) and dad (Benny Safdie) as they cope with the changes brought on by the move.
The new poster shows Margaret in a loving embrace with her mother and grandmother (Kathy Bates). And the previously released trailer had shown that Kelly Fremon Craig's adaption of Blume's novel will explore the relationship between the three generations of grandmother, daughter, and granddaughter. The trailer opened with Margaret staring longingly at her grandmother from the backseat of her parents' car as they drive off to New Jersey. Then Margaret's voice is heard praying to God, opening with the movie's title "Are you there God? It's me, Margaret."
The Controversy Around the Blume novel, Are You There God? It's Me, Margaret
The novel was initially released in 1970, but it received some backlash from parents and schools due to the book's exploration of religious and sexual topics, and Blume's views on religious topics were deemed to be anti-Christian. Are You There God? It's Me, Margaret ended up being banned from school libraries during its release. However, the book remained a bestseller and received accolades for its exploration of religion and adolescence. In 2010, it was in Time's 100 best novels published since 1923.
Are You There God? It's Me, Margaret was written and produced by Fremon Craig with Gracie Films, Blume, Julie Ansell, Amy Brooks, Richard Saka, and James L. Brooks joining in the production.
The Lionsgate movie will debut in theaters on May 19. Checkout the poster below: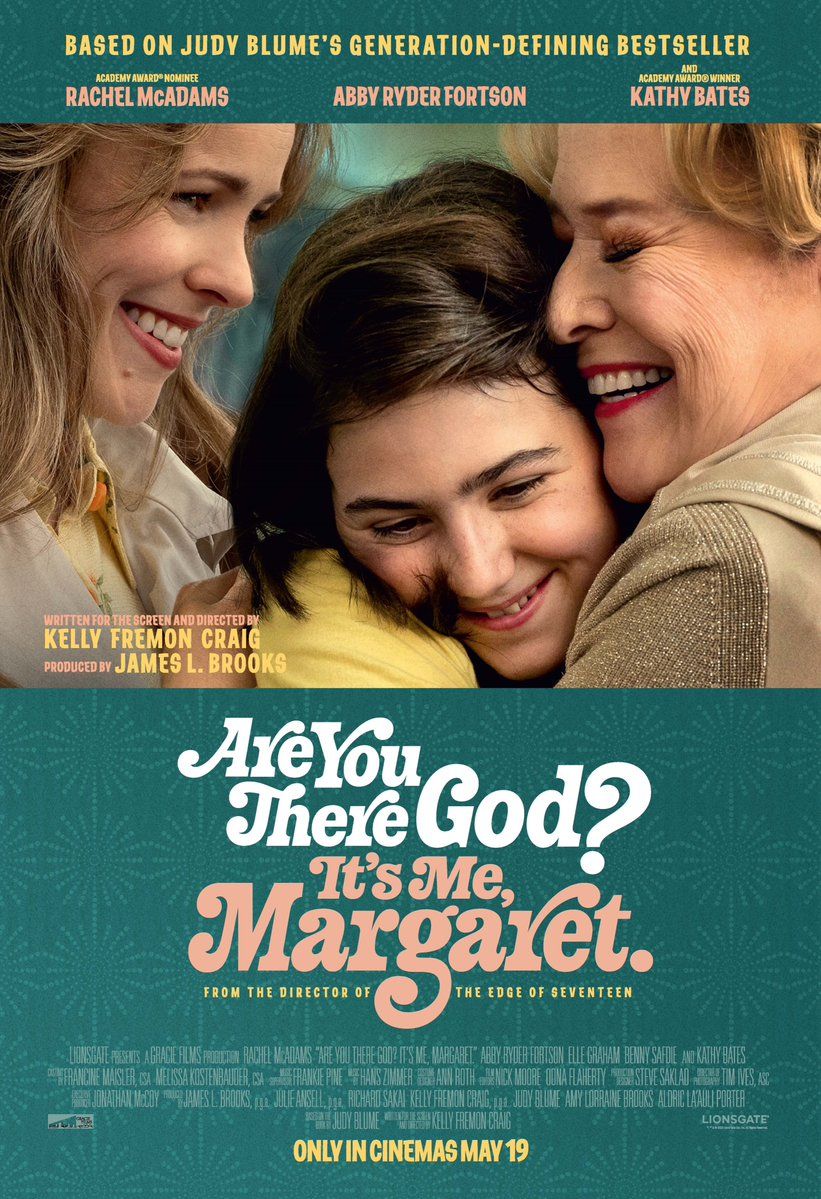 via Collider