The 2023 superhero calendar has officially kicked off and the next stop on the comic book train is Shazam! Fury of the Gods in March. The sequel to the beloved 2019 Shazam!, based on the DC Comics hero of the same name and once again directed by David F. Sandberg and starring Zachary Levi, will see the Shazam Family facing off against the daughters of Atlas. Now the newly released ScreenX poster further teases the electric battle ahead for DC's favorite family.
The poster, revealed exclusively by Screen Rant, has Levi's Shazam and Djimon Hounsou's heroic Wizard surrounded by the villainous daughters of Atlas comprised of Lucy Liu's Kalypso, Helen Mirren's Hespera, and Rachel Zegler's Anthea. Under them are the rest of the Shazam Family featuring Grace Caroline Currey's Mary, Meagan Good's Darla, Ross Butler's Eugene, D. J. Cotrona's Pedro, and Adam Brody's Freddy on top of the remains of a battlefield. The atmosphere of the poster is perfect for the ScreenX experience displaying a moody and hazy sunset with a few character specific lightning strikes for good measure.
What's the Plot of 'Fury of the Gods'?
Fury of the Gods picks up after the events of the first Shazam! with Billy and his foster family adjusting to their new superhero realities. Everything seems to be going fine until the daughters of Atlas, original characters created for the film, show up wanting Shazam's power. A power that they claim rightfully belongs to their godly father. This causes tension within the Shazam Family as the demigod sisters rebuild the Wizard's staff that Billy broke in the first film. The sisters slowly take back their powers leading to Shazam! seemingly being the only one left to stop them and get his family's powers back.
That's all we know a month away from the film's release, but the trailers so far have presented a bigger and better adventure that retains the heart of the original film. That's something which made us fall in love with Shazam's wacky world in the first place. The action in particular looks spectacular, an aspect of Shazam! that was highly underrated, with DC's pantheon of gods being expanded upon and the added joy of dragons and unicorns. The stakes feel higher than ever with Kalypso and Hespera looking to take no prisoners. However, the key to victory may lie with Anthea who looks to form an intimate relationship with Freddy in the film.
When Does 'Fury of the Gods' Release?
Shazam! Fury of the Gods is releasing in theaters everywhere on March 17, 2023. While we wait for Shazam's big screen return, you can view the new ScreenX poster below: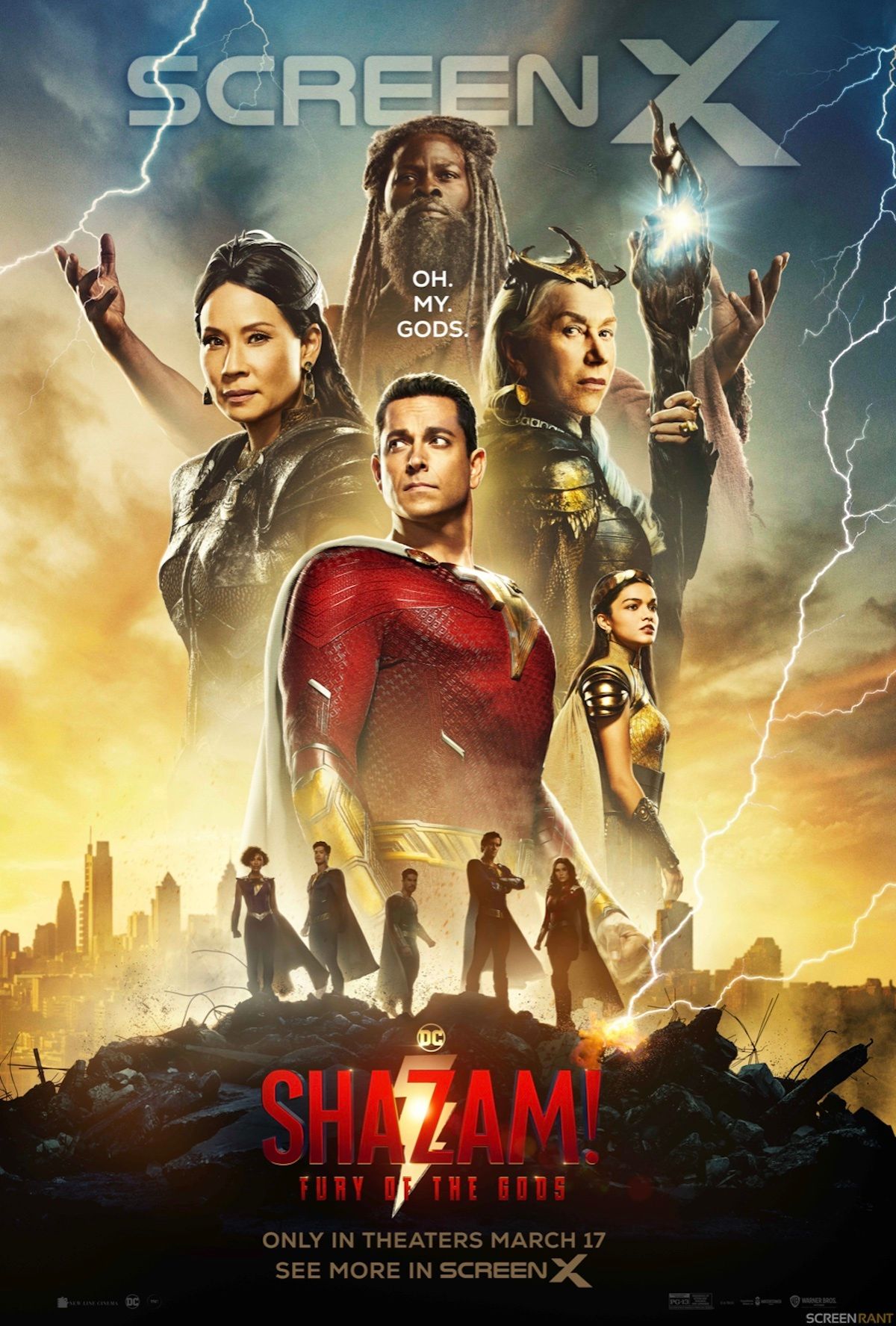 via Collider