Lionsgate and MRC Entertainment have released the first poster for the upcoming slasher comedy The Blackening, via Bloody Disgusting. A trailer for the horror comedy is expected to arrive on March 1.
Per the movie's official plot synopsis,The Blackening follows "Seven black friends who go away for the weekend only to find themselves trapped in a cabin with a killer who has a vendetta. Will their street smarts and knowledge of horror movies help them stay alive? Probably not." The debut poster gives potential audiences a taste of the film's Scream-style meta-commentary, wittily playing with one of the most tired and offensive tropes of the horror genre – namely, that Black cast members are frequently killed off first.
Based on a Comedy Central original short from 2018, The Blackening is directed by Tim Story (Tom & Jerry, the 2019 Shaft reboot) from a script by Dewayne Perkins (who penned the original short) and Tracy Oliver (Girls Trip, Little). Perkins (The Upshaws, Saved by the Bell) also stars in the upcoming film. Other cast members include Antoinette Robertson (Dear White People, Atlanta), Sinqua Walls (Nanny, Teen Wolf), Grace Byers (Harlem, Empire), X Mayo (American Auto, The Farewell), Melvin Gregg (Snowfall, The Way Back), Jermaine Fowler (Coming 2 America, Judas and the Black Messiah), Yvonne Orji (Insecure, Vacation Friends) and Jay Pharoah (Saturday Night Live, Out of Office).
'The Blackening' Will Defy Stereotypical Tropes
Speaking to Collider Editor-in-Chief Steve Weintraub following The Blackening's premiere at the 2022 Toronto International Film Festival, Perkins said of the film:
"The intent was to take tropes and then expand them to force the audience to realize tropes are also human beings. My character is a 'gay best friend,' which is a trope that is in movies. Usually, they're ['gay best friends'] regulated to the side to be a person who gives humor, or they are part of a joke. So being able to take these tropes and find exactly what makes them complex, what gives them depth, and then forcing that in the movie so that when you start watching it, you see what has been in horror movies before and then the goal of the movie is to constantly break down your assumptions of these characters by constantly forcing depth."
Check out the poster below. The Blackening comes out June 16, 2023 – the weekend just prior to Juneteenth.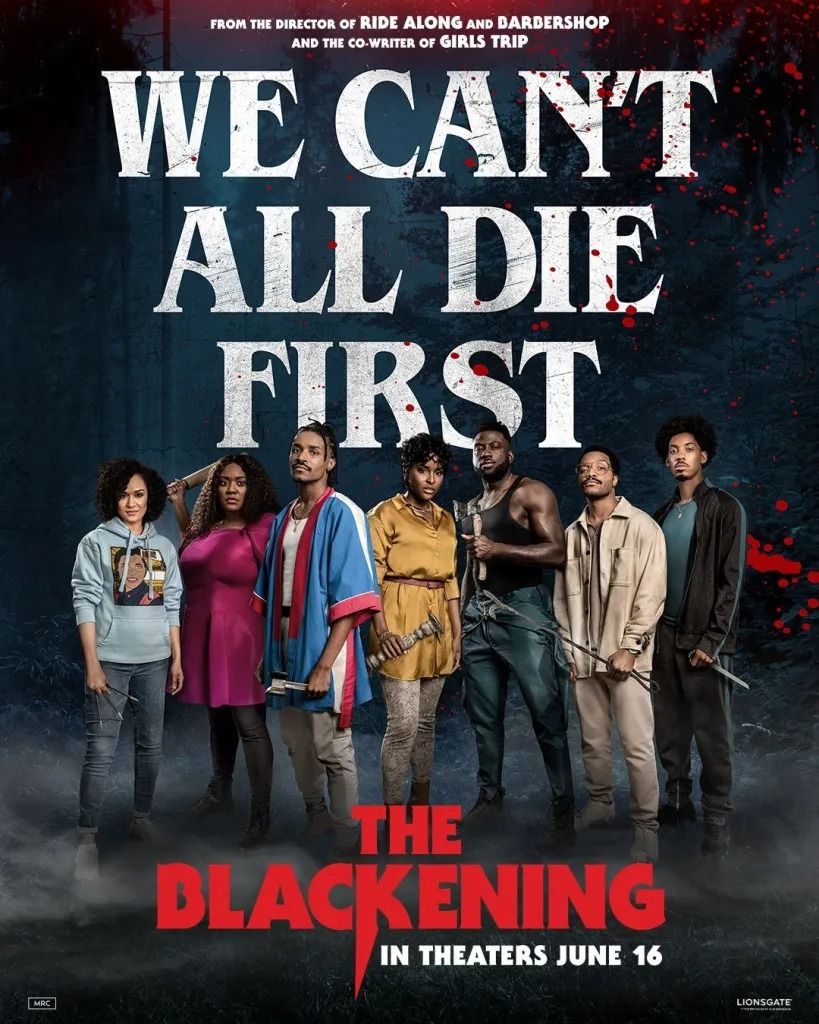 via Collider