Spider-Man: Across the Spider-Verse is one of the highly anticipated features this summer. The sequel to the 2018 Oscar-winning film aims to top it and is certainly not leaving any stone unturned to do so with its myriad of characters, animation styles, and storyline. The franchise holds a special place in Spider-Man fans' hearts, being an animated feature that travels the multiverse and gave us a Miles that we have come to love and adore. In a similar vein to its predecessor, Across the Spider-Verse will introduce us to new Spider-People along with bringing back some familiar ones.
The official Twitter account of the movie released a new look at Spider-Man 2099 aka Miguel O'Hara. This look is starkly different from the previously seen navy blue suit with red spidey sigil. In the new image, Spider-Man 2099 is seen in an orange suit with accents of red and indigo color. He's seen on a platform leaping toward someone while there is a huge machine behind him. It looks like his own universe given the color schemes and background.
The character first appeared in Spider-Man: Across the Spider-Verse end credit scene and ever since have fans' attention. Voiced by Oscar Isaac by far what we know of the character is that he'll be responsible for gathering the Spider-People from across the multiverse. Phil Lord and Christopher Miller revealed in after trailer party of the sequel that Miles and Miguel will not see eye to eye which will be one of the obstacles that Miles would have to overcome. The upcoming feature will introduce new Spider-People like Spider-Punk, Jessica Drew, Spider-Man India aka Pavitra Prabhakar, and more.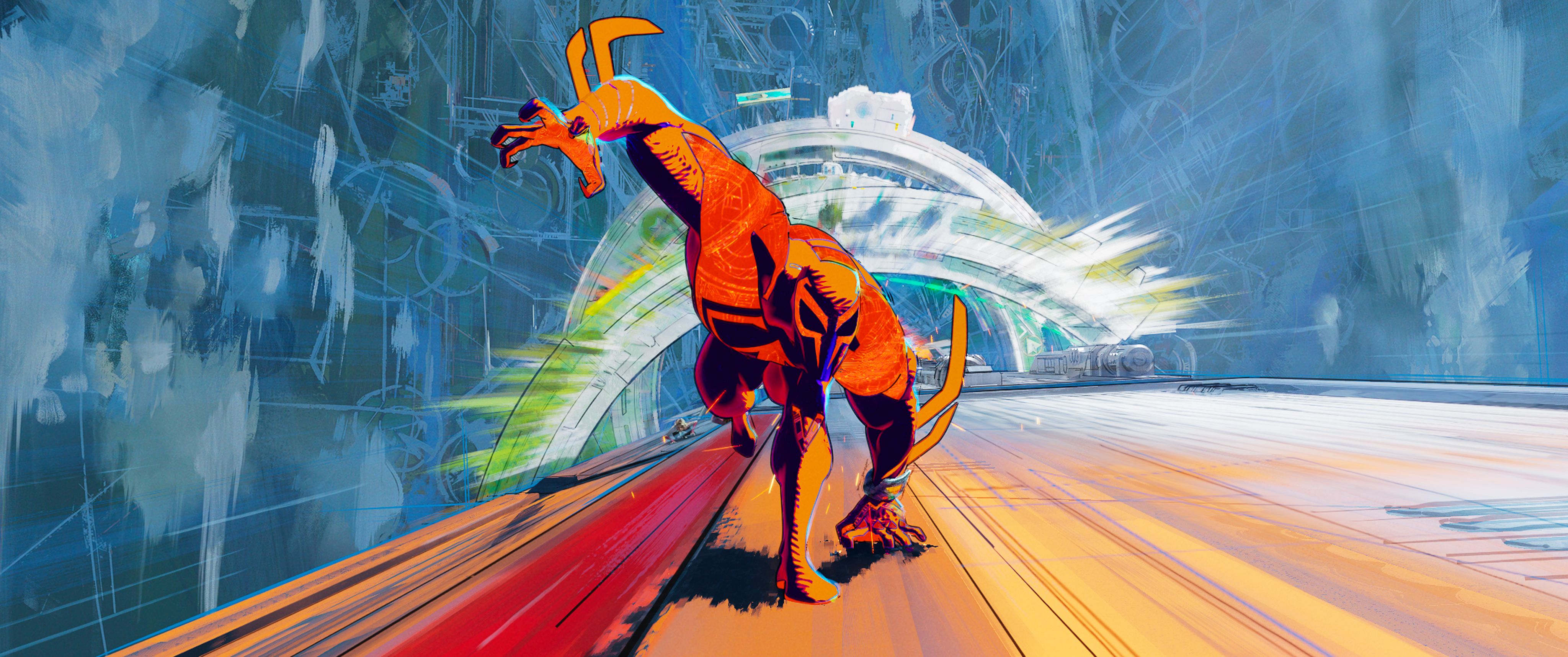 Who is Behind Spider-Man Across the Spider-Verse?
Along with Isaac as Miguel O'Hara aka Spider-Man 2099, Across the Spider-Verse's voice cast includes Shameik Moore as Miles Morales, Hailee Steinfeld as Gwen, Jake Johnson as Peter B. Parker, Issa Rae as Jessica Drew, Daniel Kaluuya as Spider-Punk, Jason Schwartzman as villain The Spot, Brian Tyree Henry as Miles's father Jefferson Davis, and Luna Lauren Vélez as Miles's mother Rio Morales. The feature is helmed by Joaquim Dos Santos, Kemp Powers, and Justin K. Thompson, who will continue to serve as directors on the film's already-announced sequel, Spider-Man: Beyond the Spider-Verse. Lord and Miller serve as co-writers and producers on the feature.
Spider-Man: Across the Spider-Verse will debut on June 2 while Spider-Man: Beyond the Spider-Verse is​​​​​​ releasing on March 29, 2024.
via Collider