The first image has just been released from the upcoming film Freud's Last Session. The image shows acting legend Anthony Hopkins in his newest role as the psychoanalyst Sigmund Freud along with his costar Matthew Goode, in his role as writer C.S. Lewis. Collider first reported Hopkins' casting on the project last year. The film is currently in its final filming stages in Ireland. No official release date has yet been set for the film.
Freud's Last Session will tell the story of the unlikely intersection of the legendary psychoanalyst and atheist Sigmund Freud (of Oedipus Complex, superego, and id fame), and the Christian writer C.S. Lewis, perhaps best known for The Chronicles of Narnia. The film, which takes place just before the outbreak of World War II, will revolve around the pair's unlikely but profound meeting. The film will show the pair debating the existence of God. The film is not based on an actual meeting between the opposing pair but instead is based on an Off-Broadway play, which brought together their opposing philosophies in a hypothetical intersection. The upcoming film will also explore Lewis' and Freud's personal lives, in particular Freud's relationship with his daughter, Anna, and Lewis' relationship with his best friend's mother.
The new image shows the two leads standing together in a dim room, which looks to be Freud's office. Hopkins wears Freud's signature thick-rimmed glasses, vest, and pocket watch chain. Goode is shown as the younger Lewis. They stand on opposite sides of a desk, both touching a box. What the contents of the box are is currently unknown, but the image does suggest an intersection of the disparate pair. The image also showcases the performances of both leads. And though the film is called Freud's Last Session, there certainly seems to be no stopping Hopkins' lately very busy career. In fact, production has just begun on another upcoming Hopkins' project, Those About to Die.
Who Else Stars in Freud's Last Session?
The upcoming film is directed by Matthew Brown, who previously worked on the film The Man Who Knew Infinity. The film was written by Mark St. Germain, based on his own play of the same name. Along with Goode and Hopkins, the film also stars Jodi Balfour, Stephen Campbell Moore, Jeremy Northam, and Orla Brady. Sony Pictures Classics has acquired all rights for the film in North America. No release date has been set for the film yet.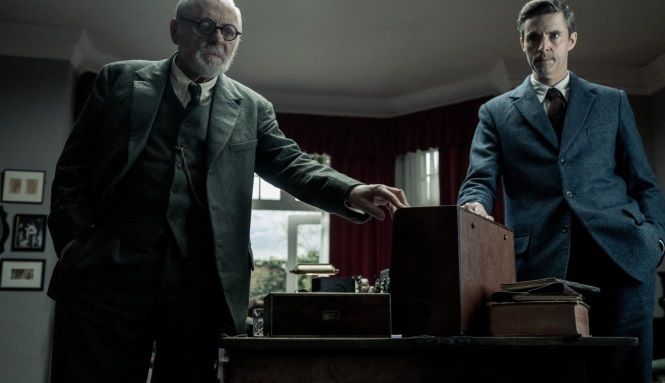 via Collider