Video game adaptations are having a high time, and rightfully so with the success of features like The Super Mario Bros. Movie and The Last of Us. With many studios rethinking their content and partnerships, some fascinating features are coming our way, and one among them is Neill Blomkamp's Gran Turismo. Based on real-life events, the movie chronicles the life of a northern English boy who went from gaming online to racing on tracks.
Empire Magazine has released the first exclusive image from the feature, which sees young actor Archie Madekwe as Jann Mardenborough along with David Harbour as his mentor Jack Salter, who seems to be motivating him for the race. The movie is the ultimate wish-fulfillment tale of a teenage Gran Turismo player whose gaming skills won a series of Nissan competitions to become an actual professional race car driver.
What to Expect From Gran Turismo
Gran Turismo is unarguably one of the most popular video games on the planet. In its 25-year lifetime, it has sold over 85 million units worldwide, making it PlayStation's highest-selling video game franchise. The high octave vehicular action coupled with vivid graphics keeps players engaged. So how much of it will be translated on screen? Well, Blomkamp has gone all practical with races in this movie. The director revealed, "It's real actors, in real cars, on real race tracks, driving insanely quickly."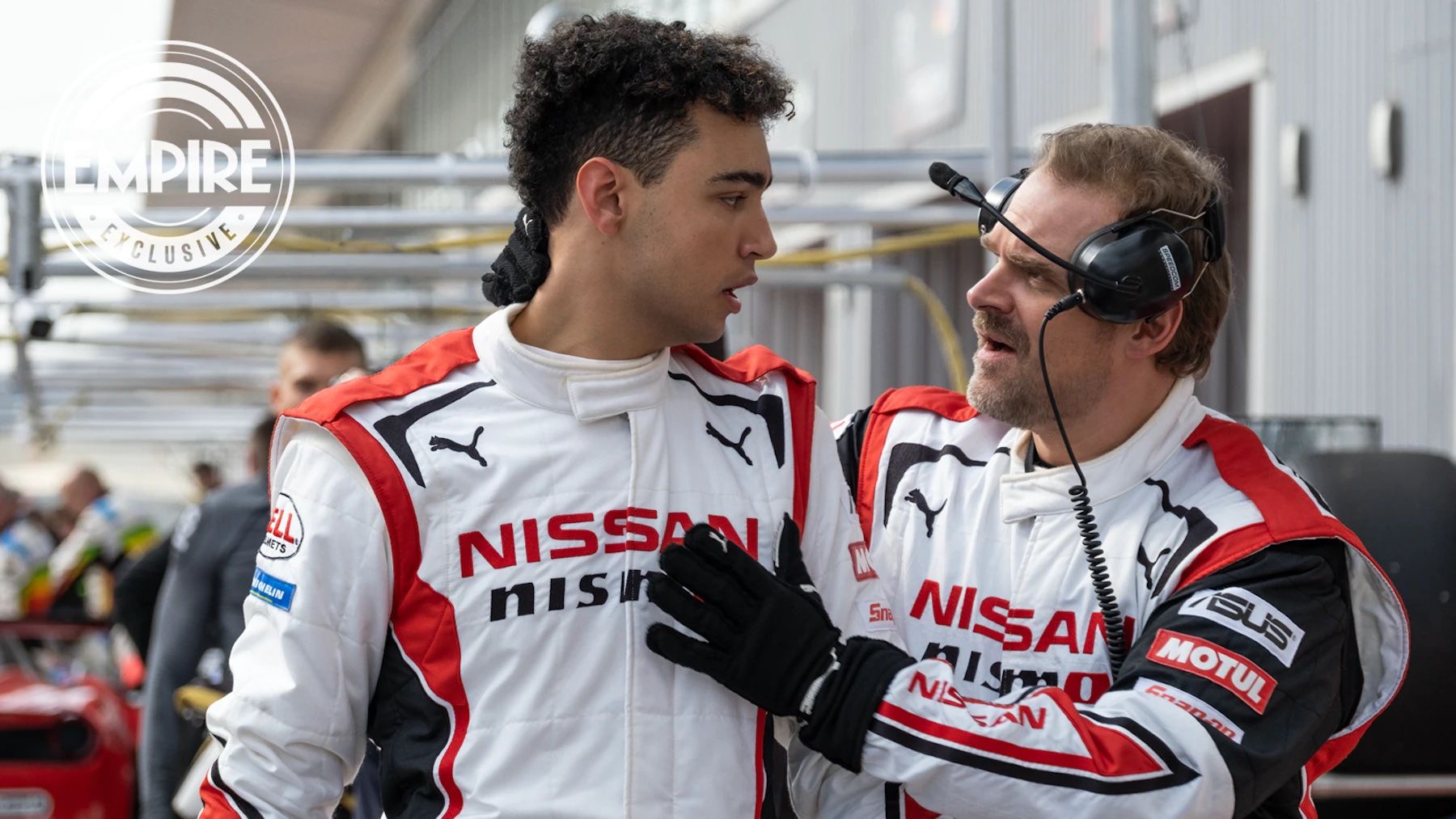 But the feature isn't all about the visuals and gaming aspect, as the director further shared his vision for the characters, saying, "The north star for me was to make a videogame title with character work that propels the movie, even more so than the racing. Although the racing is bloody intense, too." So expect the drama to be as intense in this movie as the racing sequences. Harbour previously shared his excitement with Collider about the upcoming feature, noting that there's "visceralness to this movie, to this video game world that is so cool."
Harbour and Madewke are joined in the cast by Orlando Bloom, Darren Barnett, Daniel Puig, Josha Stradowski, former Spice Girl Geri Halliwell-Horner, and German actor Thomas Kretschman. The feature is penned by American Sniper writer Jason Hall and Zach Baylin. While it is produced by PlayStation Productions' Asad Qizilbash and Carter Swan along with Doug Belgrad and Dana Brunetti. Columbia Pictures is the production company alongside PlayStation Production.
Gran Turismo will premiere on August 11.
via Collider