Hot on the heels of his latest venture into directing and acting in the Michael Jordan-centered story, Air, Ben Affleck is diving back into thrillers for his next project, Hypnotic. A genre he's more than comfortable in, we love seeing a stressed-out Affleck race against time to solve a mystery while he suffers a psychological breakdown. In a new poster released exclusively by Screenrant, we get another taste of what's to come for The Last Duel star and writer as he goes on a harrowing mission to save his daughter with the odds definitely not in his favor.
In an on-the-nose image, we see Affleck's character, a detective named Daniel Rourke in the middle of a maze. But, this isn't just any old maze, it's one completely built out of dominos with each piece in line with the others to create a swirling pattern. At the center of it is Detective Rourke who appears to be mid-run but with no idea in what direction to go. Advertising its theatrical release date of May 12, the film's logo can be seen on the right, informing audiences that "control is an illusion."
Described as a step up from your run-of-the-mill psychological thriller, Hypnotic will actually bend reality, making viewers question their sanity right alongside Detective Rourke. While on his harrowing mission to locate his daughter, the police officer will come face-to-face with a load of other quandaries, like a bizarre bank robbery, that pushes his beliefs of the world around him to the breaking point. Enlisting in the help of a psychic (Alice Braga), Rourke will stop at nothing to find his daughter and return her home safely.
Who Else is Behind Hypnotic?
Playing the film's leading villain will be Prison Break star William Fichtner with an ensemble cast that includes J.D. Pardo (F9), Hala Finley (Man With a Plan), Jackie Earle Haley (Watchmen), Jeff Fahey (Lost), and Dayo Okeniyi (Terminator Genisys). A family affair, director Robert Rodriguez (The Faculty) worked alongside his son Rebel on the film's script as well as Winning Time: The Rise of the Lakers Dynasty's Max Borenstein. Meanwhile, his daughter Rhiannon poured her artistic vision into the movie's storyboards with son Rocket helping his father with post-production editing. Finally, the filmmaker's son Rogue Rodriguez jumped on board to handle animatics.
Preparing for its theatrical release on May 12, Hypnotic promises to keep audiences on the edge of their seats in a dazzling thriller from the man whose projects include the Sin City franchise and Machete. Check out the latest poster as well as the trailer below: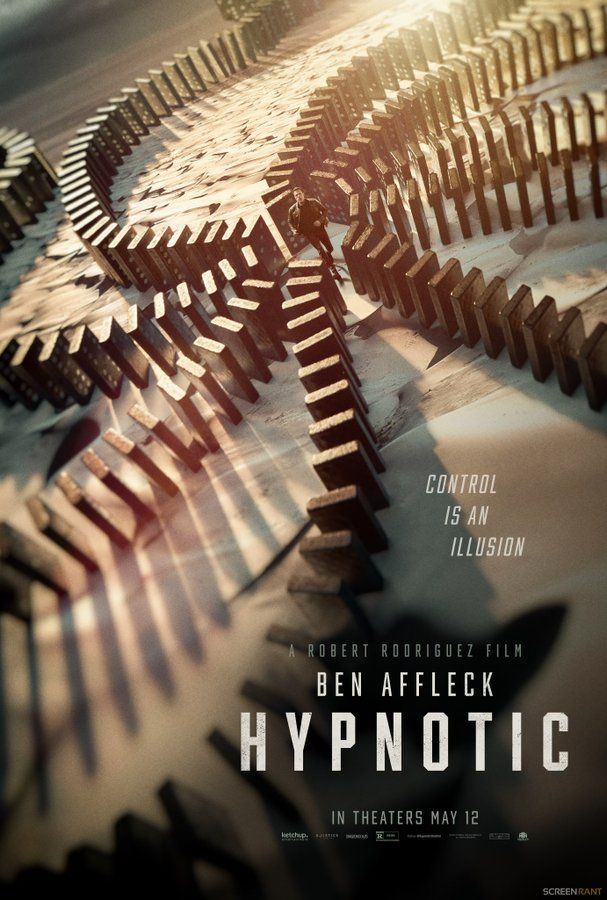 via Collider