As Netflix continues to expand its slate of original content produced outside the U.S., viewers can look forward to checking out some different stories and styles like the ones we'll probably see in the upcoming animated fantasy movie The Monkey King. Slated to release in 2023, the story centers around the title character that fights his way through ancient China across a slate of powerful enemies.
The Monkey King is based on a famous Chinese 16th-century classic story that has been told countless times – but American audiences hardly know it. In the original story, the powerful monkey known as Sun Wukong is born from a magical stone and wields a stick as his primary weapon. This is what the adventure's new image reveals: The title character with his stick on top of a tree and looking pretty confident.
The Monkey King Features an All-Star Asian Voice Cast
The voice cast of The Monkey King is also another element that makes it a must-watch. Composed of all-Asian actors, it features Jimmy O. Yang (Space Force), Bowen Yang (Saturday Night Live), Jolie Hoang-Rappaport (Watchmen), Jo Koy (Easter Sunday), Ron Yuan (Mulan), Hoon Lee (Banshee), Stephanie Hsu (Everything Everywhere All at Once), Andrew Pang (Marvel's Luke Cage), Andrew Kishino (Jurassic World: Camp Cretaceous), Jodi Long (Shang-Chi and The Legend of the Ten Rings), James Sie (Stillwater) and BD Wong (Mr. Robot).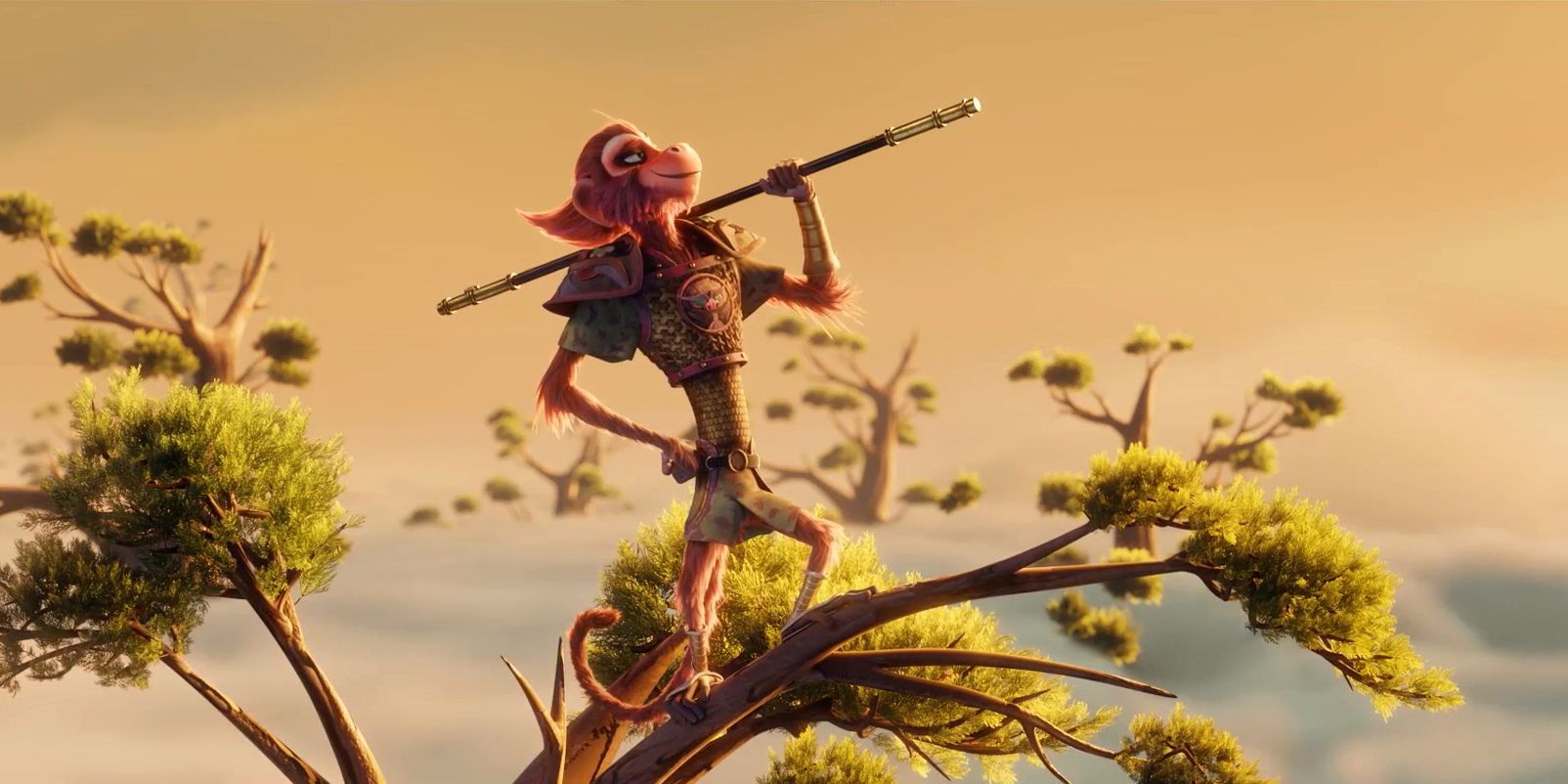 You Might Have Met The Monkey King But Didn't Realize
Even though the story of the Monkey King isn't widely known by western audiences, the character has influenced and even appeared in several popular titles in animation. In the Netflix series Kung Fu Panda: The Paws of Destiny, he is introduced as the Immortal Trickster and meets Po. And one of the most popular Japanese anime characters of all time, Dragon Ball Z's Son Goku, is based on the legend of the Monkey King as well.
The Monkey King is directed by Academy Award nominee Anthony Stacchi, who's had plenty of experience with animated movies. He co-directed 2006's 2D animation Open Season and flew solo as director on stop-motion 3D The Boxtrolls. The screenplay of The Monkey King is co-written by Steve Bencich (Chicken Little) and Ron J. Friedman (Cats & Dogs: The Revenge of Kitty Galore).
Netflix premieres The Monkey King this Summer. The streamer is yet to unveil further information, including a specific release date and trailer.
You can check out the official synopsis here:
'The Monkey King' is an action-packed family comedy that follows a charismatic Monkey and his magical fighting Stick on an epic quest for victory over 100 demons, an eccentric Dragon King, and Monkey's greatest foe of all —his own ego! Along the way, a young village girl challenges his self-centered attitude and shows him that even the smallest pebble can have a big effect on the world.
via Collider