In 2019, author Casey McQuiston released their debut novel Red, White & Royal Blue, a queer romance centered on an enemies-to-lovers relationship. Following its release, the book quickly shot up the bestseller lists, thanks to its massive popularity. In 2021, the movie adaptation was announced, and now it finally has a release date. Prime Video shared that upcoming adaptation will hit the streamer on August 11. A new poster was also released.
Red, White & Royal Blue follows Alex Claremont-Diaz, a young Mexican-American man who becomes the face of the White House after his mother wins the presidency. As such, Alex is basically the American equivalent as royalty, meaning he must also maintain a specific image. Thankfully, the charming millennial role comes easily for him. Enter Prince Henry, Alex's English rival and the one person who makes Alex's new role more difficult. Despite their dislike for each other, Alex and Henry try to remain friendly in order to maintain their public image. While it starts rocky at first, they soon form a deeper connection than either of them anticipated. Unfortunately, it also means they must keep their relationship a secret lest it ruin Alex's mother's chance for re-election.
The poster teases that "love gets royally complicated," with two crossed feet representing Alex and Henry. Both sport a pair of related socks, with one featuring the American flag and the other with the United Kingdom flag. While relatively minimal in design, it offers a couple different layers. Foremost is that of Alex and Henry's paths crossing more prominently in the story than it did before. Whether romance is involved or not, the two are more intertwined after avoiding each other whenever possible. Secondly, it could also represent the crossover between Alex and Henry's countries, largely in how each place views them — though they don't realize it at first.
Who's Who in Red, White & Royal Blue
Taylor Zakhar Perez and Nicholas Galitizine lead the cast as Alex and Henry, respectively. Uma Thurman plays Alex's mother, President Ellen Claremont. The ensemble cast also includes Stephen Fry, Rachel Hilson, Sarah Shahi, Clifton Collins Jr., Aneesh Sheth, Polo Morin, Ellie Bamber, Ahmed Elhaj, Akshay Khanna, Sharon D Clarke, Thomas Flynn, and Malcolm Atobrah. The screenplay was written by Tony Award winner Matthew López from a previous draft by Ted Malawer. López makes his feature directorial debut with the film. He, McQuiston, and Michael McGrath executive produce. Greg Berlanti and Sarah Schechter produced through Berlanti/Schechter Films.
Red, White & Royal Blue premieres August 11 on Prime Video. Check out the poster below: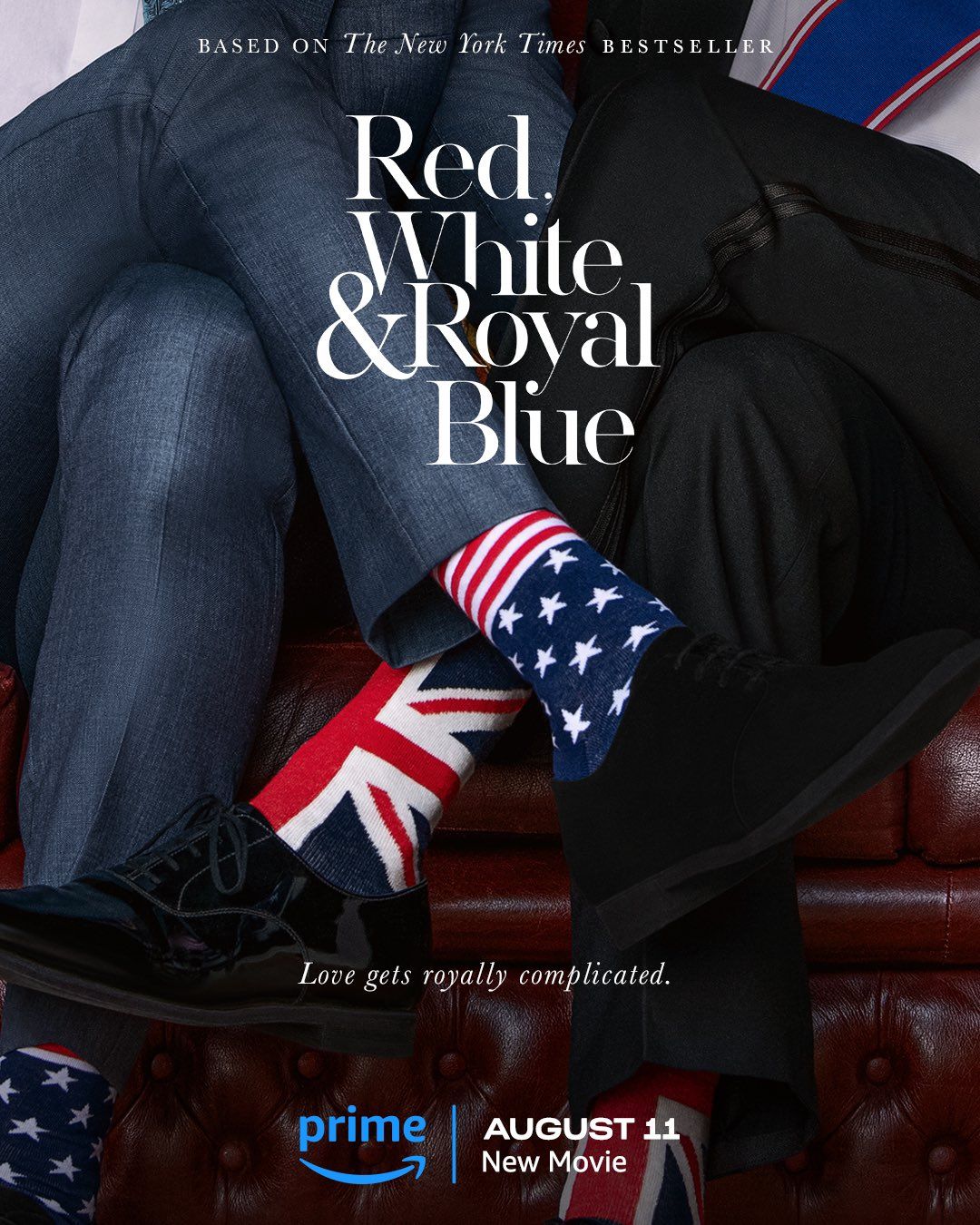 via Collider