A new poster for the upcoming Transformers film Transformers: Rise of the Beasts has been released, following the recent reveal of the film's trailer. The film, which was directed by Steven Caple Jr., will hit theaters in just a matter of weeks on June 9, and will be the seventh live-action cinematic outing for the beloved franchise.
In an adaption of the popular Beast Wars storyline, Rise of the Beasts will see Autobots Optimus Prime (Peter Cullen), Bumblebee, Arcee (Liza Koshy), Wheeljack (Cristo Fernández) and Mirage (Pete Davidson) team up with a new faction of Cybertronians named the Maximals. Maximals Cheetor (Tongayi Chirisa), Airazor (Michelle Yeoh), Rhinox (David Sobolov) and Optimus Primal (Ron Perlman) will join forces with the Autobots in a fight against the film's primary villains, the Terrorcons (including Peter Dinklage voiced Scourge) as well as Maximal's born enemies, the Predacons. The Transformers will be joined by unlikely human heroes Noah (Anthony Ramos) and Elena (Dominique Fishback).
Calling Back to the Series' Beginnings
The poster calls back to a poster for the original 2007 Michael Bay directed Transformers which shows Optimus Prime facing off against Decepticon leader and nemesis Megatron, however the upcoming film will see Prime instead unite with his Maximal counterpart Optimus Primal. It seems apt that the newly released poster harks back to the initial inception of the modern live-action theatrical series, as while the film will be the seventh installment into the series, Rise of the Beasts marks a soft reboot of the franchise, following the critical and commercial failure of Transformers: The Last Knight – the last film to see Bay at the helm before the series went in a new, character driven direction in 2018's Bumblebee.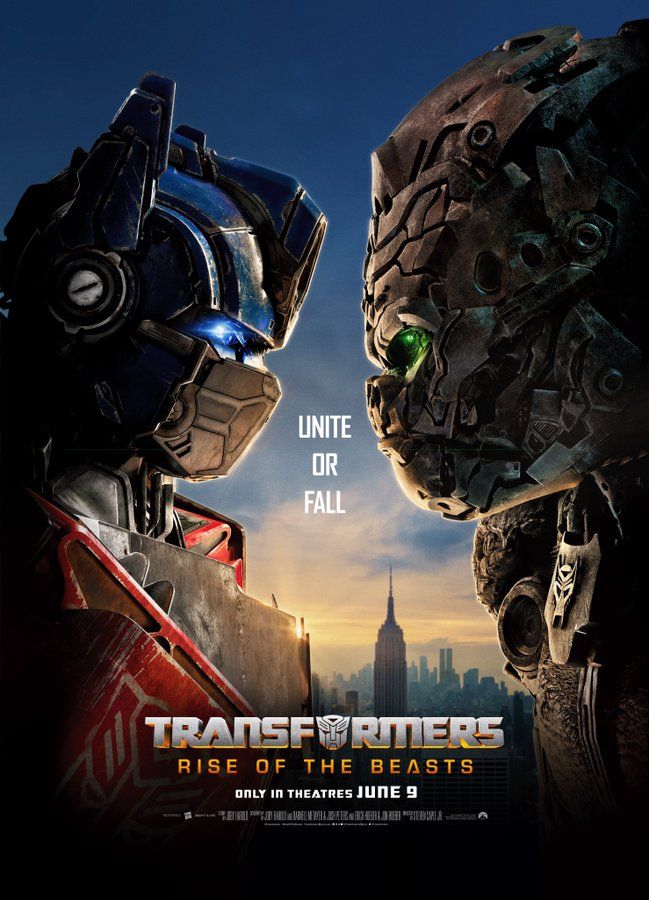 The official synopsis for the upcoming film reads:
"Returning to the action and spectacle that have captured moviegoers around the world, Transformers: Rise of the Beasts will take audiences on a '90s globetrotting adventure with the Autobots and introduce a whole new faction of Transformers – the Maximals – to join them as allies in the existing battle for earth."​​​​​​​
via Collider