After weeks of speculation, Bollywood superstar Shah Rukh Khan confirmed on Saturday that his upcoming film Jawan will indeed be postponed. The film was originally slated for a June 2 release, which has now been pushed to September 7. There were murmurs in recent weeks about the film's visual effects taking longer than expected to complete — until very recently, SRK's production house, Red Chillies Entertainment, was calling for visual effects artists to apply for the project. Jawan wrapped production not too long ago with a song sequence in Mumbai.
But SRK didn't leave his fans empty-handed. In addition to announcing the delay, he shared a new poster for the movie. It shows his mysterious character in silhouette, at night, wielding what seems to be a spear of some kind. As we saw in the film's teaser, which was unveiled back in June 2022, SRK's character appears to be covered in tattered bandages. No details have officially been revealed about the character.
Directed by Atlee, who is best known for his work in Tamil-language cinema, Jawan is reportedly an action film. This checks out because SRK has said in recent interviews that he is now fully committed to living his dream of being an action star, after spending his entire career playing romantic heroes. While last year's teaser didn't reveal much about the film by way of plot, it certainly left SRK's fans intrigued by his character's unusual appearance, and the teaser's ominous tone. The title "Jawan" also invites speculation. In Hindi, it could either mean "young" or "soldier."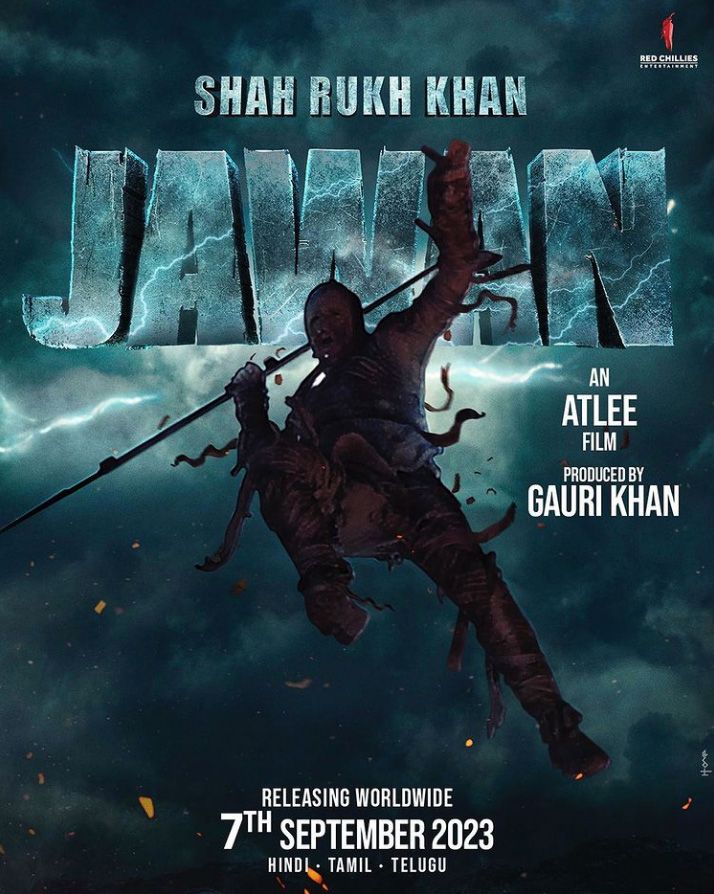 SRK is arguably one of the most popular movie stars in the world, based on the sheer number of South Asians who've admired his work for the last three decades. He was even name-dropped in the Disney+ show Ms. Marvel, when Kamala Khan argued with her friends about their favorite SRK movies. His last film, the action-spy blockbuster Pathaan, grossed $17 million domestically and nearly $130 million worldwide earlier this year.
2023 is Shaping Up to Be SRK's Grand Comeback Year
Pathaan marked SRK's hugely anticipated return to starring roles after a sabbatical that lasted over five years. The superstar had made the decision to step back from acting after his 2018 release, the ambitious romantic drama Zero, bombed critically and commercially. Keeping a low profile during the COVID era paid off, and his fans showed up in droves to watch Pathaan, which ended its run as the highest-grossing Hindi-language film of all time in India.
After Jawan, SRK will star in hitmaker Rajkumar Hirani's new film Dunki, which has been slated for a Christmas release. Little is known about the plot of that film as well, although SRK has said that the title is a colloquialism for the English word "donkey." This is shaping up to be a major comeback year for SRK, who'll also reprise his role as the superspy Pathaan in the upcoming third film in the Tiger series, led by fellow Bollywood icon Salman Khan. The Tiger films and Pathaan are a part of Yash Raj Films' Spy Universe of interconnected movies.
Within hours of Jawan vacating the June 2 release date, director Laxman Utekar's untitled new film starring Vicky Kaushal and Sara Ali Khan stepped in as a replacement. Jawan also stars Nayanthara, Vijay Sethupathi, and Sanya Malhotra. You can watch the new release date announcement video here, and check out the new poster above.
via Collider