Extraction 2, the Chris Hemsworth-starring action sequel to the popular 2020 film is set to explode on Netflix on June 16, 2023. Just over a month ahead of the debut of the second outing for Tyler Rake, Netflix has released a brand-new image for the film, showcasing the explosive nature of the film.
Along with Hemsworth returning to reprise his leading role, the cast of Extraction 2 includes Golshifteh Farahani reprising her role as Nik Khan from the first film along with Adam Bessa, Olga Kurylenko, Daniel Bernhardt, and Tinatin Dalakishvili also co-starring.
Sam Hargrave, who made his feature film directorial debut with the original Extraction, is once again helming the project as the director of the sequel. Joe Russo also returns to serve as the screenwriter of the film while also producing the film alongside his brother Anthony Russo via their AGBO production company. In addition to starring in the film, Hemsworth will also serve as a producer. Additional producers on the project include Mike Larocca, Angela Otstot, Patrick Newall, Eric Gitter, and Peter Schwerin with the executive producers of the project being Benjamin Grayson, Steve Scavelli, Christopher Markus, Stephen McFeely, and Jake Aust.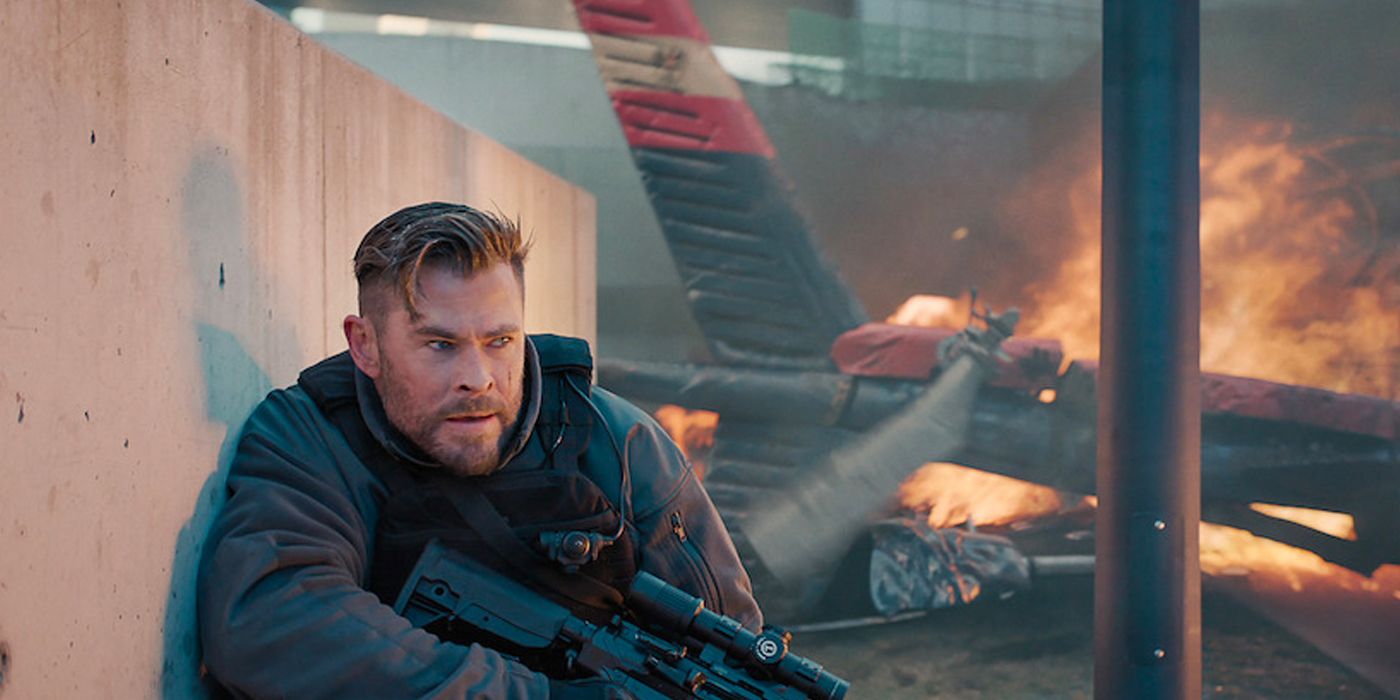 Extraction is based on Ande Parks' graphic novel Ciudad from 2014, which featured a story a Parks and Joe & Anthony Russo, with illustrations by Fernando León González. The original 2020 film follows Hemsworth's character Tyler Rake, a former Australian special forces operator turned mercenary that is tasked with saving the son of a crime lord who is kidnapped. After barely surviving that ordeal, he returns in the sequel which was first announced not even a month after the premiere of the first film in May 2020 when it was confirmed that Joe Russo had signed with Netflix to write a sequel. The first look of the sequel premiered a little over a year later at Netflix's TUDUM presentation in September 2021. The release date of the film was announced back at the start of the year in January. The story of the new film sees Rake once again out in the field, this time tasked with saving the family of a Georgian gangster from a prison where they are being held. Hargrave has previously described the mission as "bigger, badder, more deadly, and more dangerous than anything we've seen Rake go through."
Extraction 2 is set to release on June 16.
via Collider