Transformers: Rise of the Beasts is set to rampage through the theaters in just under a month's time when it releases worldwide on June 9, 2023. Ahead of its impending release, a new 4DX poster showcases the new Maximal characters making their debut in the film as they prepare for their battle against the Terrorcons. The 4DX viewing of the film will provide a sense of increased immersion as audience members will experience the addition of motion, wind, and other special effects, allowing audiences to "feel every explosion, transformation, and battle as if you're right there in the middle of all the action."
The new poster features three members of the Maximal Transformers, a group of robots that transform into mechanized animals instead of vehicles. The characters featured in the new poster include Optimus Primal, the leader of the Maximals voiced by Ron Perlman, a cheetah Transformer known as Cheetor played by Tongayi Chirisa, and the rhino known as Rhinox played by David Sobolov. While all of these characters will be making their debut in the film and play major roles, Anthony Ramos stars as the human lead named Noah Diaz who teams up with the Transformer Mirage (Pete Davidson). Ramos is joined by Dominique Fishback, Luna Lauren Vélez, and Tobe Nwigwe as part of the live-action cast. Additional voice talent attached to the film include Peter Dinklage, Liza Koshy, Michelle Yeoh, Cristo Fernández, John DiMaggio, and Michaela Jaé Rodriguez.
Steven Caple Jr. serves as the director of the upcoming film, directing from a screenplay penned by Joby Harold, Darnell Metayer, Josh Peters, Erich Hoeber, and Jon Hoeber. The film is produced by Lorenzo di Bonaventura, Tom DeSanto, Don Murphy, Michael Bay, Mark Vahradian, and Duncan Henderson and executive produced by Steven Spielberg, Brian Goldner, David Ellison, Dana Goldberg, Don Granger, Brian Oliver, Bradley J. Fischer, and Valerii An.
The Start Of A New Transformers Chapter
Transformers: Rise of the Beasts was first announced back in June 2020 and is set to take heavy inspiration from the Beast Wars: Transformers franchise, with many of the characters from the beloved Beast Wars: Transformers CG-animated series that ran from 1996 to 1999 and its sequel series known as Beast Machines: Transformers from 1999 to 2000 set to make their live-action debuts in the upcoming project. Joining Rise of the Beasts as part of the slate of upcoming Transformers content includes the animated film Transformers One which is set to hit theaters on July 19, 2024, and will be a prequel story taking place on the Transformers homeworld of Cybertron and focus on the early relationship between Optimus Prime and Megatron while also being an "origin story of all Transformers."
Transformers: Rise of the Beasts lands in theaters on June 9, 2023. Check out the new 4DX poster for the upcoming action film down below: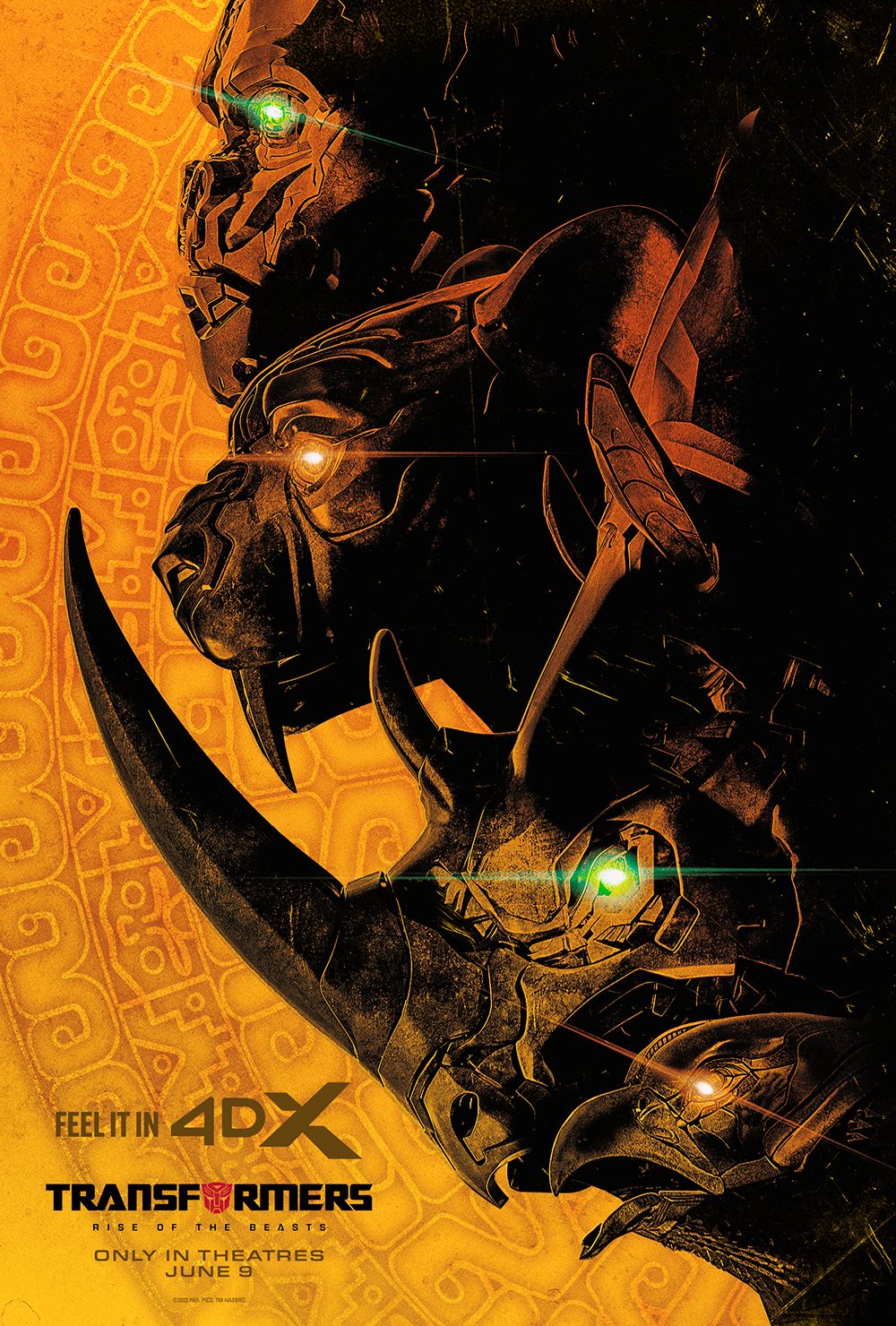 via Collider