The first image of Jude Law (Fantastic Beasts, The Nest, Peter Pan and Wendy) as Henry VIII in Firebrand has been released revealing Law sporting a graying beard. The historical drama premiered in competition at this year's Cannes Film Festival.
The image showcases a troubled faced King cusping the mouth of Queen Katherine Parr portrayed by the Academy award-winning actress Alicia Vikander (Ex Machina, The Danish Girl). After a year of production the highly anticipated film premiered this weekend at the Cannes Film Festival. The psychological thriller centralizes on the marriage between Henry and Katherine, his sixth wife who was forced into the marriage.
As King Henry VIII fights overseas, his last wife Katherine is named Regent. Katherine pushed for a new future based on her radical Protestant beliefs, agitating the tyrant Henry. Katherine fights for her survival as the paranoid King returns unleashing his fury on Katherine's friends torturing them in the name of treason. Things take a turn for the worse within the English royalty as the Katherine suffers at the hand of the tyrant.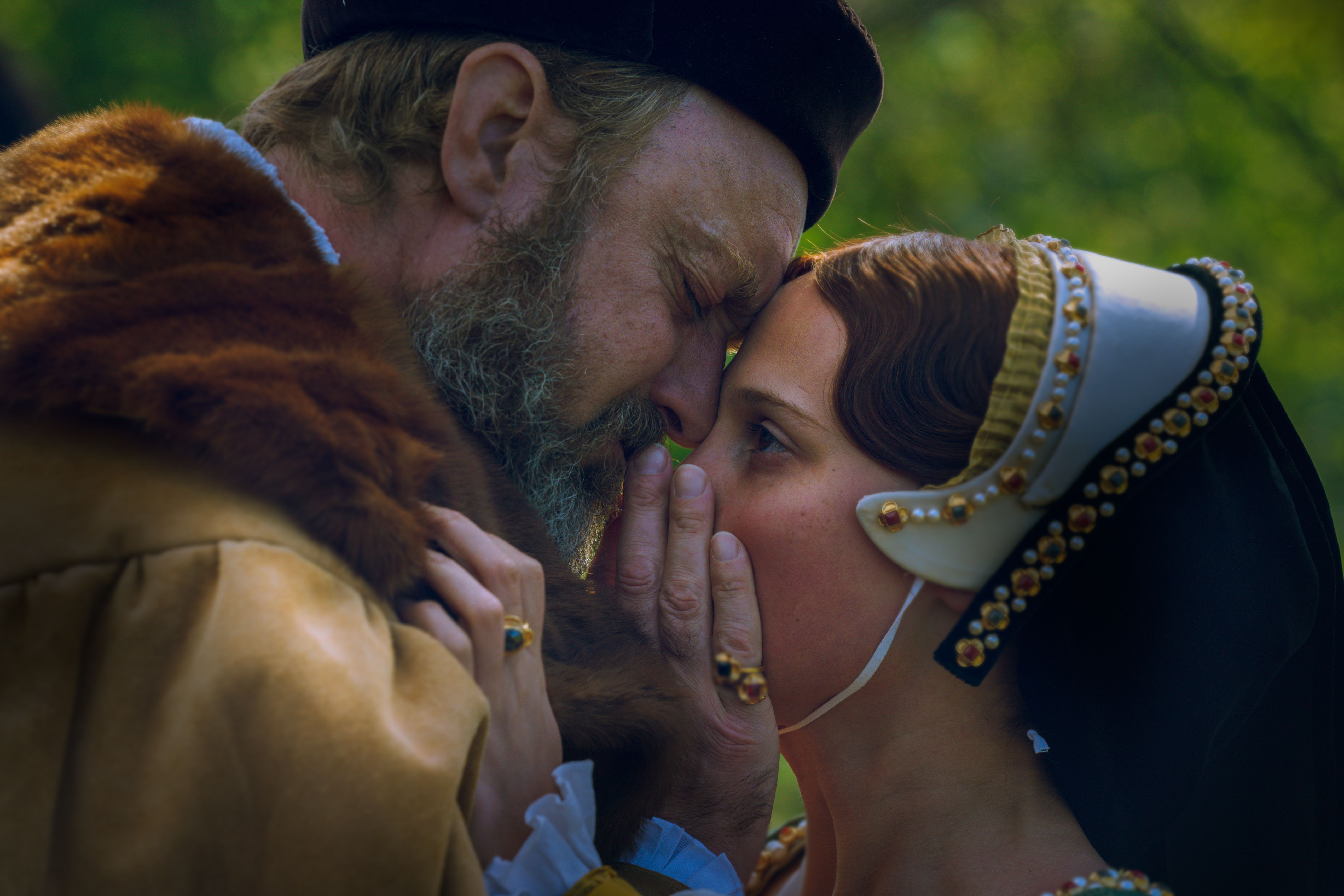 Firebrand Has A Stellar Cast
Law and Vikander star in the historical thriller joined by castmates Erin Doherty as Anne Askew, Simon Russell Beale as Bishop Stephen Gardiner, Patsy Ferran as Princess Mary, Sam Rile and Eddie Marsan as Thomas and Edward Seymour. Additional cast includes Ruby Bentall, Bryony Hannah and Maia Jemmett. Junia Rees will make her acting debut as Princess Elizabeth. The film is the English-language debut of award-winning film director Karim Aïnouz. Aïnouz debuted as a feature director with Madame Satã at Cannes Film Festival's Un Certain Regard in 2002. In 2019, the director's latest feature The Invinsible Life premiered and received the Main Award within the same section. This year the director returns to Cannes with his upcoming film Firebrand.
Friebrand is produced by Gabrielle Tan of Brouhaha Entertainment and Carolyn Marks Blackwood. Written by Henrietta Ashworth and Jessica Ashworth. Executive producers are Maria Logan of MBK Productios Ltd and Anne Sheehan.
With a combination of a star-studded cast and a director known for creating hard hitting dramas, Firebrand will surely tell an intense royalty thriller. Sadly, there is no official release date as of when we can expect this historical drama in theaters.
via Collider