For lovers of all things spooky, summer has a delightful movie in store as the release of Haunted Mansion nears. The second movie based on the famous Disney ride will scare and tickle fans in equal measure. With an illustrious starring cast and some powerful performers, the upcoming feature is one to watch out for. To keep the fans hyped, the studio is consistently revealing new looks for the feature, and a new image has been shared by Fandango for its summer preview week.
The new image sees Rosario Dawson, young actor Chase Dillon, LaKeith Stanfield, Owen Wilson, and Tiffany Haddish, all standing in a room looking in the same direction, Dawson has a light in her hand, while Dillon, who plays her son, is holding a shoe, and it seems like everyone has seen a ghost. As much as the movie is supposed to scare, it will surely have some epic comedic moments based on the promotional material and the cast. Haunted Mansion is turning out to be the perfect four-quadrant movie for this summer.
What's Haunted Mansion About?
The movie will follow Dawson as single mother Gabbie, who purchases a suspiciously cheap mansion in New Orleans. However, once she moves into the new home with her son, strange occurrences begin to happen, and the mother-son duo finds that their new home is haunted. In order to combat the spirits, Gabbie puts together a team of "specialists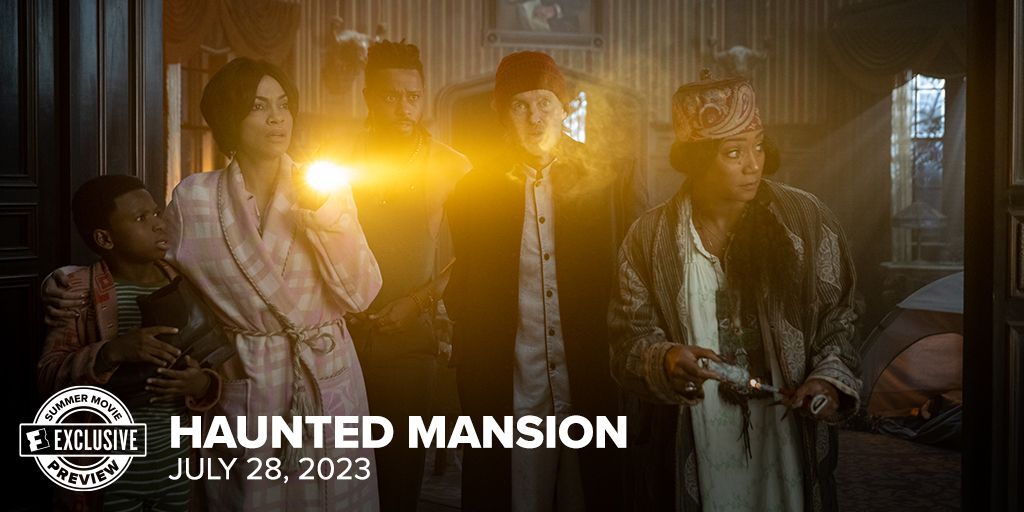 Speaking of the upcoming feature director, Justin Simien previously said, "it's such a refreshing and funny take on a 'ride movie' that also strikes this unexpectedly personal chord." So one can expect a dash of drama on the side with all the thrills and scares. This is Disney's second attempt to bring the beloved ride-based movie, after the 2003 movie of the same name starring Eddie Murphy, Terence Stamp, Nathaniel Parker, and more.
The movie casts Stanfield as Ben, a paranormal tour guide, Haddish as Harriet, a psychic, Wilson as Kent, a priest, Danny DeVito as Bruce, a historian, Dawson as Gabbie, Dillon as Travis, Gabbie's son, Jamie Lee Curtis as Madame Leota, Jared Leto as the Hatbox Ghost, and Hasan Minhaj as a sketch artist. Further rounding off the cast are Dan Levy and Winona Ryder, both of whom have been cast in undisclosed roles.
The Haunted Mansion is set to be released on July 28.
via Collider