A royal love story is heading to Prime Video this August with the debut of Red, White & Royal Blue. The upcoming movie is adapted from Casey McQuiston's bestselling novel about two young men on an enemies-to-lovers track. Prime Video began teasing more of the feature in April when they announced the August 11 release date and unveiled the first poster. Now, well we still only have a poster, but this time it fully features the movie's two main characters — Alex and Henry.
The new poster draws from the first one Prime Video released, with the same positioning of Alex's (Taylor Zakhar Perez) and Henry's (Nicholas Galitzine) feet wearing socks for their respective countries. This poster zooms out, showing the two sitting close together in nearly mirrored positions on a couch. Socks aside, the pair are dressed to the nines. They look at each other endearingly, with Alex's hand resting on Henry's knee. Meanwhile, the room they're in reflects both of their political backgrounds. It's topped off with the fitting tagline, "Love who you want. It's good foreign policy."
In Red, White & Royal Blue, Alex Claremont-Diaz, a young Mexican-American man, becomes the American equivalent of royalty — the charming and handsome face of the White House after his mother (Uma Thurman) becomes president. Luckily for him, his new role to appeal to the younger generations comes naturally to him. However, all it takes is one person to make his charisma falter — his English rival Prince Henry. Despite the two constantly at each other's throats, they must put on a cordial public persona. But soon enough, their fake friendship turns into something much more real. As such, things become even more complicated for the pair, as they must hide their relationship so as not to jeopardize President Claremont's re-election or upend Henry's family.
The Team Behind Red, White & Royal Blue
The screenplay was written by Tony Award-winning playwright Matthew López, with co-writer Ted Malawer. López directed the movie, which marks his feature directorial debut. He, McQuiston, Michael S. Constable, and Michael Riley McGrath executive produced, with Greg Berlanti and Sarah Schechter producing through Berlanti/Schechter Films. The rest of the ensemble cast includes Stephen Fry, Clifton Collins Jr., Rachel Hilson, Sarah Shahi, Aneesh Sheth, Ellie Bamber, Sharon D Clarke, Malcolm Atobrah, Thomas Flynn, Polo Morin, Akshay Khanna, and Ahmed Alhaj.
Red, White & Royal Blue debuts August 11 on Prime Video. A new edition of McQuiston's book featuring the new poster as a tie-in cover will hit stores on July 4. Check out the poster below: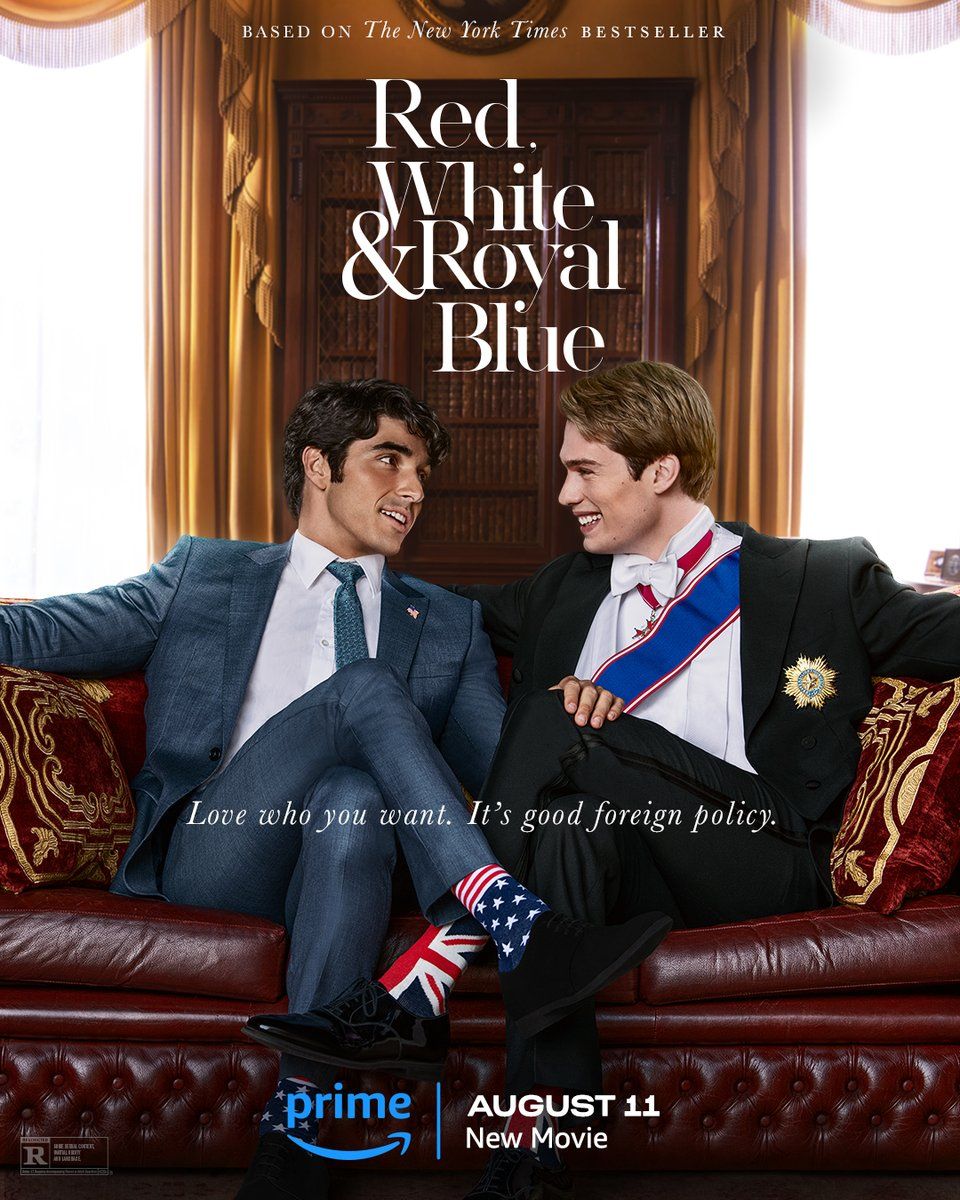 via Collider