Following the early promise of her exceptional directorial debut, Away From Her, the mature complexity of her sophomore feature, Take This Waltz, and the raw power of her third feature, the intimate and personal documentary, Stories We Tell, moviegoers have spent a long time wondering when actress-turned-filmmaker Sarah Polley would return to the director's chair. It's been a long decade since her work has been on the silver screen. While she has kept herself active with a few projects, including Netflix's mini-series, Alias Grace, and the Canadian web series, Hey Lady!, Polley has notably been absent in the film scene, and her fourth feature has been long overdue. Thankfully, the time has come for Polley's much-awaited return. She's back with Women Talking, a surely-sterling adaptation of Miriam Toews' 2018 novel of the same name, and it's expected to be a big awards contender. It's rapidly approaching its Telluride Film Festival premiere, so we should have an idea of what to expect soon. But in the meantime, the official teaser poster has just been unveiled.
Though the ensemble piece features an all-star cast, including Rooney Mara, Jessie Buckley, Claire Foy, Judith Ivey, Ben Whishaw, and Frances McDormand, the poster doesn't highlight their familiar faces. Instead, it presents an image of two women holding hands, bracing to face the dangers that lay in what will prove to be a harrowing film. The story centers around a group of isolated women in a religious community who must grapple with reconciling the reality of their faith, and though it'll explore the terrible aftermath of violence and hardships, Polley notes in a statement that her latest movie is meant to be a poignant exploration of what it means to try to push yourself forward in order to produce a better future.
In 'Women Talking,' a group of women, many of whom disagree on essential things, have a conversation to figure out how they might move forward together to build a better world for themselves and their children. Though the backstory behind the events in 'Women Talking' is violent, the film is not. We never see the violence that the women have experienced. We see only short glimpses of the aftermath. Instead, we watch a community of women come together as they must decide, in a very short space of time, what their collective response will be.
Indeed, as its plot synopsis would suggest, Women Talking has the power to be one of the most relevant and powerful movies of our times, and Polley wanted to honor the insight and resilience of Toews' novel.
When I read Miriam Toews' book, it sunk deep into me, raising questions and thoughts about the world I live in that I had never articulated. Questions about forgiveness, faith, systems of power, trauma, healing, culpability, community, and self-determination. It also left me bewilderingly hopeful. I imagined this film in the realm of a fable. While the story in the film is specific to a small religious community, I felt that it needed a large canvas, an epic scope through which to reflect the enormity and universality of the questions raised in the film. To this end, it felt imperative that the visual language of the film breathe and expand. I wanted to feel in every frame the endless potential and possibility contained in a conversation about how to remake a broken world.
Produced by McDormand and executive produced by Brad Pitt, Women Talking features a great deal of star power in front of and behind the camera, and if it fares well during this year's film festival circuits, the movie could very well be at the forefront of this year's Oscars race. We don't have a long wait to see how the movie will shape up, and given the success of Polley's previous films, we should expect yet another deep, resonant work from this exceptional talent who's been away from the big screen for way too long.
Women Talking will screen in select theaters on December 2nd, followed by a wide expansion on Christmas Day. Check out its teaser poster below: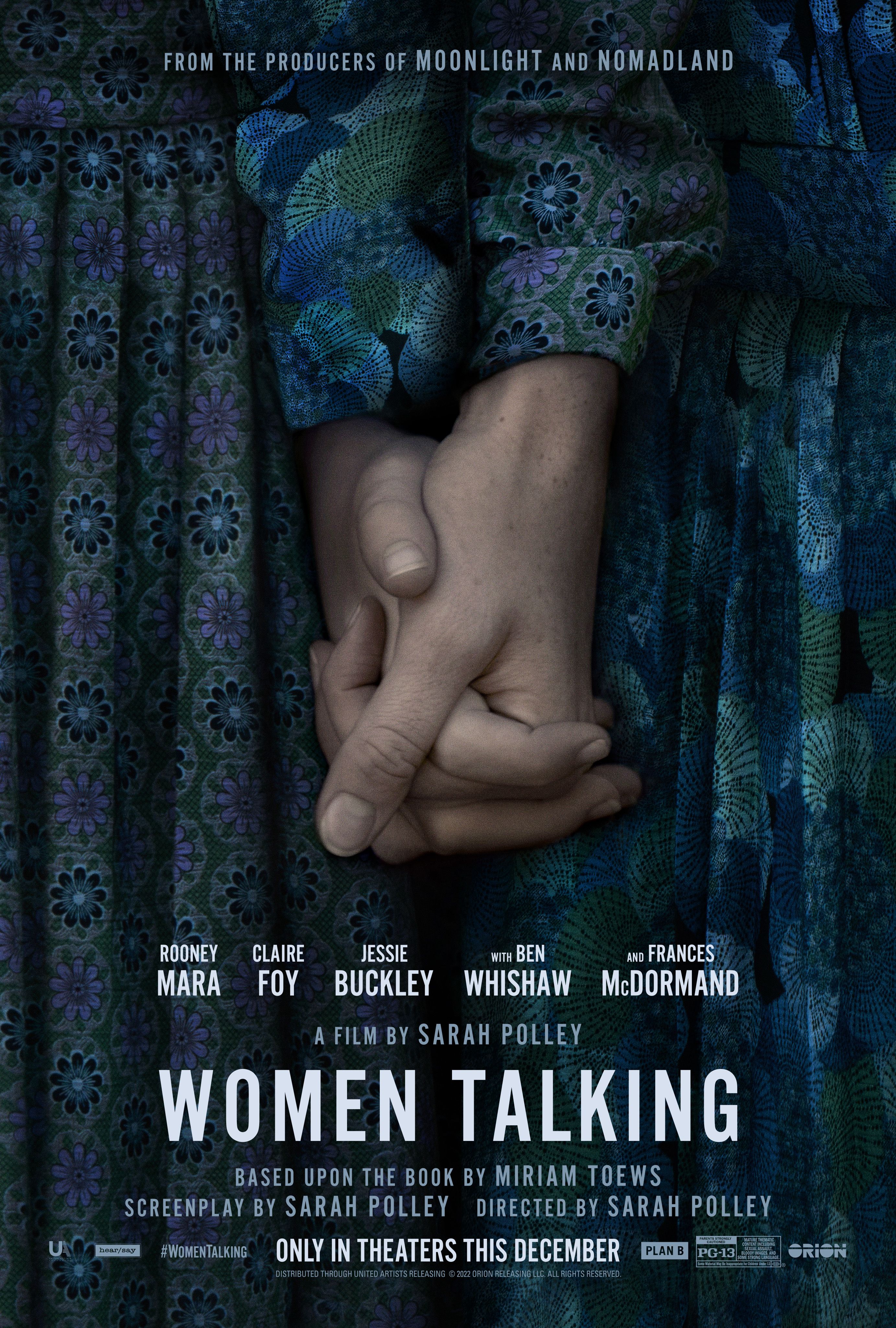 via Collider