Netflix unveiled the first image for Leave the World Behind, an upcoming thriller from Mr. Robot director Sam Esmail. The movie adapts the best-selling book of the same name by Rumaan Alam and follows two families trying to survive a widespread blackout.
The new image features two couples, one formed by Julia Roberts and Ethan Hawke, and the other by Mahershala Ali and Myha'la Herrold. While Netflix didn't officially reveal each actor's role, it's fair to assume — based on the book — Hawke and Roberts will respectively play Clay and Amanda, a couple who takes their family on vacation on a luxurious Airbnb in Long Island. In the middle of the night, the upper-class couple is surprised by George and Ruth, Ali and Herrold's G.H. and Ruth.
Alam's book deals with themes such as racism by exploring the white couple's reaction to finding out their Airbnb is owned by Black people, and it would be a waste if Esmail didn't incorporate this element in the movie. Besides that, since the first image highlights one all-white and one all-Black couple, it seems like Esmail's adaptation will stick close to the source material.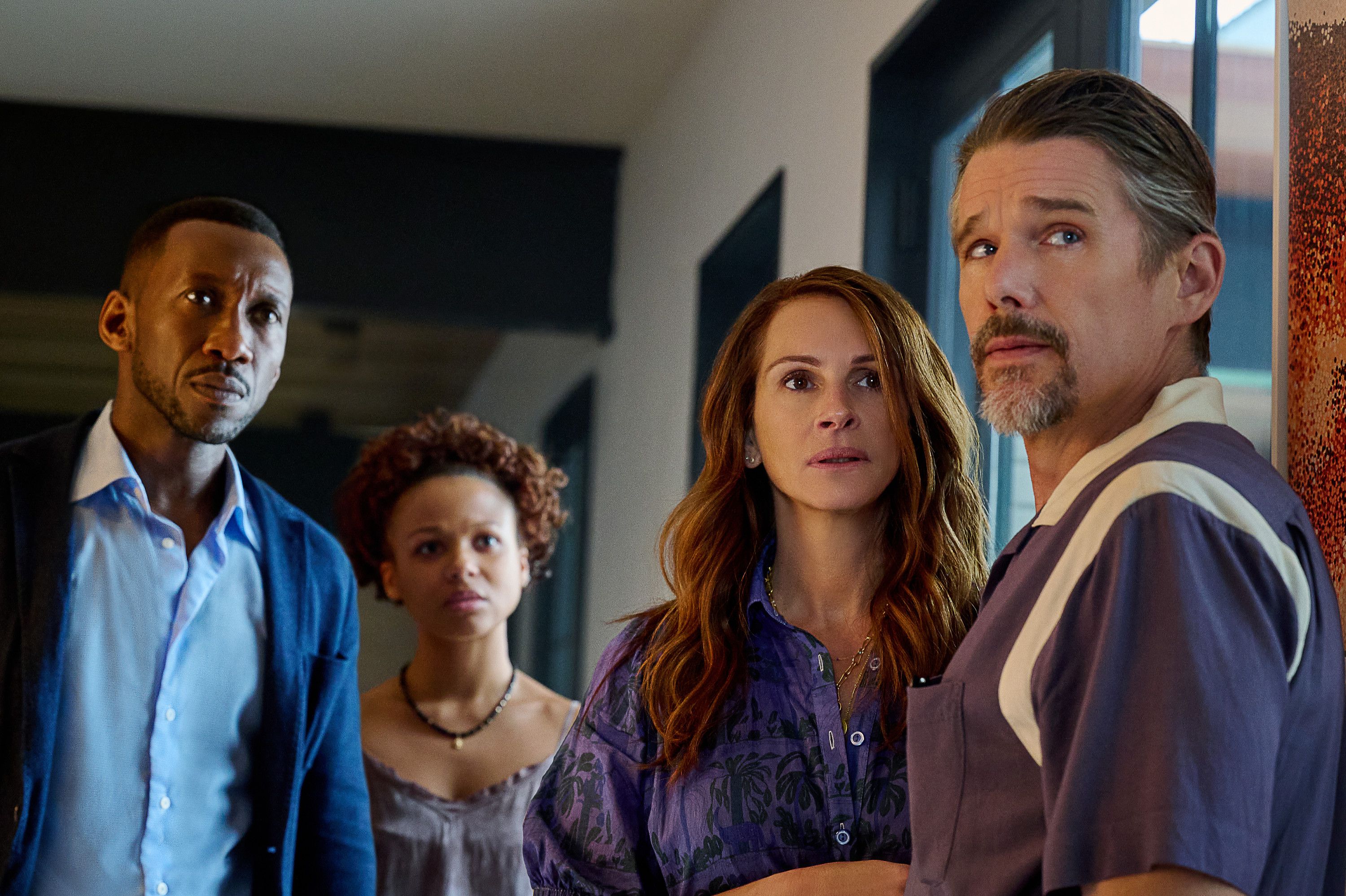 All four people are intrigued by something outside the frame in the new image. In Alam's book, the owners of the Airbnb come to warn their guests of a widespread blackout that might interrupt their vacation. As time passes, the two families realize the issue is affecting people worldwide and threatening to wipe out humanity. Since we depend on electricity for everything, no one knows how to survive when no electronic equipment works. It's an interesting concept that introduces a different kind of post-apocalyptic scenario while keeping the focus on the two families' drama.
Who's Involved with Leave the World Behind?
Besides writing and directing Leave the World Behind, Esmail acts as the movie's producer alongside Roberts, Chad Hamilton, Lisa Gillan, and Marisa Yeres Gill. The film is executive produced by Barack and Michelle Obama, Tonia Davis, Daniel M. Stillman, Nick Krishnamurthy, and original author Alam. Leave the World Behind's cast also includes Farrah Mackenzie, Charlie Evans, and Kevin Bacon.
Leave the World Behind comes to Netflix on December 8. Check out the movie's synopsis below.
A family vacation on Long Island is interrupted by two strangers bearing news of a mysterious blackout. As the threat grows more imminent, both families must decide how best to survive the potential crisis, all while grappling with their own place in this collapsing world.
via Collider