A new image from director Zack Snyder's space opera Rebel Moon shows star Sofia Boutella locked and loaded for action. Boutella plays Kora, a young with a mysterious past who is dispatched to round up a team of rebel warriors, as she leads the fight against a tyrannical villain who is threatening the entire galaxy.
Snyder had previously shared some behind-the-scenes glimpses, as well as some concept art, but this is the first real look that we've gotten of the movie. Rebel Moon began filming in April last year, and wrapped by December. The new image shows Boutella's character crouched and on high alert. She appears to be wearing a raggedy robe, and a closer look reveals a ring on her finger. The background isn't easy to decipher, but she's indoors, inside what looks like a workshop of some kind.
Rebel Moon is said to be heavily inspired by Star Wars, and just this still alone is enough to bring back memories of the Galaxy Far, Far Away. It's giving major Tatooine and Sand People vibes, and there's a sense of lived-in reality to the environment. The soft focus isn't as pronounced as it was in Snyder's last movie, the zombie heist-thriller Army of the Dead, but it's still there. Snyder served as his own cinematographer on that film, and devised unique lenses that reduced the depth of field basically to inches. He's also DP-ing on Rebel Moon, but at least as far as this image indicates, he's reining the bokeh effect back a bit.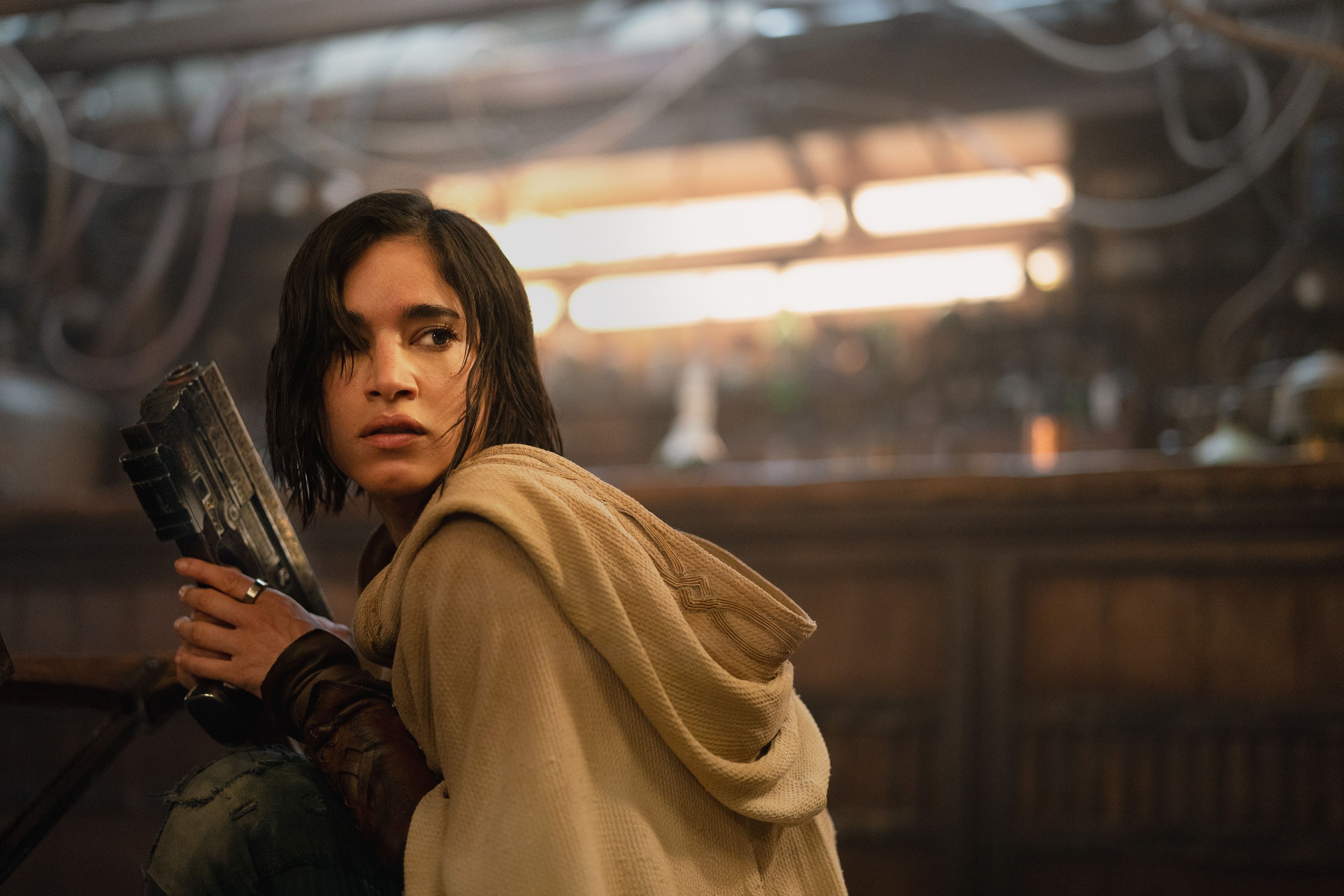 A visual stylist par excellence, Snyder broke out with the zombie movie Dawn of the Dead. He was quickly declared a "visionary" after the blockbuster success of his bloody comic book adaptation 300. But since then, he's struggled to achieve the same level of success. His epic Watchmen movie was slavishly loyal to the source comic, but underperformed at the box office. Sucker Punch, his feminist fantasy movie, is still his biggest critical and commercial dud. But it was his stint at DC that made him a household name. Without getting into the drama that went down, Snyder's run tackling the biggest superhero properties in the world ended in a bittersweet manner—his epic Justice League movie was released in a compromised form in theaters, but he later got an opportunity to revisit and subsequently complete his vision after all.
Since then, Snyder has signed a first-look deal with Netflix, where he delivered Army of the Dead and its spinoff Army of Thieves, which he only produced. He's working on anime series set in the same universe. After Rebel Moon, which is touted to be a two-parter and potential franchise-starter, he's set to work on a sequel to Army of the Dead. Slated for a December 22, 2023, release, Rebel Moon also stars Djimon Hounsou, Ed Skrein, Michiel Huisman, Bae Doona, Ray Fisher, Charlie Hunnam, Cary Elwes, Corey Stoll, Jena Malone, Fra Fee, Cleopatra Coleman, and Anthony Hopkins as the voice of "Jimmy". You can check out the image here, and read the film's official synopsis down below:
When a peaceful colony on the edge of the galaxy finds itself threatened by the armies of the tyrannical Regent Balisarius, they dispatch a young woman with a mysterious past named Kora to seek out warriors from neighboring planets to help them take a stand.
Catch a glimpse of the film in action in the new Netflix teaser trailer for their 2023 slate:
via Collider