Ghostface is looming menacingly over New York City in the new RealD 3D poster for Scream VI. The next chapter of the slasher franchise promises to be the deadliest yet, as the new Ghostface killer takes the violence to a new level while hunting Woodsboro's survivors.
The new poster turns the clouds over New York City into Ghostface's terrifying mask. That's a grim reminder that the killer could be any of the millions of people living in the Big Appel, and that every New York citizen is a potential victim for the new Ghostface. The new poster also invites fans to catch the latest entry of the Scream franchise in 3D, so they can watch the blood jumping out of the silver screen and dropping in their faces.
We already know the new Ghostface is someone so in love with the Woodsboro massacres that they've built a shrine to previous killers. In the sequel, Ghostface will also hunt down survivors from different generations of Scream movies, with Hayden Panettiere returning as Kirby Reed after the events of Scream 4. Kirby will be working with the new generation of survivors, which includes sisters Sam (Melissa Barrera) and Tara Carpenter (Jenna Ortega), and siblings Chad (Mason Gooding) and Mindy Meeks-Martin (Jasmin Savoy Brown). The whole gang moved away to New York to try to start a new life, but they've only managed to make targets of themselves in one of the most populated cities in the world.
As always, part of the fun in a new Scream movie is trying to figure out who's the killer. So far, we don't know much about the sequel, but every new trailer and image underlines how everyone's a suspect. That includes legacy characters such as Courtney Cox's Gale Weathers and a new cast of newcomers counting Samara Weaving, Liana Liberato, Dermot Mulroney, Jack Champion, Henry Czerny, Tony Revolori, Josh Segarra, and Devyn Nekoda.
When Is Scream VI Coming to Theaters?
Scream VI brings back the same team of SCREAM, the successful legacy sequel that blew our minds last year. That means Radio Silence's Matt Bettinelli-Olpin and Tyler Gillett are back as directors, while James Vanderbilt & Guy Busick are once more co-writing the screenplay.
Scream VI is set to release on March 10, 2023. Check out the new Reald 3D poster, and the movie's (vague) synopsis below.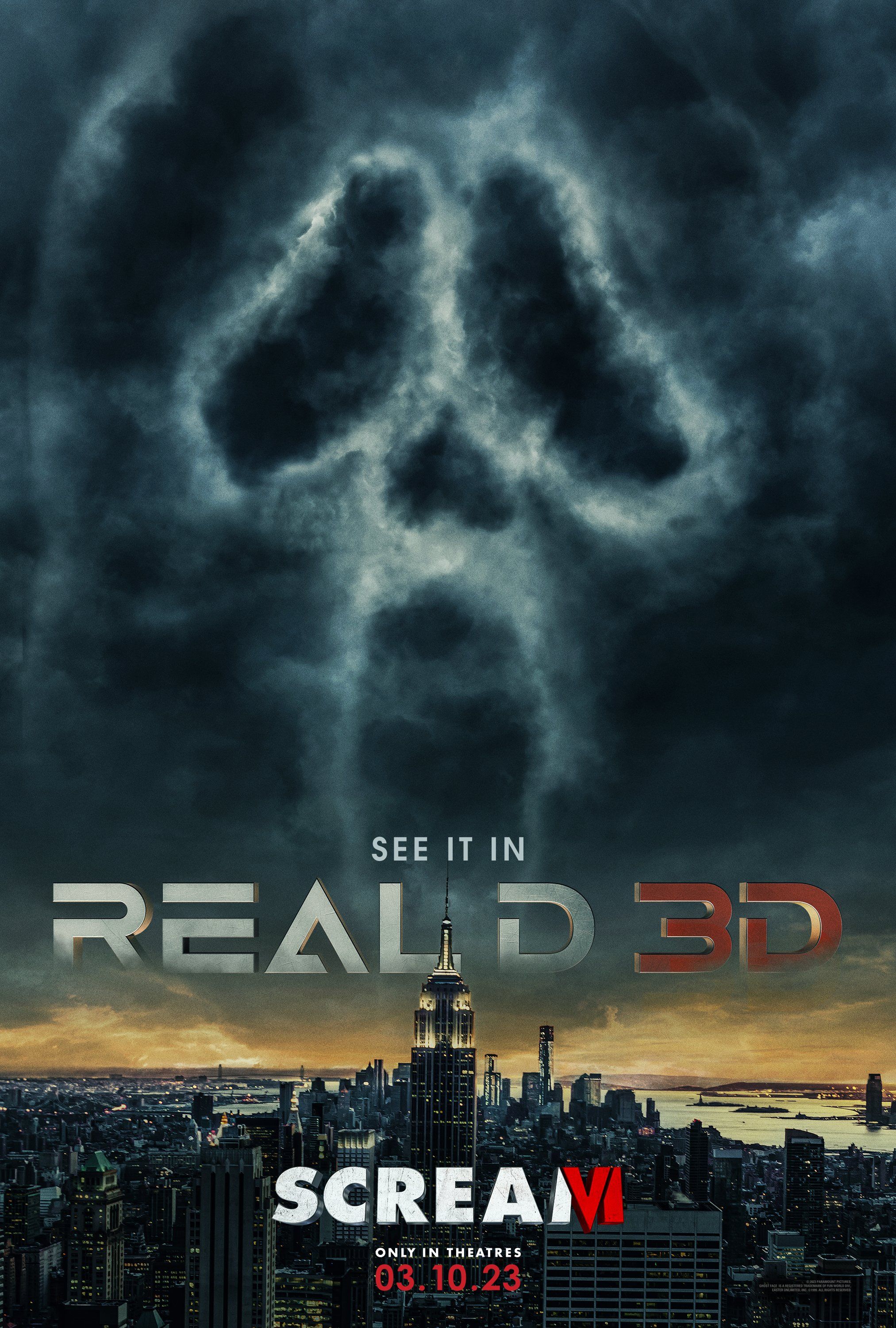 Following the latest Ghostface killings, the four survivors leave Woodsboro behind and start a fresh chapter. In SCREAM VI, Melissa Barrera ("Sam Carpenter"), Jasmin Savoy Brown ("Mindy Meeks-Martin"), Mason Gooding ("Chad Meeks-Martin"), Jenna Ortega ("Tara Carpenter"), Hayden Panettiere ("Kirby Reed"), and Courteney Cox ("Gale Weathers") return to their roles in the franchise alongside Jack Champion, Henry Czerny, Liana Liberato, Dermot Mulroney, Devyn Nekoda, Tony Revolori, Josh Segarra, and Samara Weaving.
via Collider