We've got some good news and some bad news for those looking forward to Mubi's Bring Them Down. And, as always, we're going to drop the bad news first. Academy Award-nominated actor Paul Mescal (Aftersun) is taking a step back and leaving the production. Now for the good news: Fellow Irishman and Academy-Award-nominated performer, Barry Keoghan (The Banshees of Inisherin) is jumping in to take his place. To further pile on the good news and outweigh Mescal's departure, not only has it been revealed that Christopher Abbott (James White) will also be starring in the debut feature film from Chris Andrews, but a first look still has also been released. See? We told you there was good news! Abbott takes over the spot of Tom Burke who was previously revealed to also be leaving the production.
In Bring Them Down, audiences are introduced to Michael (Abbott), a young man born into a shepherding family who is tasked with the duty of taking care of and living with his sickly father Ray (Colm Meaney). While he may seem like a quiet, well-mannered man on the outside, Michael keeps to himself in isolation because he's holding onto a dark secret. After he and Ray begin to clash with their farming rivals, Gary (Paul Ready) and his son Jack (Keoghan), the bad feelings continue to escalate and force Michael to face his traumatic past in a conflict that will ultimately turn sour for both parties.
Along with Keoghan, Abbott, Meaney, and Ready, the film also stars Susan Lynch (Happy Valley) and Nora-Jame Noone (Brooklyn). No stranger to the world of filmmaking, while this is Andrews' feature-length debut, the director is known for molding the award-winning short films Stalker and Fire. Now filming in Ireland, the production is well on its way to calling it a wrap.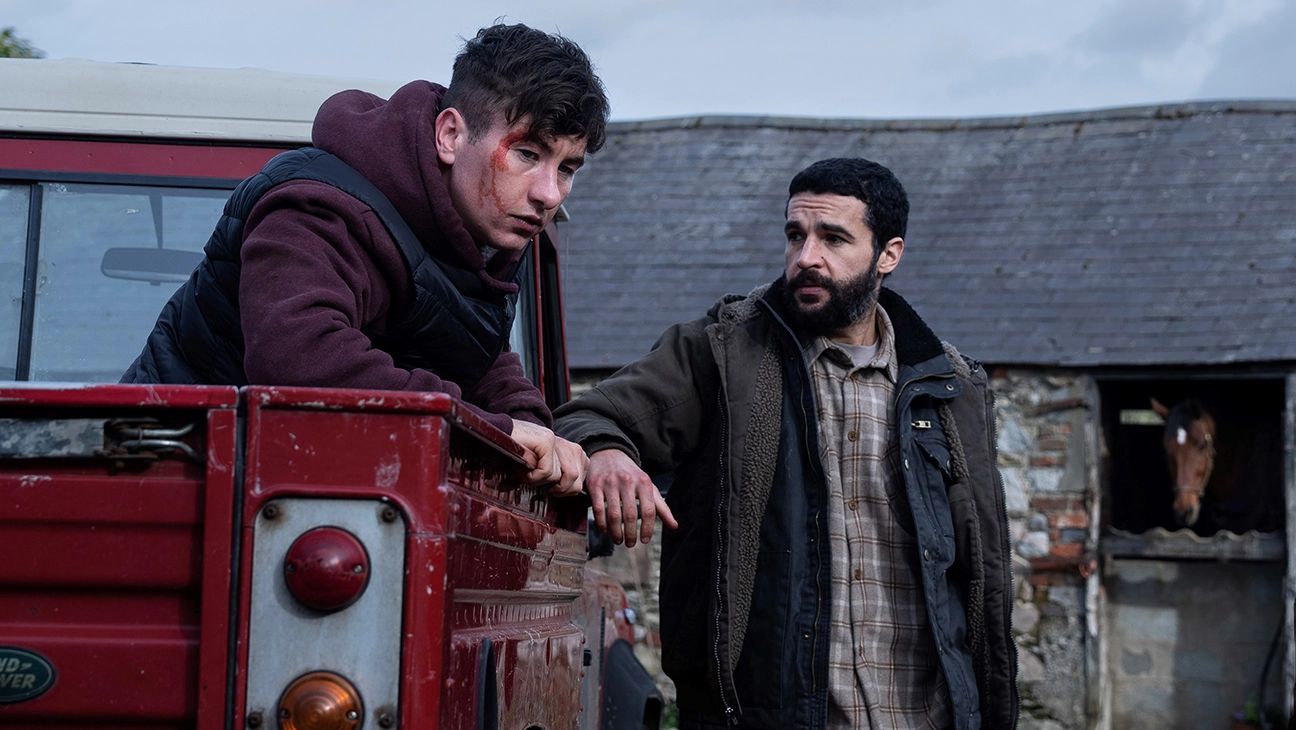 In today's first look, which you can see below, Keoghan and Abbott's characters look to be in the midst of a deep and intense conversation. With blood running down his face, Keoghan's Jack kneels in the back of a red pickup truck and looks off to the side while Abbott's Michael leans up against the side of the truck staring directly at Jack. In the background we see a stone shed with a horse inside, leading us to believe that the men are on one of the dueling farms.
Coming off the major success of Martin McDonagh's Academy Award-nominated drama The Banshees of Inisherin, for which he has so far nabbed a BAFTA win, a Golden Globe nomination, and a chance at an Oscar, audiences will be thrilled to see Keoghan's next performance.
via Collider