Huzzah! More than year after The Great received a Season 3 renewal, Hulu has finally set a release date for the show's upcoming season. The series will return with Season 3 on May 12, streaming exclusively on Hulu. Along with the date announcement, Hulu shared a first look image at the new season featuring Catherine (Elle Fanning) and Peter (Nicholas Hoult).
Touted as "an occasionally true story" (and later "an almost entirely untrue story"), The Great is a historical dramedy that follows Catherine, a young woman who marries Russian emperor Peter. In Season 2, Catherine attempts and ultimately succeeds in taking over Russia from Peter – with the help of army general Velementov (Douglas Hodge), bureaucrat Orlo (Sacha Dhawan), and noble-turned-maid-turned-noble Marial (Phoebe Fox). Through the season, Catherine began to settle into her new role as empress, but she faced plenty of resistance from nearly all sides, especially from the group of nobles who were loyal to Peter. Moreover, she began to realize how little she understood Russia. However, it didn't stop her from learning and trying to open the Russians' minds towards a more progressive future. She also had a baby!
How Did 'The Great' Season 2 End?
As the season wrapped up, Catherine learned that Peter was responsible for her mother's death, reigniting her disgust towards him. She eventually chose to forgive him in order to stop another brewing battle between her and Peter's batches of nobles. Despite the seemingly peaceful resolution, Velementov arrests the nobles, who had their own plans to coup Catherine. Catherine then goes to kill Peter in his room, instead attacking his body double (who lived). Peter witnessed the attempted assassination, but the two seemed to reach a silent agreement.
In Season 3, Catherine and Peter will attempt to make their marriage work, even with the slew of problems they now face. With nothing else to really keep him busy (yet), Peter decides to focus on being a father to Paul, playing the good husband to Catherine, and pursuing culinary ventures – but they aren't enough to keep him content. Meanwhile, Catherine begins to make a name for herself, taking a page out of the U.S. ambassador's book. As she continues to pull input from the Russians, she also "learns that even the best political leaders sometimes need to make compromises in order to progress."
The series is created, written, and executive produced by Tony McNamara, adapted from his play of the same name. Additional executive producers include Fanning, Hoult, Marian Macgowan, Mark Winemaker, Echo Lake's Brittany Kahan Ward, Doug Mankoff, and Andrew Spaulding, and Thruline's Ron West and Josh Kesselman. The show is produced by Civic Center Media, in association with MRC Television. Additional cast includes Gwilym Lee, Adam Godley, Belinda Bromilow, Bayo Gbadamosi, Florence Keith-Roach, Danusia Samal, and Charity Wakefield, among others.
The Great returns Friday, May 12 only on Hulu. Catch up with the first two seasons now on the streamer and check out the new image below: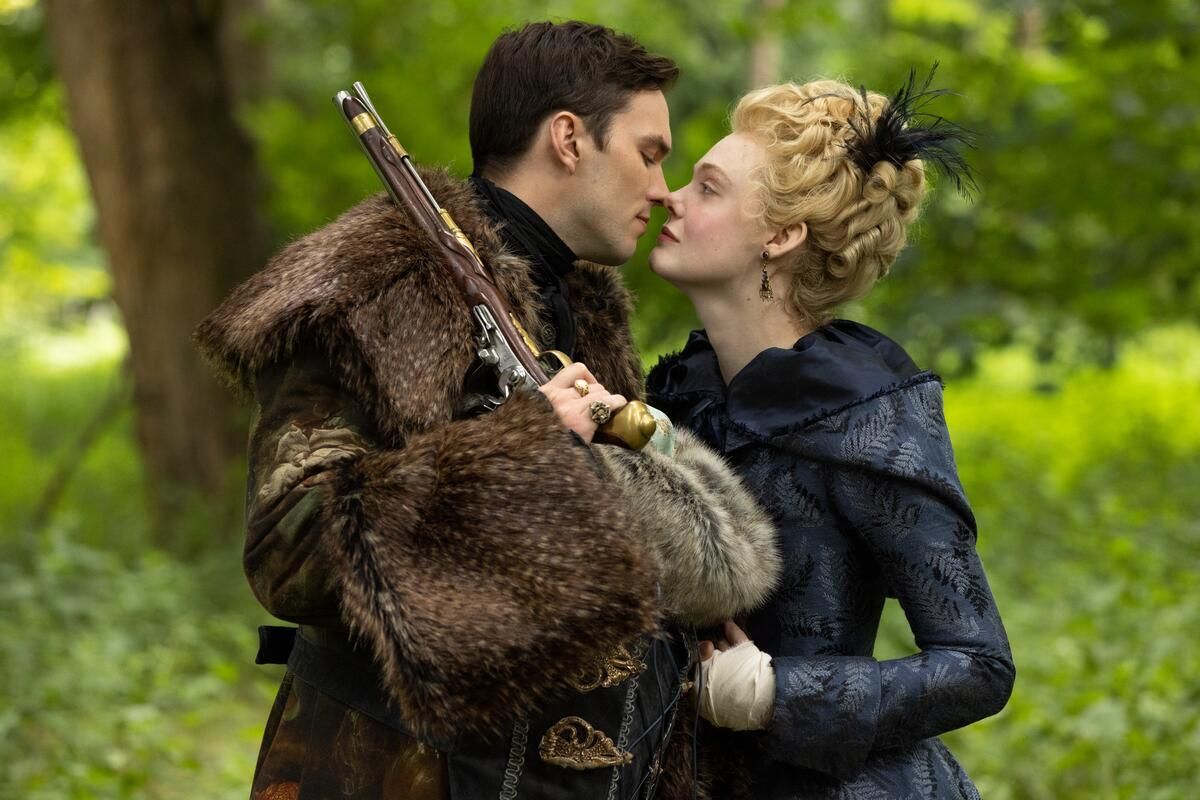 via Collider