After the smashing success of 2018's Spider-Man: Into The Spider-Verse, fans can't wait to visit the world of the animation that introduced new animation styles and textures into the Marvel Cinematic Universe through the life of teenage web slinging superhero, Miles Morales (Shameik Moore). This June, fans of the Spider-Verse will get to dive into the world again with the release of Spider-Man: Across The Spider-Verse, but this time, the scope will be bigger with the introduction of new Spider-Folks and new dimensions, and thanks to an exclusive image from Empire, we now have a look at one of those dimensions.
Spider-Man: Into The Spider-Verse introduced the audience to the Spider-Verse with glimpses of the other dimensions, but Spider-Man: Across The Spider-Verse promises to focus more on other dimensions. Spider-Man: Across The Spider-Verse will go all-out with both the animation style and the dimensions that will be introduced. In the interview with Empire, writer and producer of the animation Christopher Miller noted that Spider-Man: Across The Spider-Verse will introduce something never seen before to the audience, adding that Morales will be heading off into other dimensions as opposed to the others coming to his dimension like it was in the prequel.
"Our contract with the audience is to bring them something they've never seen before. The first film was about bringing characters into Miles' dimension, this is about Miles heading off into others."
Speaking about the new dimensions that will be visited, one of the animation's directors Joaquim Dos Santos described the animation style of the dimensions as robust. "We've essentially made five films in one," he added. These dimensions will include Earth-65, Mumbattan, Nueva York, New London, and a fifth location the team is keeping close to the vest for now.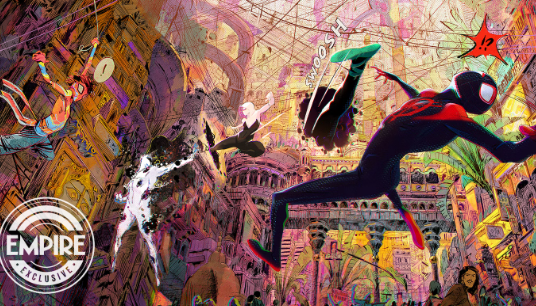 Dimensions and Spider-Folks To Expect In 'Spider-Man: Across The Spider-Verse'
From the trailers and covers released, fans can expect the India-inspired Mumbattan dimension, Miguel O'Hara also known as Spider-Man 2099's (Oscar Isaac) Nueva York, Spider-Punk's (Daniel Kaluuya) punky New London, and Gwen's Earth 65, which was already introduced in the prequel. Some of the other Spidey variants to expect from Spider-Man: Across The Spider-Verse are Spider-Man Manga, Amazing Bag-Man, Spider-Woman and Spider-Man Unlimited.
Santos directs the animation alongside Kemp Powers and Justin K. Thompson. Phil Lord joins Miller as writer and producer. Spider-Man: Across The Spider-Verse will come in two parts, first part will be released in theaters on June 2, and the second part will be released on March 29, 2024.
via Collider