While it is unclear where the MCU may take Peter Parker's live-action Spider-Man, there is no question that Sony will have Miles Morales' web-slinger ready for battle in the upcoming animated sequel Spider-Man: Across the Spider-Verse. Ahead of its release in June 2023, a new image from the film has revealed one of Miles' main foes: the villainous Vulture.
The exclusive image from Empire shows Miles fending off the Vulture, the predatory bird-themed alter ego of Adrian Toomes. It was previously reported that this film's Vulture will sport a Renaissance-style design, something that appears to be confirmed by this new image. The two foes can be seen battling it out on a rooftop, with the Vulture seeming to have Miles easily in his clutches. While the specific details of Vulture's storyline remain to be seen, Across the Spider-Verse, like its predecessor, takes place in multiple universes. Co-writer and producer Christopher Miller told Empire that the film "shows you worlds you haven't seen, and it's an emotional story that ends in a place where you need to see the third one." The 'third one' Miller spoke of, Spider-Man: Beyond the Spider-Verse, is already in development and slated for a 2024 release.
Specific plot details remain under lock and key, but Across the Spider-Verse will follow up on 2018's massively successful Spider-Man: Into the Spider-Verse. That film, which garnered nearly $400 million at the worldwide box office, introduced fans to Miles, voiced by Shameik Moore. During Into the Spider-Verse, Miles is taken under the wing of Peter Parker's Spider-Man and agrees to take up the web slinger's mantle after Peter's death. However, all is not as it seems, as Miles soon discovers alternate dimensions filled with friends, enemies, and even more Spider characters. For Across the Spider-Verse, the only plot lines available are based on Sony's official synopsis:
"After reuniting with Gwen Stacy, Brooklyn's full-time, friendly neighborhood Spider-Man is catapulted across the Multiverse, where he encounters a team of Spider-People charged with protecting its very existence. But when the heroes clash on how to handle a new threat, Miles finds himself pitted against the other Spiders and must redefine what it means to be a hero so he can save the people he loves most."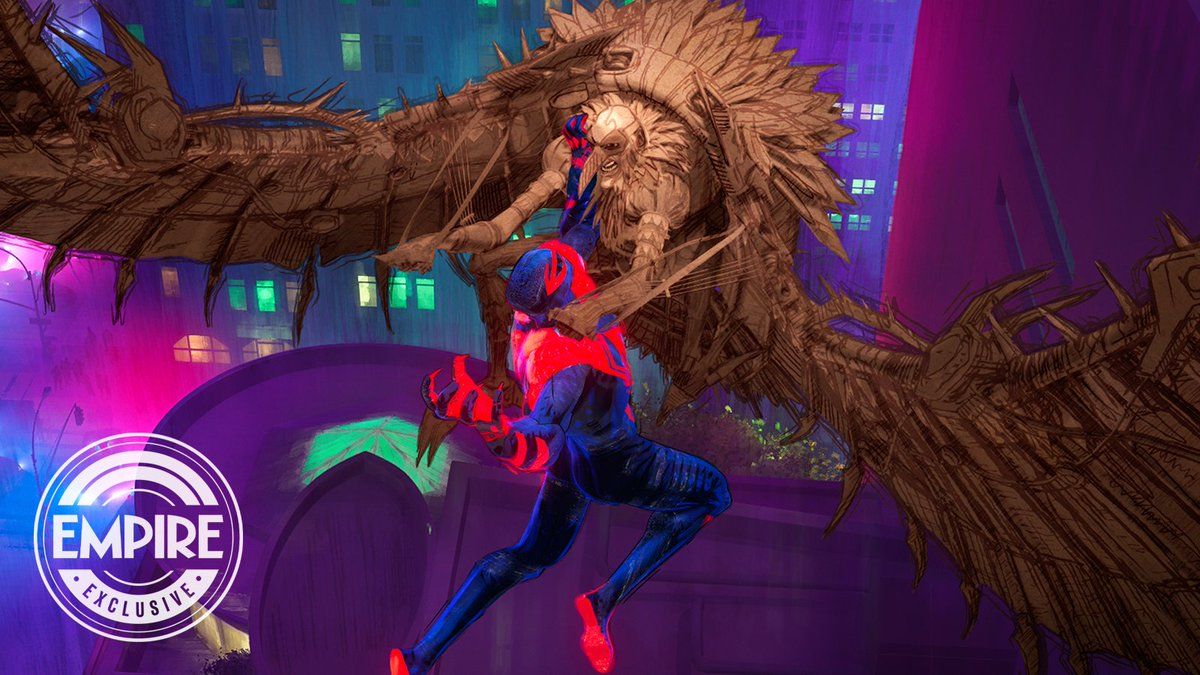 WhoIs in Spider-Man: Across the Spider-Verse?
Across the Spider-Verse features an ensemble voice cast of A-listers, many of them returning from the previous film. In addition to Moore, this includes Jake Johnson as Peter Parker, Oscar Isaac as Spider-Man 2099, Hailee Steinfeld and Issa Rae as Spider-Women Gwen Stacy and Jessica Drew, respectively, Daniel Kaluuya as Spider-Punk, Karan Soni as Spider-Man India, Brian Tyree Henry as Jefferson Davis, and more. Vulture will be voiced by Jorma Taccone, who played both the Green Goblin and Spider-Man 1967 in the previous film.
The film's creative team, much as with the first film, is also a massive collaboration of talent. Across the Spider-Verse was co-directed by Joaquim Dos Santos, Kemp Powers, and Justin Thompson from a screenplay by Miller, Phil Lord, and David Callaham. The film is produced by Avi Arad for Arad Productions, Lord and Miller for Lord Miller Productions, Amy Pascal for Pascal Pictures, and Christina Steinberg in collaboration with Sony, Columbia Pictures and Marvel. Executive producers include Aditya Sood, Rebecca Karch, Brian Bendis, Bob Persichetti, Peter Ramsey, and Rodney Rothman, the latter three of whom directed Into the Spider-Verse.
Spider-Man: Across the Spider-Verse will be released in theaters on June 2, 2023.
via Collider