With the announcement that his tenth and last movie is on the horizon and his birthday happening today, Quentin Tarantino fans have plenty of reasons to celebrate the internationally acclaimed director. However, Titan Comics decided to give fans an extra reason to celebrate and a new comic to look forward to: The company shared with Collider that a Tarantino-themed story is coming out this October, and we can now share with you its amazing cover and details from the story.
Written by Amazing Améziane, Quentin By Tarantino will be an original graphic novel that chronicles the amazing career of the director, whose story feels like it came right from a movie. He famously worked on a video store, and suggested that his cinema study was basically watching a bunch of movies from some of the film industry's best directors, including Martin Scorsese and Akira Kurosawa. The graphic novel's story will replicate Tarantino's love for spaghetti western style, his keen eye for iconic shots, and, of course, the incredible dialogues he's written over the course of his career.
The Cover of Quentin By Tarantino Is Every Pop Culture Fan Dream
The colorful cover of Quentin By Tarantino is a treat for the director's fans, since it's brimming with Easter eggs about Tarantino's movies and career, and a quick look at it will reveal to you the graphic novel's subject posing in the iconic Uma Thurman pose in the Pulp Fiction poster, and he also wears the yellow sneakers the actor wore on Kill Bill. The cover is also full of 90s references, features an Oscar statuette, has a Bruce Lee homage and some of the videotape titles that inspired his career, such as Taxi Driver, Rio Bravo, and The Good, The Bad, and The Ugly.
Titan Comics' Head Celebrates The Release and Teases The Story of Quentin By Tarantino
In an official statement, Titan Comics' Head of Creative & Business Development Duncan Baizley celebrated the announcement of Quentin By Tarantino and summed up the feeling we all get when revisiting (or discovering) a new Tarantino movie, which the graphic novel will replicate:
"Quentin Tarantino is arguably the last great celebrity director, a creator who's almost as recognisable as the hugely influential and iconic pop-culture moments that he's brought to movie screens over the past four decades. His movies are love letters to the genres, directors and stars, as well as the books and comics he grew up with. So, it seemed perfect that writer, artist and Tarantino aficionado, Amazing Améziane, should be the one to capture this singular career's stylistic shifts and evolution almost as QT himself would probably shoot it – with flair, wit and some damn unforgettable dialogue. I think Quentin would approve."
Amazing Améziane, like Tarantino, is a huge fan of western movies' acclaimed director Sergio Leone, comic book legend Frank Miller, martial arts master Bruce Lee, and good music. He's been working as a comic book creator for over 20 years, and he rose to prominence with his 2016 title Bagmen. The author and illustrator recently worked on the art department of the 2021 documentary Betrayal at Attica.
Titan Comics releases Quentin By Tarantino on October 17. The graphic novel is already available for pre-order, and you can check out the cover below: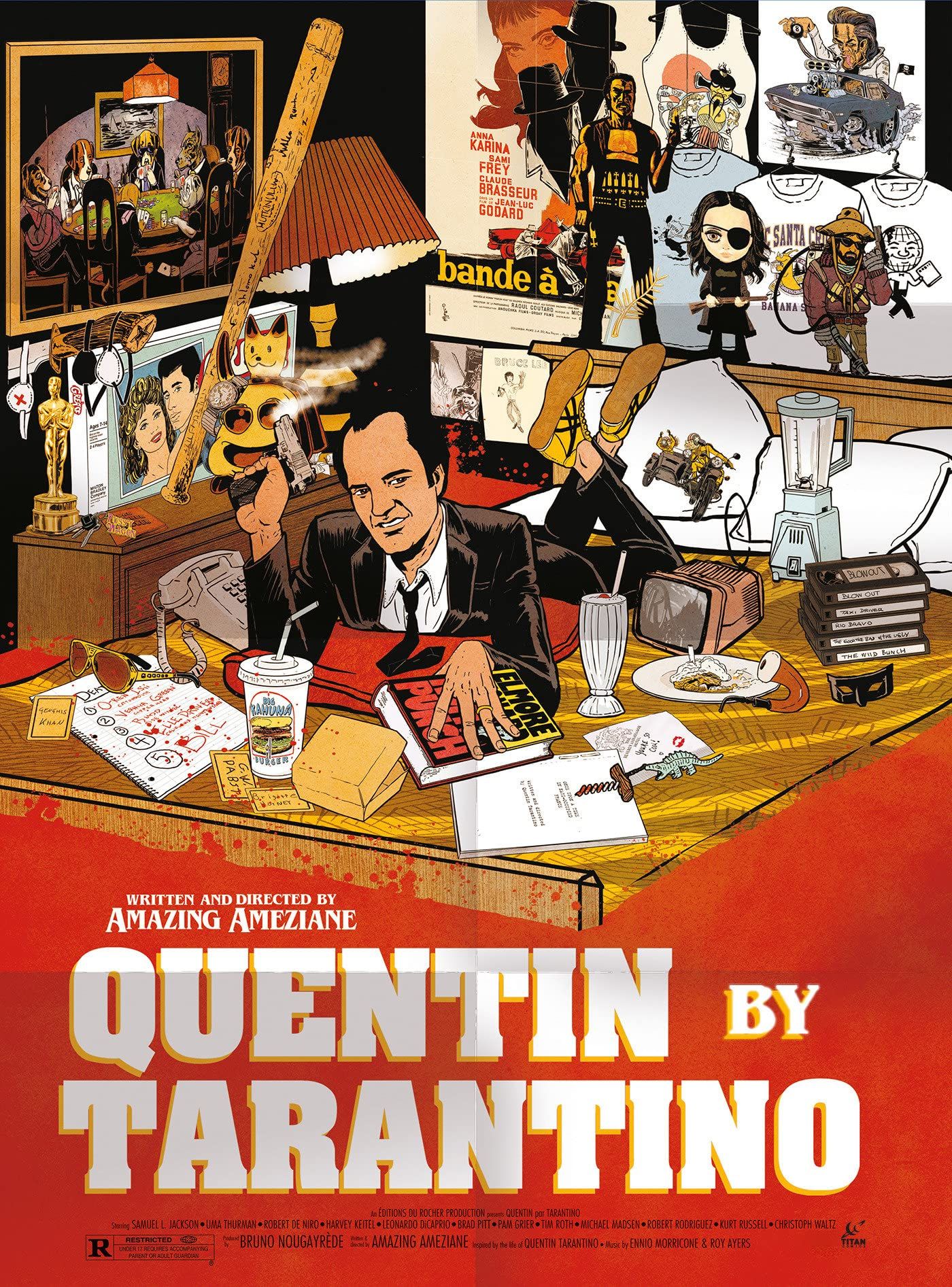 via Collider