Although things initially began moving at a glacial pace, time is speeding by for The Flash's June 16 release. From the gate, we knew that this would be a special kind of DC film with It franchise director Andrés Muschietti taking audiences on a trip through the multiverse. While we've seen bits and pieces of Ezra Miller's character and the other legendary DCU heroes we can expect to join him on his harrowing journey, a new image released today puts both Barry Allens on display along with Sasha Calle's Kara Zor-El aka Supergirl.
Chaos is breaking out in the latest promo photo, with our three fearless heroes standing in front of a smoke-filled battlefield. Behind them, explosions go off while helicopters circle the skies with tanks and military personnel charging toward the enemy with guns drawn. While the background action is eye-catching on its own, it's of course the young heroes posed at the front that we're here for. Taking front and center is Supergirl, donning a familiar uniform of vibrant reds, blues, and of course the iconic "S" emblem across her chest.
Flanked on her sides are both versions of The Flash with the uniform we know and love on one and a fresh multiverse look on the other. While the hero we've come to know in films like Justice League is rocking his iconic red and yellow gear, complete with flashing golden lightning, the other Barry Allen went in a slightly different direction. Appearing a bit more weathered, his suit sticks to a darker red palette with different touches of yellow adorning his waist and forearms. While his electricity is white-blue in appearance, both heroes had the same idea with the lightning bolt emblem across their chests.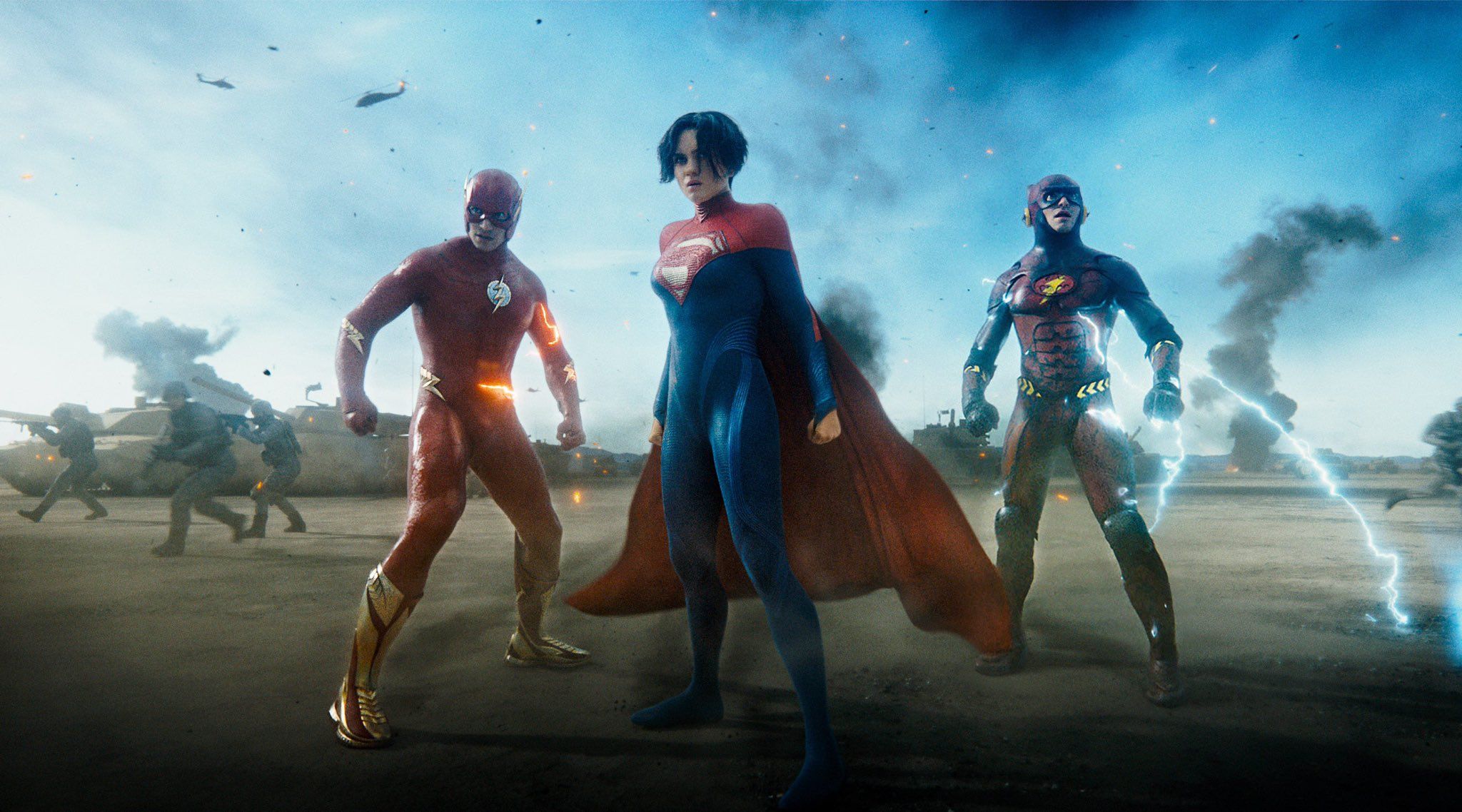 What is The Flash About?
In his character's first standalone movie, Miller reprises his fan-favorite role as Barry Allen aka The Flash in a film that is hoping to bring glory back to the DC. In it, Barry attempts to travel back in time to prevent the murder of his mother, but in doing so he shifts the very existence of reality. Now living in a world where General Zod (Michael Shannon) wasn't defeated by Superman (Henry Cavill) in Man of Steel, things get even worse when it seems as though Barry has no superheroes to back him up on his world-saving mission. Luckily, he'll find some help along the way in the form of Supergirl (Calle), Batman (Michael Keaton), and even himself.
Check out the latest image from The Flash above and keep your eyes peeled for even more fresh looks and promotional material as we speed toward the film's June 16 release.
via Collider