Father Time is catching up to Nick Fury (Samuel L. Jackson) in a new Secret Invasion image from Empire Magazine. The former S.H.I.E.L.D. director has been put through the wringer in the MCU, even meeting his maker like many others in Avengers: Infinity War. He's back to take on the Skrull threat in the upcoming Disney+ series, but Jackson wants to emphasize a new side to the man. His eye patch is gone, his beard's a bit fuller and grayer, and he's far more human than superhuman. The image hints at a much more vulnerable Fury than ever seen across his previous big-screen appearances.
Secret Invasion will see a war taking place on Earth as a rogue group of Skrulls infiltrates the populace and Fury returns to the planet in an attempt to thwart the plot with his allies. The tone, however, will be darker than most MCU projects as it mixes a tense spy thriller with a bit of psychological horror as the group tries to root out the invaders. With the trailers leaving out any traces of the Skrulls' presence, it only builds paranoia as the question remains of who is an imposter.
Fury himself is also left to question his own role in this ordeal. He's stuck in a world with few people left to trust amidst the Skrull imposter crisis, and he's still left shaken following his own erasure from existence and the deaths of many of the heroes he knows. As Jackson previously noted, he's in a bad place and his vulnerability is shown in the image as he trades out his eye patch for a pair of glasses, shedding the tough facade he's put up for years. The beard, too, makes him appear even older and more grizzled, but he still has a look of determination that shows he still has the heart of a hero hell-bent on ending any threats to Earth.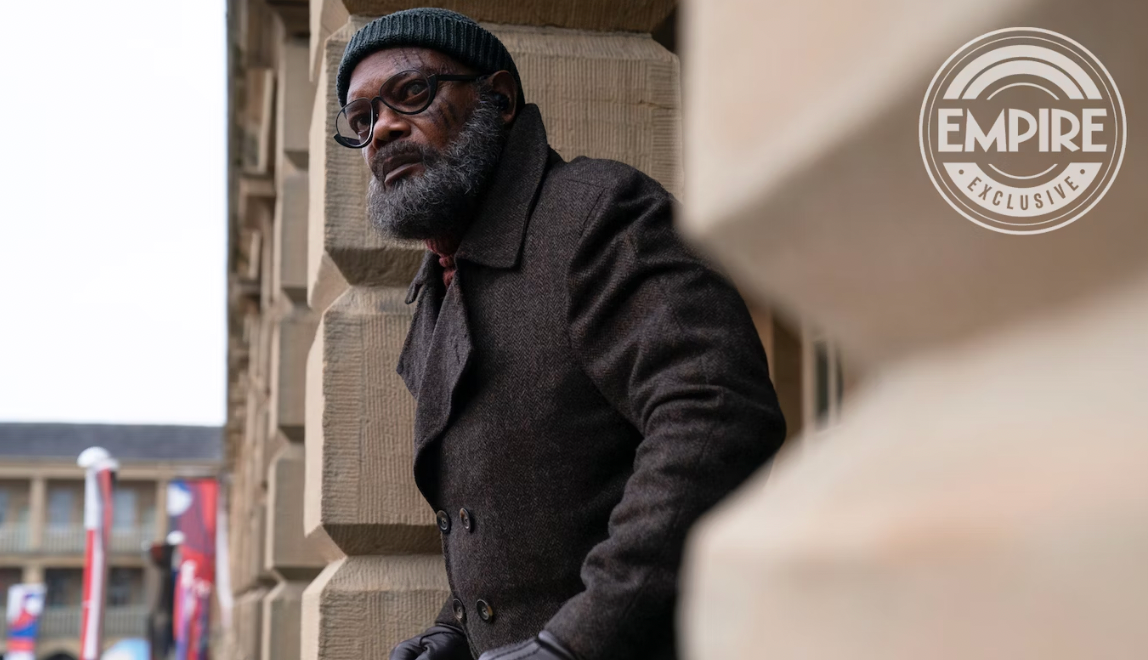 Jackson Wants to Humanize Nick Fury in Secret Invasion
Speaking to Empire, Jackson further emphasized this is not the same Fury fans will remember. Instead, Secret Invasion will give a look at the Fury behind the eyepatch and beyond the Avengers to show who he really is. "All those things are part of a Nick Fury that's invulnerable," he said of the changes to his appearance. "Here you have a guy who's showing his face, and showing his age. It's an opportunity to humanize someone that everybody thinks is superhuman."
It's not just about breaking down the idea of an invincible Nick Fury though. It's also about showing how Fury's disappearance over the last several years, and his general involvement in super-powered conflicts, has interfered with the life he lives beyond the job. That's certainly reflected in his tight relationship with Cobie Smulders's Maria Hill who'll greet Fury with a frosty reception upon his return after he's blown her off for so long. "I had to figure out some stuff and work out some new things, which I've been trying to do for a while," Jackson added. "It's great to have an opportunity to find out who he was and delve into how much of a toll his job actually takes on his personal life."
Aside from Jackson and Smulders, Secret Invasion will see a lot of returning faces including Don Cheadle's James Rhodes, aka War Machine, and Martin Freeman's Everett K. Ross alongside Ben Mendelsohn's Talos. The new additions are incredibly exciting too with Emilia Clarke joining as G'iah, Olivia Colman as Sonya Fallsworth, and Kingsley Ben-Adir as Gravik. Rounding out the bunch is Dermot Mulroney, Carmen Ejogo, Killian Scott, Christopher McDonald, and Charlayne Woodard.
Secret Invasion infiltrates Disney+ on June 21.
via Collider