This year looks bright for video game adaptations. While The Last of Us satiated fans' desire for a source accurate yet thrilling adaptation of the fan-favorite game at the start of the year, The Super Mario Bros. Movie is working wonders at the box office with a brilliant run for Nintendo's Italian plumber. The next adaptation that fans need to watch out for is dropping this summer with Gran Turismo, based on PlayStation's popular driving game, starring Archie Madekwe as Jann Mardenborough, along with David Harbour as his mentor Jack Salter.
Screenrant has unveiled new images from the feature, and they are exhilarating to say the least. The first image sees Harbour standing in the pit, looking nervously towards the tracks as the young driver embarks on a race. Another image sees the said race with multiple cars are seen merely distant from each other bidding to get the first spot. The images truly capture the essence of the games with high stake vehicular action.
What's Gran Turismo About?
While most adaptations portray the game's storyline with some for-the-screen adjustments, Gran Turismo is deviating from the tradition by presenting a "based on a true story" narrative. The film follows the story of an English teenager, who aspires to be a race car driver and makes it to the tracks after winning a series of Gran Turismo competitions. The movie will be a combination of gaming aesthetics as well as some real-life drama.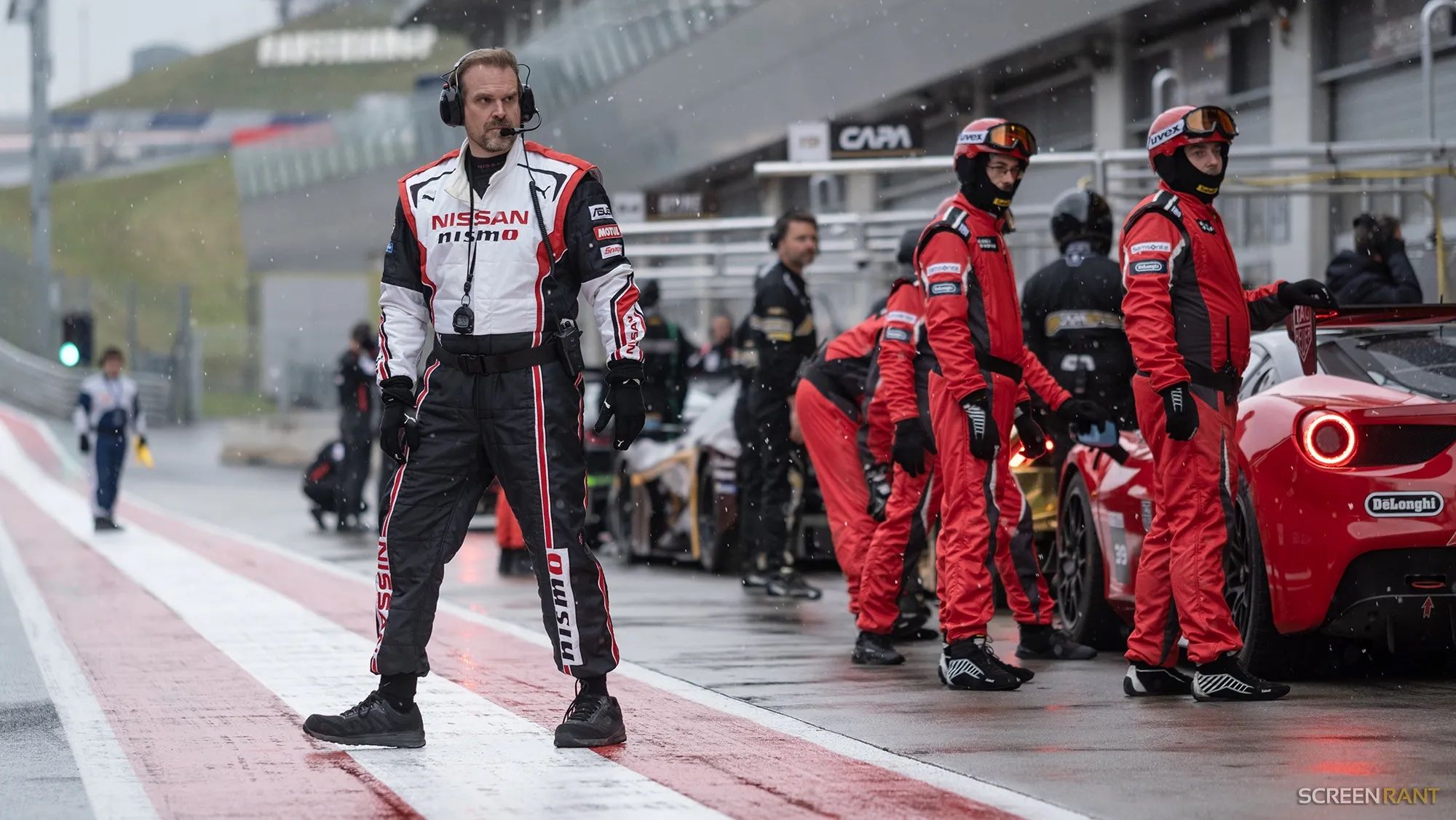 Speaking of the action and high stakes of the upcoming film, director Neill Blomkamp previously revealed, "It's real actors, in real cars, on real race tracks, driving insanely quickly." Further elaborating on his process, he revealed, "The north star for me was to make a video game title with character work that propels the movie, even more so than the racing. Although the racing is bloody intense, too." So the feature is not only about gaming and thrilling visuals, but audiences should also expect the drama to be as thrilling as the races.
Along with Harbour and Madewke, the movie also features Orlando Bloom, Darren Barnett, Daniel Puig, Josha Stradowski, former Spice Girl Geri Halliwell-Horner, and German actor Thomas Kretschman. Blomkamp directs from a script penned by American Sniper writer Jason Hall and Zach Baylin. While it is produced by PlayStation Productions' Asad Qizilbash and Carter Swan along with Doug Belgrad and Dana Brunetti.
Gran Turismo will premiere on August 11.
via Collider