This is the summer of Disney live-action features. The House of the Mouse has a couple of features up its sleeves to keep fans entertained. While The Little Mermaid has made quite some noise among the movie goers with its underwater scenery, for fans of all things spooky and mysterious, the studio will bring out Haunted Mansion, a movie based on its famous park ride. The studio has released a new image of the feature which will grace the cover of the upcoming D23 Magazine.
In the new image we can see the illustrious star cast of the feature, Rosario Dawson, Owen Wilson, Danny DeVito, Chase W. Dillon, Jamie Lee Curtis, and more standing in the "dead center of the room" of the infamous Haunted Mansion. While the image does not give away any details, the magnificent production design, costuming, and mystery vibes are at full display. The feature looks interesting enough for both young and adult fans.
What's Haunted Mansion About?
In the upcoming feature, Dawson plays single mother Gabbie who purchases a mansion in New Orleans that has a very low price. Once she moves into the new home with her son, they find that it is haunted. In order to combat the spirits, Gabbie puts together a team of "specialists" including a priest played by Wilson, a psychic played by Tiffany Haddish, a historian played by DeVito, and a paranormal expert played by Lakeith Stanfield.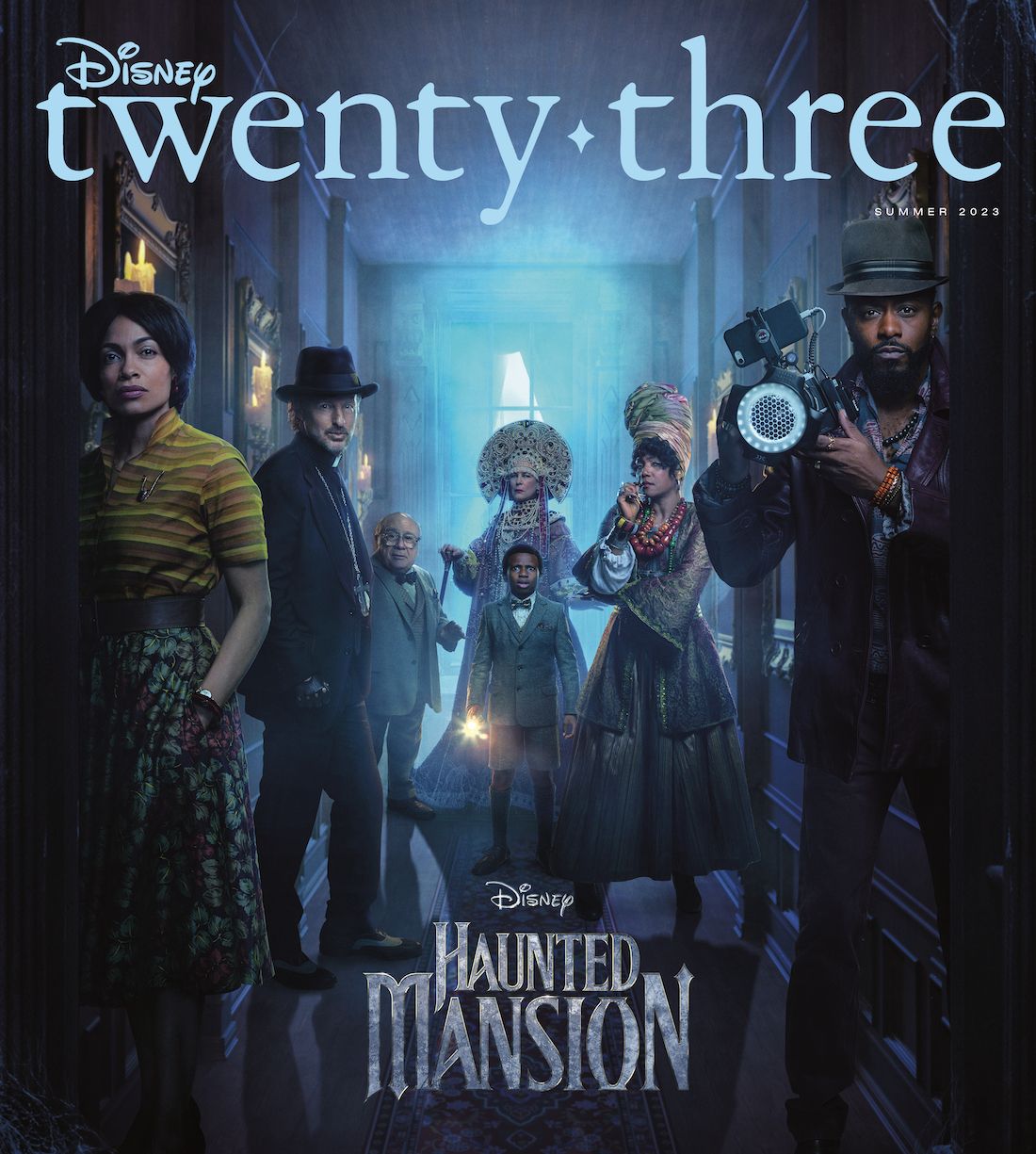 Inside the new edition of the magazine the cast shares behind-the-scenes details. Teasing the feature director Justin Simien tells, "it's such a refreshing and funny take on a 'ride movie' that also strikes this unexpectedly personal chord." By the looks of the new image and previously released trailer, the movie seems fresh, fun, and spooky – perfect for families as well as young audiences that like their horror with a dash of comedy. If it somehow sounds familiar, the feature is the second attempt of the studio to bring the beloved ride to life, the previous iteration released in 2003 by the same name starred Eddie Murphy, Terence Stamp, Nathaniel Parker, Marsha Thomason, and Jennifer Tilly.
Simien (Dear White People) helms the new adaptation from a screenplay penned by Katie Dippold (The Heat, Ghostbusters). The all-star cast also features Dan Levy, Winona Ryder, Hasan Minhaj, Jared Leto, along with Oscar winner Curtis, as Madame Leota. The Haunted Mansion is set to be released on July 28.
via Collider