As we creep closer and closer to Harrison Ford's final appearance as adventurous archaeology professor Indiana Jones, the marketing team is dead set on continuing to drop teasers, stills, and posters of the fifth installment, Indiana Jones and the Dial of Destiny. Today, Total Film has unveiled several freshly released pictures from their upcoming issue of the man, the myth, and the legend on his final tussle with Nazis.
The first image in the double release is of Ford's titular action hero standing alone in a dark room. Wearing his iconic fedora and brown leather jacket, Indy's stubble-covered face is illuminated by a light shining in the distance – an area that also has caught his gaze. While it's always thrilling to see a standalone picture of one of the most iconic characters in cinematic history, it's the second shot that really has us fired up.
Joining Ford in his last adrenaline-pumping tango is Phoebe Waller-Bridge (Fleabag) who will star as Indy's goddaughter, Helena. Sporting a sure-to-be iconic look of her own, Helena's outfit echoes her godfather's with the character wearing a cream-colored button-up shirt and floppy hat combo. Staring into the distance, Helena looks surprised and skeptical of what lies ahead of them while Indiana Jones is as resolute as ever in his latest quest.
What's Indiana Jones and the Dial of Destiny About?
Transporting audiences back to 1969 when the world was caught up in the space race, Dial of Destiny will find the titular character feeling a little out of place in the world. Of course, it wouldn't be an Indiana Jones film without plenty of Nazi bashing, and providing the villainous angle for this film will be Mads Mikkelsen and Boyd Holbrook, both of whom will be playing characters working alongside NASA on the moon landing mission. There will also be the return of John Rhys-Davies' Sallah with an ensemble cast set to include Antonio Banderas, Thomas Kretschmann, Toby Jones, and Shaunette Renée Wilson. Taking viewers on a trip down memory lane, one scene will also harness de-aging technology in a moment that will bring back the Ford of yesteryear.
Logan and Girl, Interrupted helmer, James Mangold will supply the directorial vision for the final installment in the Indiana Jones saga while legendary composer, John Williams, who's been involved with the franchise since 1981's Raiders of the Lost Ark, penned the score. Set to make its world premiere at the Cannes Film Festival, Indiana Jones and the Dial of Destiny will drop in U.S. cinemas on June 30.
Check out the new images below: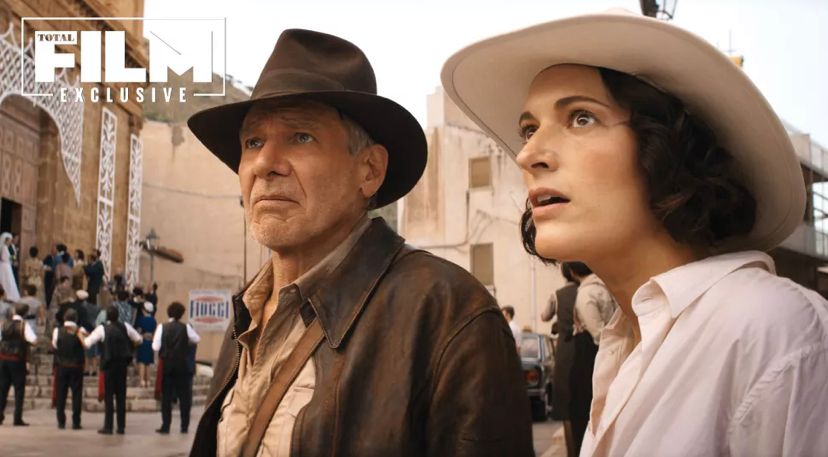 via Collider