Maggie Simpson is ready to go on an adventure unlike anything she's ever faced before, in a new animated short that will premiere on Disney+ to celebrate Star Wars Day. Titled Maggie Simpson in 'Rogue Not Quite One', the sort will see Homer losing track of Maggie who hops in Grogu's hovering pram for a hyperspace-hopping adventure across the galaxy. Facing a squadron of Imperial TIE fighters, Maggie brings the battle to Springfield in this epic short celebrating the franchise. The unthinkable happened, and now The Simpsons are debuting a crossover with The Mandalorian.
This wouldn't be the first time Spingfield's most popular family will head to the worlds of Disney, as they had previously met the heroes from the Marvel Cinematic Universe during the special, The Good, The Bart and The Loki. In that short presentation, Odin banishes Loki to Springfield, where he meets Bart (Nancy Cartwright). After he has dinner with the family, the God of Mischief banishes Lisa (Yeardley Smith) to Asgard, creating a bizarre exchange between him and the girl. The solution Lisa found for their situation was to gather local citizens from Springfield to create their own version of the Avengers team.
The animated comedy coming up with a crossover with The Mandalorian is related to Star Wars Day, an annual celebration of the franchise held on that specific date to match with the wordplay: "May the 4th be with you." The event already existed before Disney acquired Lucasfilm but, since the studio brought the franchise back to life, it has been used to share new announcements regarding upcoming projects, as well as for the debut of Star Wars-related content on their streaming platform. This time around, it'll be Maggie Simpson's turn to live through some chaos in the galaxy far, far away.
What's Next for The Simpsons?
Fans shouldn't worry too much about Maggie coming back to her home after meeting Grogu, given how these shorts are not considered canon within the continuity of the main series. The Simpsons is set to come back for season 35 later this year, and the team behind the show is not planning on stopping any time soon. Season 36 has already been greenlit by the network, in a move that will allow the show to air its 800th episode. Think about your favorite couch gags and Treehouse of Horrors sketches, and prepare to enjoy The Simpsons for years to come.
You can check out the first poster for Maggie Simpson in 'Rogue Not Quite One' below, before the short premieres on Disney+ on May 4: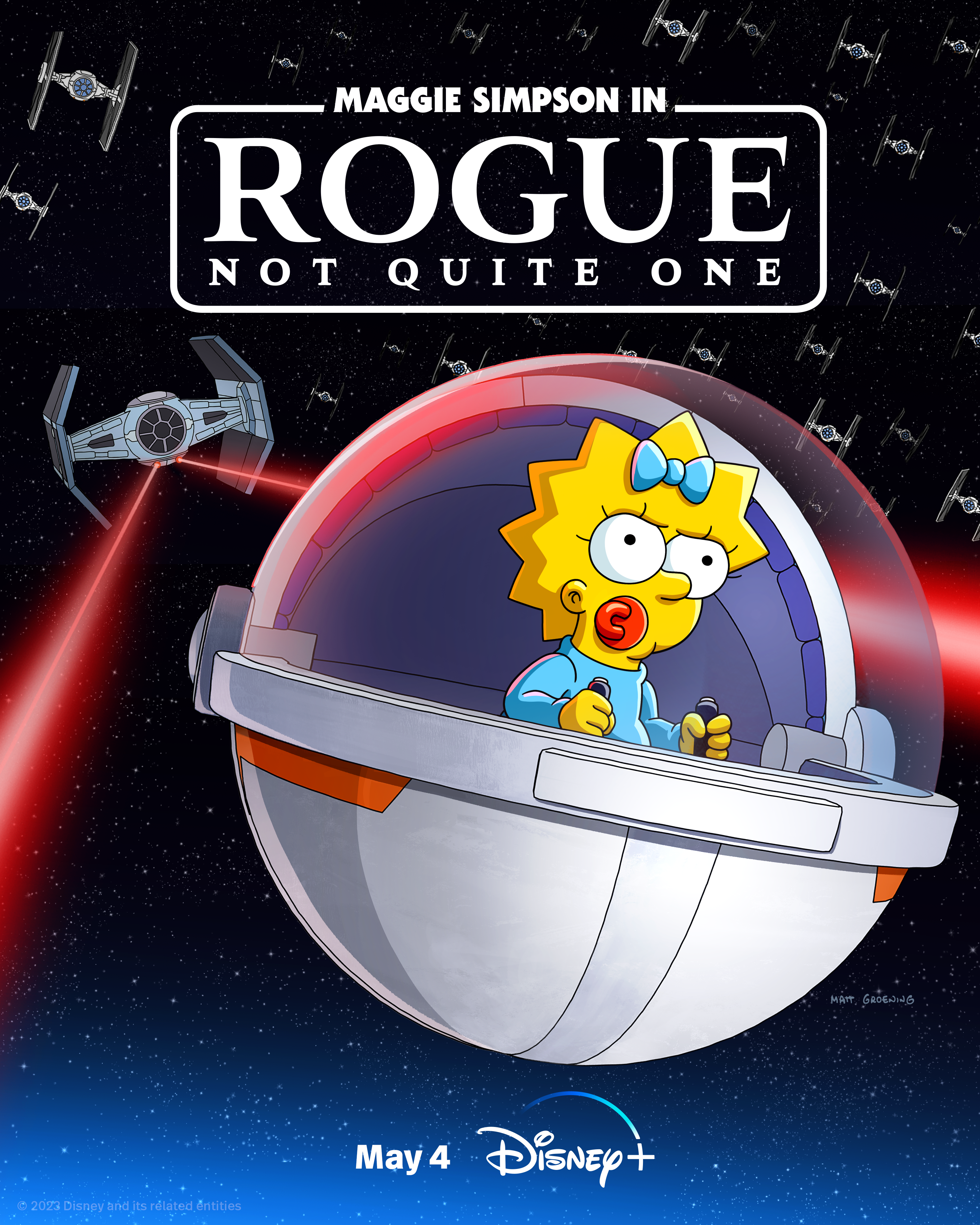 via Collider