Black ops mercenary and superhero don't typically go hand in hand or at least didn't before the Russo brothers birthed Tyler Rake into existence. Not only is Rake primed to take down a small army with near effortlessness, his motive is often heroically charged be it saving a child or reuniting a family. After being declared "clinically dead" but living to tell the tale, Chris Hemsworth's on-screen counterpart is set to embark on yet another fatal rescue mission whilst also navigating the reason he fought his way back from the fringes of extinction in Extraction 2. In a newly shared still from the film Rake is seen embracing his inner hero.
The image, shared by TotalFilm, showcases a slightly battered Rake carrying a young girl in his arms, presumably to safety after some sort of confrontation. Looking concerned and definitively protective, Rake's face is brightly lit compared to the dark background behind him only adding to the sense that he is the light in an otherwise very dark time for this family. What is immediately striking about the still is that Rake embodies a much more fatherly persona than audiences have witnessed previously.
Although it's been alluded to before that Rake had a family, of which we know little, they are never seen beyond Rake's flashbacks and dreams. This concept aligns with the latest trailer for Extraction 2 which implies that Rake as a father and family life may have absolutely existed in another life. This is particularly apparent in his demeanor and softness towards the children he's rescuing – which poses a stark contradiction to his otherwise fierce appearance. There is also a subtle suggestion that every time he saves a child there is a personal motivation behind it. For audiences, this is setting up an exciting landscape for Rake's character to be delved into further with scope for more on why he is the way he is.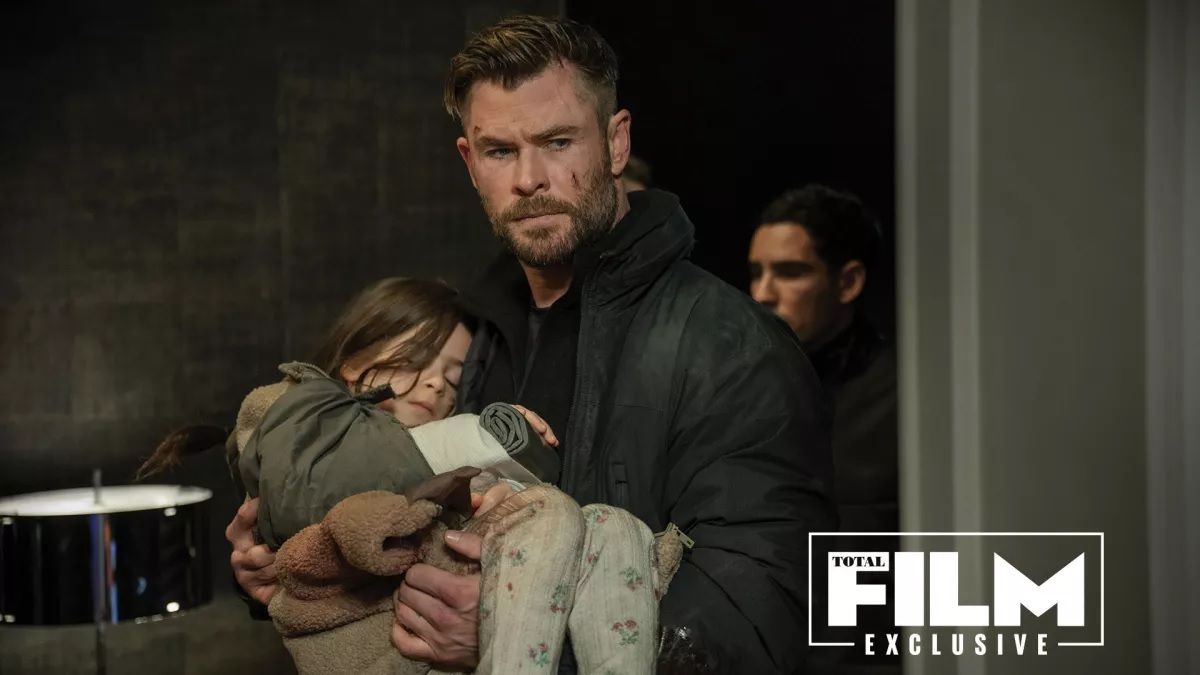 Whilst the new film will give audiences a deeper dive into Rake's arc, it also promises a new level of beautifully choreographed, adrenaline-fuelled action sequences. Most notably, this includes an epic 21-minute continuous action sequence that Hemsworth filmed solely by himself – whilst on fire. Speaking about the mammoth action sequence, he told Total Film: "It was like, 'I don't know if I can get to the end of this round, it's like a boxing match: 'When is the bell going to ring? When are they going to call cut?'"
Given the physical intensity of Extraction 2, it's not surprising the Hollywood megastar also described it as the "hardest thing I've ever done" during the interview. "I'm not exaggerating. At the end of a take, you're sucking air like you never have before, and everyone drops to their knees. But it's so much more rewarding. I would love to take this style and integrate it into a Marvel film, if I was ever to do another one." If that doesn't scream promise for an ultimate action feast, then what does?
You can watch Hemsworth return for a second installment of action-packed entertainment in Extraction 2 when it hits Netflix on June 16. Until then, you can check out the trailer for the film below.
via Collider