It's time for Ben Affleck to play a detective with nothing to lose, as the release date for Robert Rodriguez's Hypnotic quickly approaches theaters. This morning, ScreenRant has revealed the final poster for the release. In the upcoming thriller, Affleck plays Daniel Rourke and, after the character's daughter is kidnapped, his quest to get her back continues. When the protagonist dives deeper into the world around him, he'll run into psychics, a group of people who have the ability to manipulate different elements of their environment. It is up to Daniel to get to the bottom of his daughter's disappearance and explore the capabilities of the psychics at the same time.
The movie went through a complicated production due to how the pandemic continued to affect its schedule, delaying filming constantly until the cast and crew were available, and a safe environment could be established for them to work on. During an interview with Collider, Rodriguez talked about his excitement for Hypnotic and how he was excited for production to begin after the significant delays, with him also describing the project as a "Hitchcock thriller on steroids." Since the film was independently financed, it was a riskier production than a studio movie, which usually have significantly better resources in case of a delay or a shutdown.
Before he created Hypnotic, the last time a Robert Rodriguez film was released in theaters was in 2019, when Alita: Battle Angel impressed audiences with highly detailed action sequences that included plenty of visual effects, with even Alita's (Rosa Salazar) face being enhanced by digital imagery. Set in a post-apocaliptic cyberpunk version of Earth, the movie follows a young cyborg who has a fully functional human brain. Alita would use her special abilities to become a Hunter-Warrior and, after falling in love with Hugo (Keean Johnson), she decides to enter a Motorball tryout race to get the money that could them out of the situation they were living in.
Ben Affleck Will Return to the Cape and Cowl
After Hypnotic is released in theaters this summer, Ben Affleck is set to play a different kind of detective, as he will suit up once again as Batman in The Flash. As one of the final DCEU movies before the reboot implemented by James Gunn and Peter Safran, The Flash will deal with a multiversal adventure set to showcase a variety of different Earths. The collision ends up with new and returning characters coming together to prevent reality from falling apart. One of these characters turns out to be the version of Bruce Wayne seen in Batman v. Superman: Dawn of Justice and Zack Snyder's Justice League, played by Affleck.
Before Hypnotic heads to theaters on May 12, you can check out the poster for the movie below: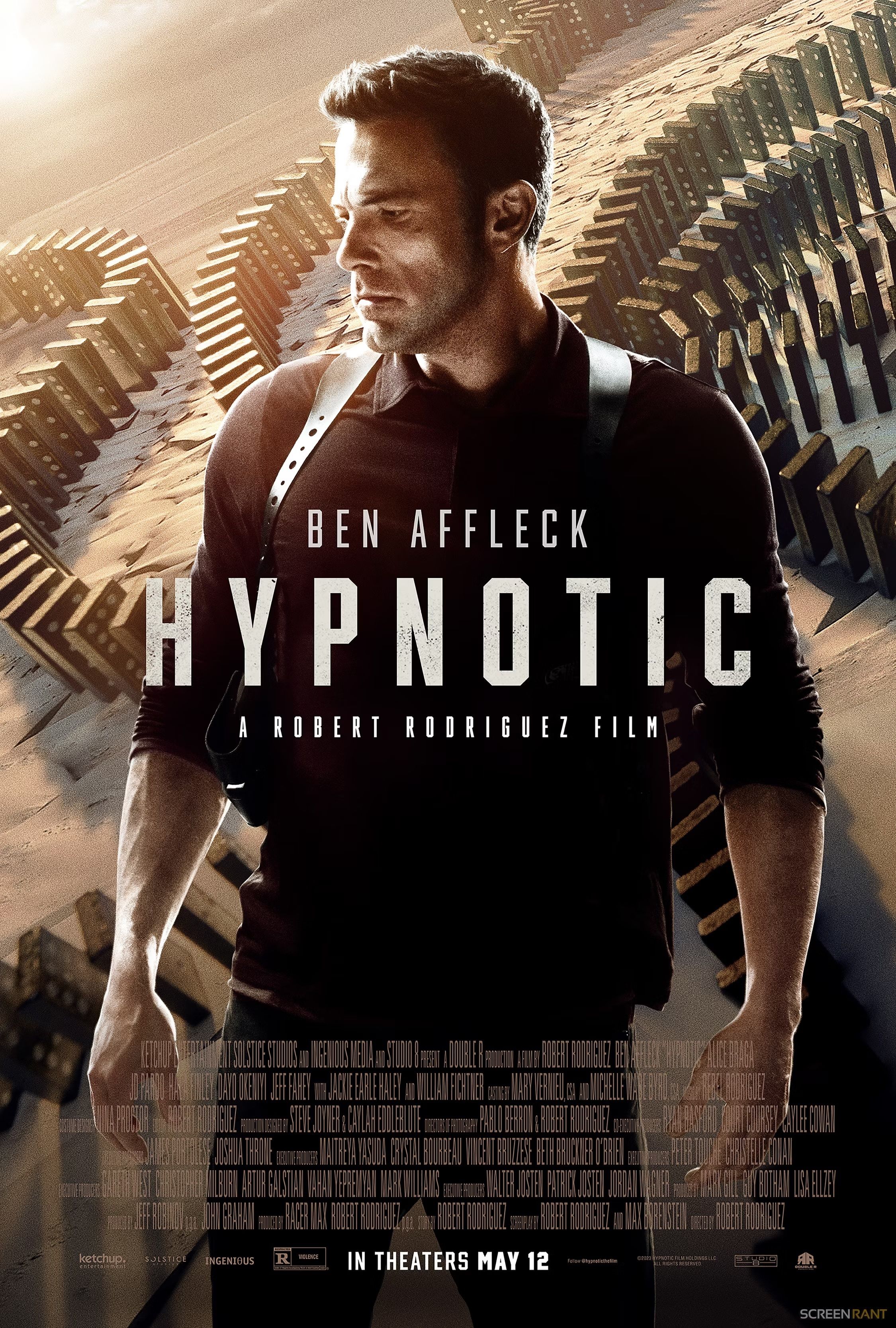 via Collider